Humans of UWL: Former Director of University Centers Dr. Larry Ringgenberg
After 30 years of serving as Director of University Centers, Dr. Larry Ringgenberg reflects on his time at the University of Wisconsin-La Crosse. 
"I will never forget the students, our team, and all the special people at UWL," said former Director of University Centers Dr. Larry Ringgenberg. Dr. Ringgenberg joined UWL as Associate Director of University Centers in 1985. He became Director in 1991.  A Belleville native, he earned his B.A. from the University of Wisconsin-Eau Claire. He attended the University of Iowa where he earned his M.A., and then the University of Northern Colorado where he earned his Ph.D.  
After more than 35 years of service, Dr. Ringgenberg is stepping down from his role at UWL and entering into retirement. "I am very proud of all the UWL students," said Dr. Ringgenberg.  
When thinking retrospectively about his time as Director, Dr. Ringgenberg said, "A Lot of things have changed. UWL has grown in terms of student enrollment. In the early years of my time at UWL, we were very challenged with financial resources. It wasn't until students approved Growth, Quality and, Access, that we finally had the resources to do more things for students. This credit definitely goes to Chancellor Gow and Dr. Hetzel. They really changed the financial picture of UW-La Crosse."  
Dr. Ringgenberg said that UWL students have changed as well. "They are smarter, more committed, and really dedicated to this institution. UWL students really live the motto that you should leave a place better than it was when you came," said Dr. Ringgenberg.  
Dr. Ringgenberg said that COVID-19 has impacted his role and UWL. "The Central Staff," said Dr. Ringgenberg, "Karen Daniel, Tricia Aleckson, Michael Slevin, Mary Beth Vahala, Drea Higgins, Steve Martens, are the true heroes for this year. I often say this group of people can do things that no other Union staff is able to do in the state of Wisconsin. They deserve so much credit to the success of University Centers." 
Dr. Ringgenberg said that he is proud of the many university accomplishments achieved throughout his time at UWL. "I was involved in building two buildings, the REC and the Student Union. I was also involved in smaller renovations," said Dr. Ringgenberg.  
Dr. Ringgenberg said that one of his favorite memories is of the opening of the Student Union. "All the tours that I did, some with staff members, like Karen Daniel to show off the place;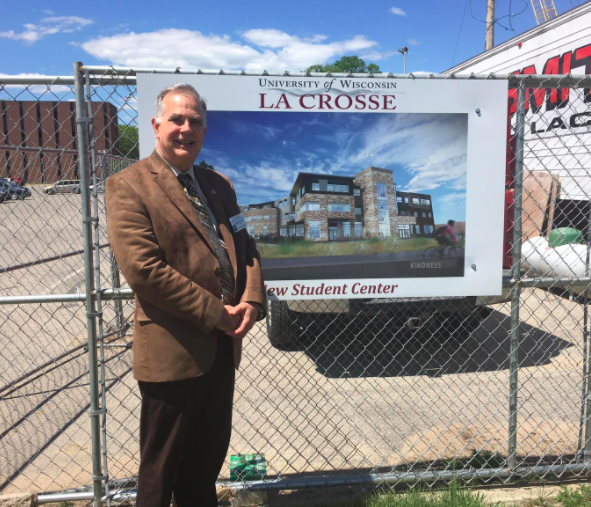 talking about the little things in the building." 
"On the other hand, my favorite moments are when I see growth in students; when I see the impact that their involvement has had on their life," he said. "The same for the University Centers Team. I will never forget the students, our team, and all the special people at UWL. I am proud of all the students I worked with."  
He said that talking with students, interacting with staff and alumni, and working with colleagues across the system, will be at the top of his list. Dr. Ringgenberg said he would, "Even [miss] being hassled by the retiree group that sits at the barn door table on the first floor. I guess I give them a hard time also." 
In retirement, Dr. Ringgenberg said he is adjusting to life beyond UWL. "Right now, [I'm] missing the students, missing my colleagues, and missing my staff team." After over 35 years of service to UWL, Dr. Ringgenberg said his plans are still to-be-determined. "Sarah Josyln keeps telling me I should do a blog, a video, or a show that is Life Lessons from Larry. Who knows?"  
Dr. Larry Ringgenberg entered into retirement and stepped down from his role as Director of University Centers at the end of February, 2021. The new Director of University Centers will be Kyle Burke. Dr. Ringgenberg said that UWL students can expect a "seamless transition."  
When asked what he was going to miss about UWL, Dr. Ringgenberg said, "Easy, everything."