"We want to recognize 360 well-being": Lipa Yoga Studio offers deals during the pandemic
La Crosse's Lipa Yoga studio, ran and operated by instructor Divna Miljkovic, first opened on March 8, 2020,  on International Women's Day. Teachers at the studio include Divna Mijkovic, Jody Adams, Nicole Letendre, and Georgiana Amundson. Miljkovic said during their open house a lot of people came and she was overwhelmed by the support from her friends, family, and the community. 
The studio was shut down eight days after it opened due to the COVID-19 pandemic. "It was heartbreaking at that time, but it is a pandemic, so we all understood." Miljkovic said, "The pandemic taught us a lot of things. Something that we would think we were not even able to do, we did it." 
The studio was able to reopen in August with safety guidelines in place, including nine people allowed in their studio classes instead of the original 32. "Small classes give us that at-home atmosphere. People feel they are heard." Miljkovic said, "Thanks to the Gods and the members with all our energy together we have been going steady. We are very happy with our home." 
Miljkovic said she started her yoga journey 10 years ago. After she suffered a back injury from lifting, she had to switch her exercise regime. She said, "I don't just love yoga, I live yoga. I think we are all here for the purpose" She was a member of Root Down Yoga Studio for seven years. She said she then went back to her country, Serbia, to learn how to instruct yoga at Vidya yoga school. She said her teachers taught her, "Yoga is a unity of mind, body, and soul using the breath." 
Miljkovic said there is meaning behind her yoga studio's name. Lipa is the Serbian name for a linden tree. The linden tree is the same as a chai tree. Miljkovic said she was the youngest of eight children and was very close to her mother. She said chai was her mother's favorite tea. "I always remember that was her favorite tea. My house as I was growing up was always full of smells. She always believed that everything would be cured with Lipa, chai." Miljkovic said, "I think her spirit is with us." 
Lipa Yoga Studio offers a variety of classes. Miljkovic said, "We want to recognize 360 well-being." Miljkovic said her yoga studio stands out because they encourage talking and sharing during their classes. Different classes include beginner yoga, yoga journey, power vinyasa, adjust and awake, a STRONG nation, and belly yoga.  Miljkovic talked about the differences between some of the classes at the studio. She said power vinyasa is their only hot yoga class and it is a fast-paced yoga class. Yoga journey is a slow flow class that focuses on breathing, and STRONG nation is a fitness class that includes high-intensity interval training. 
Miljkovic said that guided meditation follows most of their yoga classes. "We all think that it is needed at this time of the world going through the pandemic. There is a lot of anxiety and a lot of depression. The symptoms that come from people being alone." 
Miljkovic runs the Lipa Yoga Studio out of her husband's hotel at 2622 Rose St. La Crosse, WI. Her husband offered the studio lenience to not pay rent for a year and a half due to the pandemic. Therefore, the yoga studio is now offering classes at a discounted price because of its ability to save money from rent. Drop-in classes are now $7 per person with the first class being free. She said, "You come and do that first free class, then monitor yourself. You watch yourself and tell yourself: how do I feel?" Once she has to pay for rent prices will be adjusted post-pandemic. 
Miljkovic said she listens to her members suggestions, "The members have been telling me that they would like a monthly fee." The Lipa Yoga Studio now offers a $35 monthly virtual class fee and in-person and virtual monthly membership will be priced at $60. 
The Lipa Yoga Studio has virtual classes for people who want to do yoga classes at home during the COVID-19 pandemic. Miljkovic said, "We have a really good amount of people on our virtual classes. That is beautiful because there is no limit." She said her members were telling her that people were waiting for her to start virtual classes, which she began in October. "They were maybe scared to come here, but out of a safe bedroom, it's okay. It's beautiful actually, not just okay, it's amazing." 
Miljkovic said she was born in Europe and knows people from around the globe. "I never understood how that [online classes] would open the vessel. We now have people from Arizona, Mexico, and Serbia. We really love it." 
Miljkovic created her studio to cater to both yogis and those who are unsure of their comfort levels, she wants to make sure that everyone feels comfortable, and can afford to participate. Including students who are interested in the practice. "At this studio, if somebody comes and says 'I'm not sure', do another free class. Just come and follow yourself and follow how you feel."
She said yoga is a practice that is essential. "You really can't eat and not brush your teeth. In the same way, you can't put your body, mind, and soul through so much…and not take care of yourself, or you will pay the price." Miljkovic said, "In yoga life, there is no props, no pills, no gimmicks that you have to invest to use. Just your own body, mind, and breath. We all have it. We just need to learn how to take that first step and Lipa will be there for you to gently lead you on the right path." 
For more information about Lipa Yoga Studio, visit https://lipayogastudio.com/
About the Contributor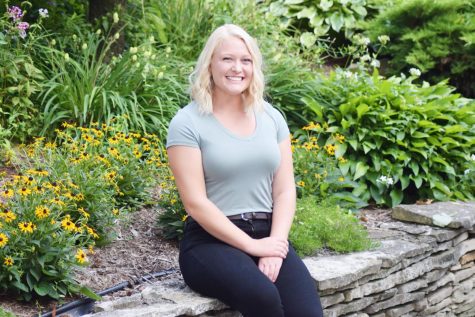 Jenna Dinkel, General Assignment Reporter
Year at UWL: Sophomore

PGPs: She/Her/Hers

Hometown: Jefferson, WI

Major: Public Administration and Political Science

Other Campus Involvement:...