"I assure you there is a light at the end of the tunnel": Campus Administration discusses plans for Fall 2021
The University of Wisconsin-La Crosse Chancellor Joe Gow sent out an email on Feb. 18, 2021, releasing information about potential plans for the fall 2021 semester amidst the COVID-19 pandemic. "It's been almost a year since COVID-19 altered our world, and I'm sure many of you are experiencing pandemic fatigue. Sometimes, it feels as if COVID-19 will never end, and we'll never get back to the best parts of our old traditions. But I assure you there is a light at the end of the tunnel." 
The Racquet Press met with Chancellor Gow to discuss the possibilities for the fall semester. Chancellor Gow said the most important thing for UWL is vaccination rollout. "We need to make sure that everybody continues to get tested even when the vaccines are introduced."
Chancellor Gow said, "It seems pretty reasonable to think, from what we're hearing, that most people will be vaccinated by the fall." He said, "We are working with the County Health Department and the State Department of Health on looking at if we had a vaccine site on our campus, where would it be and what would it look like."
Chancellor Gow said the issue right now is the lack of vaccines available. "When it becomes more widely available, we will certainly be ready to do our part." 
When asked about how this goal of students getting vaccinated can be made possible Gow said, "Really it's a question of everybody continuing to try to stem the spread of the virus. We are doing that quite well on campus. We have several days where there are hundreds of tests per day and zero positive. That's great to see. Once the vaccine is available, everyone should get it." 
Chancellor Gow said there is a lesson that can be learned from the COVID-19 pandemic. "One of the things, when we come out of this, that I think we all learn is to be more careful. If we're feeling symptomatic, stay home."
When Chancellor Gow was asked about what the plans for mask-wearing are, he said, "We are not sure. We will see what the CDC and County health officials are advising at that point." Gow said, "It is kind of fascinating, a year ago today, I think we were just hearing about COVID-19. It was in other countries and a few cases in the U.S. and look where we are now. I think we went over the curve and are coming down. The question is: are you, in the fall, at a place where it is really flat, or is it still where it is now? Hard to know." 
Chancellor Gow said he looks forward to getting campus events back in-person and is working on plans for spring commencement. He said, "I know people would prefer to be in person. It's kind of like commencement. Virtual, that's nice, but really what people want is in person.
Gow said there are plans to have an in-person commencement in May at the La Crosse Center, but they would not be able to have any spectators. "It would just be the graduates themselves and they would have to be distanced and masked," He said. "It's an incremental step toward getting back to a point where we can get everybody together in a group again." 
When asked about the likelihood of having a quarantine dorm in the fall, Chancellor Gow said, "We, at this point, feel we have to have some space. The question is how much." 
Gow also discussed the plans for the fall semester regarding in-person dining at the dining hall and fall athletics. "We hope that we can do everything as we usually were doing before the pandemic. That is certainly what we are planning toward. We always have a contingency that we can't do it how we would like to and so we have to have safety measures. We are optimistic on this." 
Gow said, "I really want to commend our students, faculty, and staff for being very patient through spring semester last year, summer, fall, and this spring. It's been very impressive that we've all held this together and done our part. We will certainly get to a time when we're back to normal."  
Chancellor Gow said he is proud of what the students at UWL have been able to do. "We are so grateful for all that students have already done. It makes me very proud of students at our university." 
Chancellor Gow said he is looking forward to getting back to normalcy and crossing paths with friends. "It's so important to just be able to cross paths with people. That is the thing I am really eager to do again and I know all our students, faculty, and staff are, and we will." 
Provost Betsy Morgan was able to offer her insight on the fall 2021 semester as well. "What we have told all the departments to do is to plan on if it were fall of 2019. Non-COVID, regular classes. If it were to be like fall of 2019 that would be 95% of classes that are face-to-face."  
Provost Morgan said that this is possible if the recommendations for social distancing are changed once people receive the vaccine. "If they keep the distancing, even with vaccinations, then we are going to have to pivot again and say a whole bunch of classes will have to go to a different format." 
Provost Morgan said that student learning online has remained the same, yet student satisfaction and expectation have decreased. "I think that satisfaction is relatively low because that is not what students signed up for," she said. "No student signed up to come to UWL to sit in a dorm room and take online courses. That's not what anybody wanted." 
As for campus life in the fall, Provost Morgan said, "I think what we're going to see is some pretty normal functioning for dining, for rec sports, for intramurals, for athletics in D3. The question mark is going to be about vaccines and testing." 
In Provost Morgan's final thoughts she said, "I think students probably know this, but everybody is looking forward to being back to normal. Faculty enjoy being with students in classrooms, that's why we became faculty." 
About the Contributor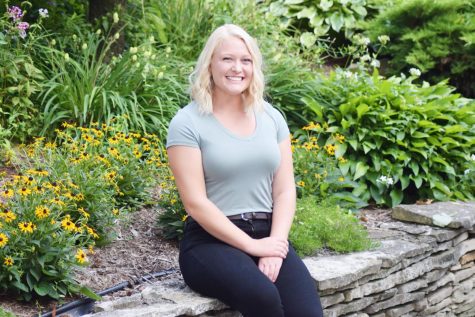 Jenna Dinkel, General Assignment Reporter
Year at UWL: Sophomore

PGPs: She/Her/Hers

Hometown: Jefferson, WI

Major: Public Administration and Political Science

Other Campus Involvement:...