Humans of UWL: K.C. Cayo
Redhead, student senator, backpactivist, former Jamba Juice manager, viral meme, D&D enthusiast, La Crosse City Council write-in candidate, self-described activist, and University of Wisconsin-La Crosse student K.C. Cayo is loud, proud, and according to them, not going anywhere. 24-year-old Cayo is of senior standing at UWL, although they anticipate being here one more year in order to complete their recently added social justice minor. Their majors are political science and English with an emphasis in writing & rhetoric.  
Cayo is originally from the Milwaukee area and has been heavily involved in social justice and activism for the last six years. They attribute this to two distinct experiences that took place when they were 18. "I was always interested in queer politics, but my interest in social justice and activism came when I was homeless and a senior in high school," said Cayo. Living at home in the Milwaukee area had been difficult for Cayo since they first came out to their parents when they were in 6th grade. "I came out because I thought my parents would be cool—because they were cool with other queer people—but they weren't cool with it being their child." Cayo left home soon after they turned 18.  
When asked about their experience being homeless, Cayo said, "I lived in the suburbs, and it's worse to be homeless in the suburbs. You can get fined depending on where you sleep, and it's hard to research and find out, basically where you're allowed to be homeless. So I moved out to the inner city of Milwaukee and I slept under the Milwaukee bridge." 
Cayo was homeless for nearly a year. "It was probably half and half between couch surfing at friends' homes, when their parents were willing to house me, or the homeless community. They taught me pretty much everything: who gives out free food, where you can get a hot meal, who would be willing to bargain with you over pharmaceutical prices if you needed medication." 
 They also attribute their activism to the fatal shooting of Michael Brown in Ferguson, Missouri. "That was the year that Michael Brown died and, as awful as it was, I had been given a very whitewashed version of history," Cayo said. "I was told that we were a post-racial society, that we were progressing, that all of this sh*t was behind us and that we weren't the same way we once were, but he [Michael Brown] was the same age as me…and this was the way we were." 
Cayo said that these experiences were a wake-up call for them. "I didn't watch the news, and history courses covered very little of what our world actually looked like, and so when I went out into the world, I realized I didn't know anything. And that was the beginning of the end," they continued, "it shouldn't have taken a black person dying for me to notice that I hold a lot of privileges and that I should be using them to uplift other identities, but it did, and I'm learning and unlearning and unpacking all the time because of it." 
Cayo then attended Pine Manor College in Massachusetts, a small liberal arts college that was historically a women's college but is now primarily made up of students of color. After one semester there, Cayo lost a close friend to suicide. "He was actually dating my little sister, so I dropped out of school to keep an eye on her. My parents would have needed to drop down to one job in order to do that, so I did it instead." 
Soon after, Cayo applied to work for Women's March Wisconsin and began traveling to protests around the country. They took part in protests for indigenous land rights, LGBTQIA+ rights, the March for Our Lives anti-gun movement, climate change reform, the Me Too movement, and various other progressive issues. In this time they also worked as a manager at a Jamba Juice in Waukesha, which they attribute with leading them to UWL. "I got a glimpse into what my future looked like with no degree." 
Cayo began to be interested in the law and workers' rights. "I actually saved up and went to college, in part, because I worked there [Jamba Juice], and I hated my bosses and wanted to learn about workers' rights laws simply so that I could take them to court." 
According to Cayo, one of their more formative life experiences was a backpacking trip they took to Eastern Africa the summer before starting at UWL. "I found a program called Operation Groundswell. It was focused on something called backpactivism—backpacking plus activism—and had a ton of different topics. The one that I chose was animal and environmental conservation," Cayo said. "It was probably the most ethical way I could ever travel. We didn't stay in any big resorts or hotels, it was almost always homestays, camps, or hostels. We weren't there as tourists, we were there to work with and learn from grassroots organizations and the people there." 
Cayo spent their first week of freshman year in Washington D.C., protesting against then-Supreme Court nominee Brett Kavanaugh. Cayo has been very involved on campus since then, with over three years of experience in student association and multiple student organization memberships. "My time on campus has primarily revolved around student association and the Pride Center. I've been a senator for three years running now, first as a freshman seat, then as a CASSH senator, and now as the Pride Center senator." Among the committees that Cayo has served on, there is the Segregated University Fee Allocation Committee (SUFAC), and the Academic Initiatives Differential Allocation Committee (AIDAC), both of which handle the balancing of fiscal budgets to various campus entities. Cayo has also been involved in UWL's student chapters of NextGen America and Planned Parenthood.  
Cayo has been heavily involved in the Pride Center since coming to UWL. "Being queer at UWL is exhausting and without the Pride Center… it would not be tolerable, and I probably would have left."  
Cayo said that they feel pressure to positively represent the trans and non-binary community. "Often, I am the only trans or non-binary or intersex or gender non-conforming person that a lot of people in my classes have ever met, and therefore I need to be the most exemplary version of myself, or they will think every person in the world who shares my identities, is just like me."  
They feel they must hold their tongue when they're discriminated against or misgendered. "I can't get angry if they're transphobic or queerphobic and, if I correct them, I need to police the way I correct them. Otherwise, they'll be like, 'oh, every trans person is rude.'" 
Sometimes Cayo finds time for non-political activities. "I very much enjoy listening to podcasts, especially DnD podcasts, and I'm learning how to play DnD now, which is a delight." 
As they look to the future, Cayo is not totally sure of their plans. Currently, they're devoting time and effort to their write–in campaign for La Crosse City Council, which they announced via social media on January 30th.  
They look forward to staying involved with student association and continuing their efforts to reform UWL attendance policies."I've been working on that for the last three years and I keep getting sent around in circles, but I would like to start a conversation around the question of who attendance policies actually help, because it's not us [students]."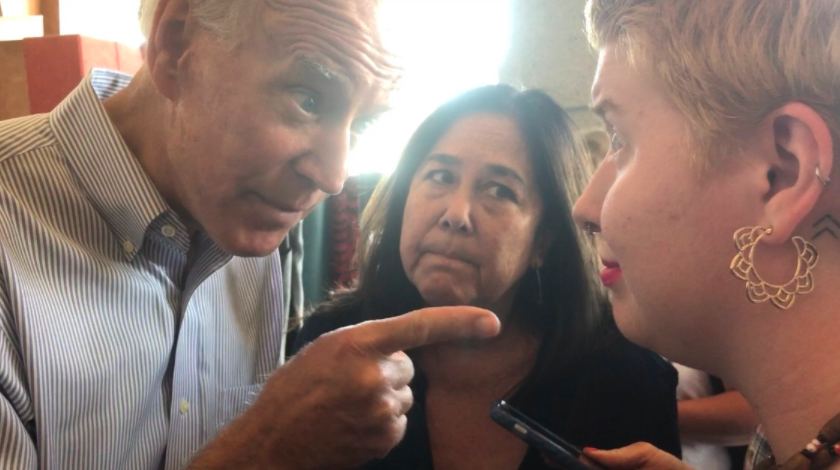 Cayo is also hoping to one day recreate the 2019 meme that featured then-presidential candidate Joe Biden. "I would very much like to reach out and ask him if we can recreate it where I get to shake my finger at him. I think that would be very funny." 
When asked to share something they're proud of themselves for overcoming, Cayo said, "A lot of people in my life didn't think I'd ever make it to college, and neither did I, which couldn't have helped. I guess they just didn't think that a lot would come of me."  
"I'm not good at prioritizing myself, so when I do things for me it's usually out of spite to prove myself or other people wrong, which, admittedly, isn't great. But for now, it's a good, working basis." Cayo said. "I'm proud of me for being here. I didn't think I would be here. I didn't really think I'd make anything of myself either. And I love proving people wrong—it's a good feeling."