Provost Betsy Morgan speaks on the updates to the 2021 graduation commencement ceremony
The University of Wisconsin- La Crosse is holding in-person spring commencement on Saturday May 15, 2021 at the La Crosse Center in Downtown La Crosse. "You don't want to let a big event like this go without marking it as a rite of passage," said UWL Provost Betsy Morgan.  
"It looks like we're going to land on three ceremonies," said Provost Morgan. Students will attend the ceremony that corresponds with their program. The graduation ceremony schedule will take place as follows: 9 a.m College of Business Administration, 11:30 a.m College of Arts, Social Sciences, and Humanities, School of Education [including EC-MC, MC-EA, STEP (English, History, Social Sciences), World Language Education, Art Education, Music Education], 2:30 p.m College of Science and Health, School of Education [including STEP (Math, Biology, Chemistry, Physics), PETE], and associate degree candidates.
"Anybody who wants to walk, will be able to walk," said Provost Morgan. She said that there will be no spectators at the ceremony and students will be required to wear a facemask and physically distance at six feet apart. "We're not going to have a band, we're not going to have faculty. There are just going to be a few of us up on the stage. We do hope to have a student speaker for each [ceremony]."  
 Provost Morgan said, "The reason we're not going to have it outside is that it's so hard. We don't have any back-up if it does rain, and you have to make that call in advance."  
 There will be a deadline for students to sign up to participate in the in-person commencement. "We are going to have a signup, so it could be at some point we draw a line in the sand and say 'If you haven't had your name on [the commencement sign up] by this time, we can't accommodate.' But in general, anyone who wants to walk can walk," said Provost Morgan. For students interested in walking through the in-person ceremony, you need to complete the "Book Your Seat" survey which was sent out via email, by April 19.  
The commencement will be live-streamed and the link to the event will be accessible online on the commencement webpage. "There will also be a professional photographer there," said Provost Morgan.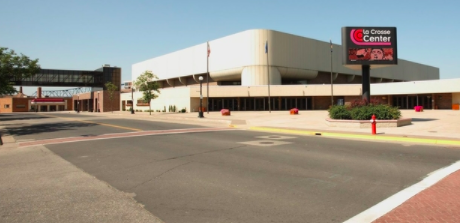 "Anybody, whether they're comfortable walking or not, can do the online event that we've done the past few times," said Provost Morgan. The "Couch Commencement" will be available for any student that is graduating this spring.  
"I think it's best to describe it as an online yearbook," said Provost Morgan. "It allows [graduating students] to load up a bio and talk a little bit about their experiences. That's gone really well." Provost Morgan said that more information about the "Couch Commencement" will be available to students in mid-April or early May.  
"One thing that's sometimes confusing for people is the difference between commencement and graduating," said Provost Morgan. "Commencement is the ceremony."  
"The actual graduating, the diploma, comes from Records and Registration, and we don't mail those until after grades are due in spring. The thing that they hand you as you walk across the stage is the diploma holder," said Provost Morgan. "It doesn't have the diploma because we don't know what grades you've gotten. We can't do the final degree verification."  
Provost Morgan said that if graduating students choose not to attend the in-person commencement ceremony, they will still graduate from UWL and they will receive their diplomas in the mail, along with the students who have chosen to walk through the ceremony. "And that's how we've always done it, whether it's COVID-19 or not. [The diploma] gets mailed about six weeks after the end of May," said Provost Morgan.  
Provost Morgan said that the ceremony at the La Crosse Center will be for undergraduate students only. It will not include graduate students. "For graduate students, [commencement] will either be through their program, or we will do something for everybody else," said Provost Morgan.  
She said that graduate hooding ceremonies and commencement may take place within individual graduate programs, or graduate programs may share a hooding ceremony with multiple graduate programs. "That has not been settled for a day and time," said Provost Morgan.  
"We're sad that we can't have [traditional] commencement. Faculty, students, the chancellor, everyone really loves commencement. It's a nice, important rite of passage," said Provost Morgan. "This is the best that we can do. This is what a lot of schools are doing; it's one step better than we were able to do before."  
Students looking to purchase a cap, gown, or other graduation materials can find information on the UWL website for online purchases. There are also items available for purchase at the UWL Bookstore. "I really encourage people, even if they don't walk, to think about getting a cap and gown and having photos taken in it, or borrowing a friend's cap and gown," said Provost Morgan. "Get your picture taken at Hoeschler Tower, or people like Riverside Park. I think that's a really smart way to do it."  
"We're so impressed that we're able to keep [COVID-19 case] number low, and we know it's harder when it gets warm and people want to go out, and we're hearing more reports," said Provost Morgan. "By far, the most important thing is masking and washing your hands. That's just crucial to making this work."  
Provost Morgan said that there will be a virtual countdown to graduation that graduating students will receive via their student emails. "[Graduating students] will get a reminder for what you need to think about and do," said Provost Morgan. For up-to-date information on graduation, commencement ceremonies, and the "Couch Commencement," visit https://www.uwlax.edu/commencement/.