"Streignth" – UWL student runs local fitness business
Streignth is a local La Crosse company created in January of 2019. Their mission statement is "To create the greatest version of yourself and to always strive for more. Never settling, always hungry for more. Stand out, stay hungry, and reign. Reign over your competition, reign over yourself; reign over your body and mind, and take control of your life. Be a lion. This is who we are; this is the definition of Streignth."  
Owner and University of Wisconsin-La Crosse Junior, Shane Skaar, started the business during his first year at La Crosse. "During J-term of my freshmen year, I was working at Kwik Trip and Subway at the time. I was like this is fun, I've been doing this for two years each, but I want to do something more meaningful." 
Skaar said his business name has a meaning behind it. "Basically, it's the word reign in the middle. That is the whole idea of reigning from within. I wanted to combine strength and reign in one thing." 
Skaar said his entire business idea can be attributed to a chest condition he had when he was growing up, called Pectus excavatum; a rare condition in which a person's sternum caves in. In 2015, Skaar decided to get surgery on his chest to help with his condition. "They said the success was not guaranteed and the pain would be worse than open-heart surgery. I was just more scared of not trying. But it went super well." 
After a year, Skaar was able to be active again. This is when Skaar started lifting weights and began to see a trainer. "I developed a mindset that if I want something bad enough, I'm going to do whatever it takes to make it happen." 
Skaar said he started Streignth mostly as a hobby. "Every day I'm working on Streignth it never feels like work." 
The business has been growing over the past two years. Skaar said, "As the brand grows, I feel like I am able to grow. If something doesn't work on the brand, it probably stems back to something I am doing wrong, then I can self-reflect and try to make myself better." 
Skaar said he feels he doesn't face more challenges as a young entrepreneur than others. However, he said there are still challenges. "Learning as you go and trying to figure out where to get your resources from. As an entrepreneur, you're kind of a trailblazer." He says that he balances studying at the university with his business by dedicating a couple of days of the week to academics, and then utilizing the rest of his week to work solely on Streignth. 
Skaar said one of his biggest motivations is to see the people around La Crosse wearing his apparel. "It's really the people that keep me motivated." 
Skaar said that he hopes that his brand can help people feel confident. "Everybody has insecurities. It's not what happens to you that defines you, it's how you respond to it. That's been my life motto." 
Skaar said that they have been able to keep steady business during the COVID-19 pandemic. "Everybody had to adjust. Everybody got hit in different ways. I think that we as a brand made the most of it," he said. "The last six months have been really well. Business, in general, is all about connections, about who you know. We've been able to get some crazy opportunities." Skaar said his connections are the best way he has been able to grow his business. "This might sound crazy and stupid, but I don't invest in any ads." He has been able to spread his business through social media and word of mouth.  
He is happy with the growth of his business. "It's been growing really well. I think about it, like I said you get out what you put into it." Streignth has their newest release coming mid-May. There will be 20 products in their new relentless collection. This collection focuses on mental health and has the goal of pushing people to be relentless. 
 He said that every time he launches merchandise the drop increases in quantity, and consistently selling out 75% to 80% of products within the first week of the 
Skaar said he has big plans for his Streignth business. "There has been some great growth, but we're just getting started. I'm trying to be the next Gymshark. We have so much potential, and I'd be stupid to not take advantage of what we have going." He said, "I look at every little thing and I'm like how can we be doing better." 
When Skaar talked about future plans for his business he said he sees them eventually moving to a big city. However, he wants to keep his roots in La Crosse. "The perfect dream goal for me would be that we keep setting the strong foundation in La Crosse. Probably always keeping something here. It's where it all started." 
Skaar said he hopes he can inspire people to be the best version of themselves. "Live your life to the fullest. Think about how you can improve yourself physically, mentally, and spiritually on a daily basis." He said, "We are much more than a clothing brand. We're a complete mindset. I'm trying to sell a mentality more than anything." 
About the Contributor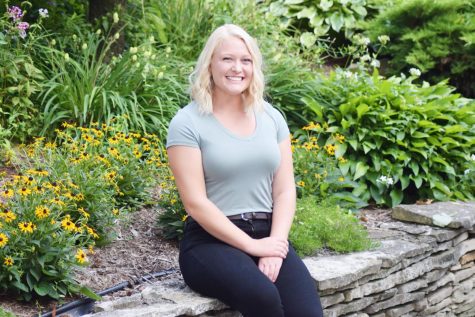 Jenna Dinkel, General Assignment Reporter
Year at UWL: Sophomore

PGPs: She/Her/Hers

Hometown: Jefferson, WI

Major: Public Administration and Political Science

Other Campus Involvement:...