Humans of UWL: Julia Van Fleet
University of Wisconsin-La Crosse senior, Julia Van Fleet will be graduating this semester. She reflects on her time at UWL and as a reporter for The Racquet Press. "I was really shy when I was a child, so I have always been drawn to reading and writing," said Van Fleet. "I wanted to do something that made an impact."  
Van Fleet is an English major with an emphasis in writing and rhetoric and she also has a professional and technical writing minor. Van Fleet is from Muskego, WI, and is a transfer student.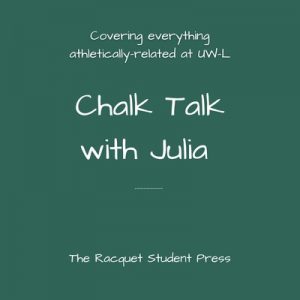 Van Fleet is the sports reporter at The Racquet. She hosts a podcast called "Chalk Talk with Julia," and is interested in sharing stories about mental health in sports. "We thought it would be fun to sit down and talk about sports. It's been super therapeutic in a way. We get to talk about all of the things that we went through, good and bad, in sports," said Van Fleet.
Van Fleet said prioritizing mental health is one of the most important things that college students can do. "That's something that has been essential for me, because I've struggled with it my entire life," said Van Fleet. "I think being able to understand how important mental health is, how you can't fill somebody else's cup until yours is full, that's been one of my biggest lessons." 
Van Fleet said that her favorite thing about the La Crosse area is taking in the scenery and taking some time to relax. "I like driving up into La Crescent in the bluffs. There's this really cute spot you can peel off in, and there have been a couple of mornings where if I have a really jam-packed morning or day, I'll get up at the crack of dawn, go get a breakfast sandwich and a coffee, and go sit in the bluff and watch the sunrise," said Van Fleet. "It's absolutely beautiful. You can see the bridge, you can see La Crosse, and it is truly beautiful."  
"Some of those quiet, peaceful moments alone have really allowed me to recollect my thoughts and get myself in a better space for the day," said Van Fleet. "I'm an extroverted-introvert. I love giving forth energy, but it can be draining too. So some of my moments alone have been my favorite times in La Crosse."  
Along with her involvement at The Racquet, Van Fleet works for The Catalyst, UWL's art and literary journal. She is also a copyeditor for the UWL oral history department. "It's really cool. They have all of these recorded interviews that people can go back and listen to. They're planning on digitizing everything and putting it in Murphy Library."  
Van Fleet is an intern at Habitat for Humanity and is also interning in UWL's Office of Research and Sponsored Programs. "At UWL, they have faculty that come in that want to receive funding for something. It's every department. I have worked with like a million professors," said Van Fleet. "They bring in a proposal, and we help them walk through everything they need to do for a specific funding opportunity whether it's government or private or at the school. Every funding application is different."
"I'm interested in pre-award. I do all the editing and I find funding opportunities. It's a really cool opportunity," she said.
Van Fleet's advice for English majors such as herself is to get as involved in the department as possible and to be proud of the English major title. "I wanted to shy away from the English major because I thought I would never be able to get a job, I would never be marketable, but [English majors] are learning all the skills of persuasive speech and writing," said Van Fleet. "You have to have all of these skills that I think some other majors struggle with, and being able to apply these experiences and market yourself to be appealing to employers is huge."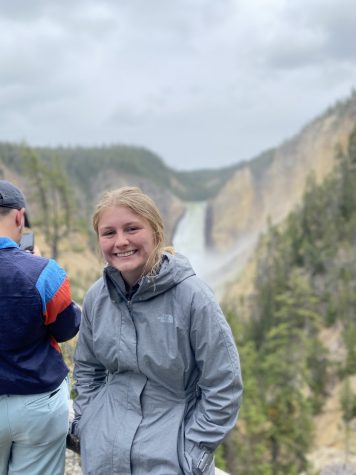 "Some of the humanities are so underrated," said Van Fleet. She said she has enjoyed her time in the English department at UWL. "The English majors here are some of the most intelligent and humble people I've ever met."
Van Fleet said that she is going to miss her peers as well as her professors. "I have never met such a kind group of people that just want to help you and want to see everyone succeed," said Van Fleet. "They are passionate about their work. I think we have such special faculty in the English department."  
Van Fleet said that she is planning on earning her master's degree in research administration after graduating from UWL. "The hope is to get a job in research administration at a university, and then complete my master's," said Van Fleet. "The end goal is to be a director."  
Click here for more information on Julia and her work at The Racquet.