Humans of UWL: Alumni Andrea Connell
Andrea Connell graduated from the University of Wisconsin-La Crosse in 2008 with a degree in computer science. Today, she works in the Jet Propulsion Laboratory (JPL) on the perseverance rover at the National Aeronautics and Space Administration, otherwise known as NASA. 
Connell first came to UWL undecided in her major. She was introduced to her first computer science class at UWL and found her passion in computer science. She later continued her education obtaining a graduate degree at the University of Hawai'i at Manoa. She said, "That is when I first applied for summer internships at NASA and I got accepted, which I didn't really expect to happen." 
Within the past six years, Connell has worked on different missions and positions. "I've worked for the deep space network, which is how we communicate with all of our satellites that are beyond Earth's orbit. I've worked for the Cassini mission, which orbited Saturn for thirteen years." 
Recently, her position has been working on the Perseverance Rover on Mars for three years. On all missions, she has been a software engineer.  
Connell said she has always enjoyed science but didn't always know what she was going to do. She said most of her career has been a result of her ability to seek opportunities. "A big part of it is seeing opportunities and thinking there's a job that sounds interesting, I might not be qualified for that, but maybe let's try it." 
Connell said when she first started taking computer science classes she applied and got an on-campus job at the Office of Residence Life as a programmer. "That was a huge defining moment for me. It took everything I was learning in class, all the theoretical things, and showed me how I could apply it in real life."  
In her job at the Office of Residence Life, she updated the at-the-time career services website for the financial service office. It was her first project, and when she showed it to Vernell Glenn, the person in charge of the oversight, he had said it would make his life so much easier. "Over a decade later I still remember that. That was the moment when I thought I could change something for someone." 
"It's all the little things building on top of each other to build up my career into what it is," Connell said.  
At NASA, Connell works on the planning side of the everyday tasks of the rover. "Now that we've landed, I'm actually part of the operations team. So, I am one of the people using the software that I've spent the last three years writing." 
Connell said she enjoys working on the operations team in addition to the software development team. "I love working on a team. No one on the mission can understand everything about it. There are just too many details and too many things we've never done before," she said. "It would be completely impossible to do any of this without a giant team of people all working together. That's one of my favorite parts of it because I get to learn so much from everybody." 
Connell said something she has learned throughout her career was getting comfortable with learning new things all the time. She said when she was in high school, she wasn't pushed very hard, and when she came to UWL she first started to experience what it felt like to push herself. Connell said, "In college, I took Calculus three times before I passed it. It's kind of embarrassing, but I had to learn how to push myself academically." 
Connell said her time at UWL was very beneficial to her future endeavors. "It provided a good foundation for me to go forward on." She spoke about how UWL provided her with some of the resources that helped her succeed. "I think the biggest thing for me is learning how to learn and learning how to push myself. Also, all the people I worked with; from my professors, from the advisement office, getting to work in the residence life office. Everybody I worked with was very supportive."
When asked what excites her about her work, she said, "The obvious thing is that we are working on Mars."  
Connell said it is easy to get caught up in day-to-day tasks and forget about the big picture. "When we were working at JPL we could walk across the street and go and see the rover being built or go and see it being tested. It was like oh yeah this is what we are doing. We're going to send this thing to Mars."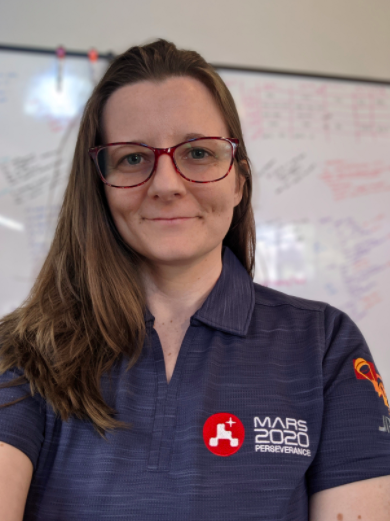 Connell talked about what it is like to work at NASA. "I think one of the biggest surprises is that it is actually just a workplace, just like other workplaces. You still have all of the same problems you are going to have anywhere else." She said, "I think there is a stereotype that people who work at NASA are child prodigies, they're geniuses, there is something magic about them. Then coming to work here, it's regular people who came from all different paths." 
Connell said that as a student it is important to keep your opportunities open. "Be open to knowing anything is possible. I never realized this kind of career was even a possibility to me when I was at UWL."  
Connell said, "I think the main thing is just looking around and anything you see anybody doing in the world, whether that is working at NASA, being an astronaut, or literally any career you can imagine. That is something you can do from UWL. That's the main thing, don't limit yourself."