Humans of UWL: Blake McCoy
For The Racquet Press' photojournalist Blake McCoy, journalism is more than just reporting the news. McCoy said that her favorite part of journalism is giving other people the opportunity to share their stories. "When you talk to somebody about something they're passionate about you can tell. Their face lights up. That's one of the things that I've really loved about The Racquet." 
McCoy has been with The Racquet Press since Spring 2021 and is graduating this semester. She has a double major in sociology and English writing and rhetoric. McCoy is also an editor and social media co-editor for University of Wisconsin-La Crosse's art magazine, The Catalyst.
She said that she discovered the opening for the photojournalist position while running The Catalyst's Instagram page. The Catalyst account received a direct message asking to promote the open photojournalist position to Catalyst editors and contributors. After sharing the message to her fellow editors, McCoy decided to apply for the position herself.  
"[The Racquet Press] was just a really great opportunity for student reporting and student publishing. And it seemed like a really great platform to share ideas and to share what's happening on campus and I knew I definitely wanted to be a part of that," she said. 
While working with The Catalyst, McCoy was able to learn about the creative space at UWL. "UWL creates this environment and safe space where it's okay to ask questions and it's okay to make things that are weird or things that you're interested in," she said. "As an English major, that's something I've really loved about my professors. You can write whatever you want and people are going to be open. If you're creating, then you're doing something worthwhile." 
In her free time, McCoy enjoys reading and watching and analyzing movies. Some of her favorite underrated movies are "The Cat in the Hat" and "Madagascar: Escape 2 Africa". "There's something about [The Cat in the Hat] that is just so quotable," she said. McCoy also enjoys kayaking in her hometown.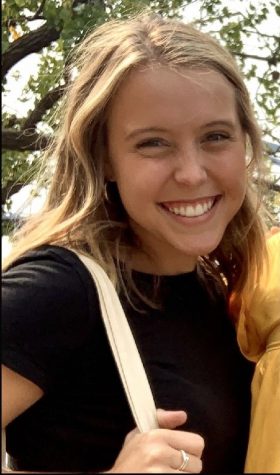 McCoy is from Richland Center and will be attending graduate school at UW-Madison for journalism. She hopes to work for PBS after receiving her graduate degree. "I'm passionate about telling Wisconsin stories. There's just something about telling stories in the place you call home and talking to people that you know and can relate to," she said. 
McCoy is a first-generation college student and transferred to UWL in her junior year. She said that a short amount of her education at UWL was in person due to the pandemic. Yet, she still finds positives from the pandemic. 
"One of the things the pandemic has at least taught me is what I need in my life to be happy and to feel centered. For me it's been my family and my close friends," McCoy said. "I just am so grateful for my family, my hometown, and my professors. Their encouragement and support have made me the person I am today and I'm so thankful for them." 
"Something that I'm really going to miss about UWL is my peers and my professors. I've had a really good experience here," said McCoy. "You leave UWL a better person than you were when you came here and I think that's something that is so valuable." 
To read McCoy's articles written during her career at The Racquet Press, click here.