Humans of UWL: Alexis Cimoch
Sam White, Arts and Entertainment Reporter
May 18, 2021
University of Wisconsin-La Crosse senior Alexis Cimoch has been performing since she was a baby. A double major in musical theater and communication studies, Cimoch is no stranger to the spotlight. She has performed in multiple productions on campus, briefly worked on commercials and advertisements when she was in middle school, and even got to be on an episode of Friends.
Growing up as a quadruplet in California, Cimoch was surrounded by the arts. When she was an infant her parents were contacted by the producers of Friends asking if Cimoch and her three brothers would play Phoebe Buffet's triplets in an episode of Friends titled "The One With Joey's Porsche." Being a quadruplet, the producers were able to swap out the babies if one was fussy which made filming much easier.
This summer Cimoch made a Tik Tok explaining her experience on Friends and the video went viral, garnering over 3 million views. The video led to interviews on Good Morning America, Access Hollywood, and even discussions on having the quadruplets attend the rumored Friends reunion. These experiences have helped Cimoch prepare for her career in theatre. "My goal is to perform and be an actress, so this was the best kind of situation because I've gotten publicity and there's news articles about me now, and all this stuff, so I wanted to keep the momentum going."
When Cimoch was in 6th grade she got to play Veruca Salt in her school's production of Willie Wonka and the Chocolate Factory, which is where her love of performing started. Cimoch said that "midway through the show, I remember thinking, I want to do this for the rest of my life, and I even had my sixth-grade teachers be like 'you're going to do this for the rest of your life.'" After that, Cimoch became involved in her high school theatre department and performed in "every single play and musical available"
In middle school she signed with an agency and started to act in commercials, Cimoch said "I was about an hour and 20 minutes away from LA, which was really cool for all the commercial opportunities that I got to audition for…my mom would take me out of school and just drive me down to LA which was really fun to be an elementary school kid and be like "bye everyone I'm going to LA" Shortly after signing with the agency Cimoch and her family moved to Wisconsin, so that chapter of her life quickly came to an end.
Cimoch then decided to attend UWL to major in musical theatre and communication studies. She moved here during her freshman year with her brother Paul, who is also a communication major. Having a sibling nearby during that first year helped her adjust to being away from home. Cimoch said, "knowing my brother has been five minutes away these whole four years have just been so helpful, and knowing that I have family here has been such a blessing."
Cimoch said she loves everything about La Crosse, from the bluffs and hiking to the downtown coffee shops and restaurants. "I think it's such a beautiful place to meet friends, but also be a student," Cimoch stated. "I was the kind of girl who would go into all the different coffee shops and just park and do all my work….La Crosse is just everything and I'm going to miss it so much."
While she will miss La Crosse she is excited to move on to the next chapter. Cimoch plans on moving to Chicago after graduation with some friends she met through school. She hopes to find a job using her Communication Studies degree in a professional theater while auditioning for shows in her spare time. "I'm trying to take my majors and apply them to any sort of theatre company…I thought that would be really difficult but there are so many jobs out there for exactly what I'm looking for."
Cimoch wants to thank everyone who has supported her dreams of being on stage, from her mom, who has always been supportive of having a kid involved in the arts, to her teachers growing up who pushed her to pursue theater as a career, and finally to the professors at UWL who Cimoch refers to as a "giant family". She also explained that she doesn't want to be known only as "the baby on Friends." "Yeah I was a baby, I was a tiny baby, but look what I am doing now…this has been following me around for my whole life and everyone's so curious as to whether I'm still performing or not, so I want to get the answer out there, like yes, I am, hire me!"
About the Contributor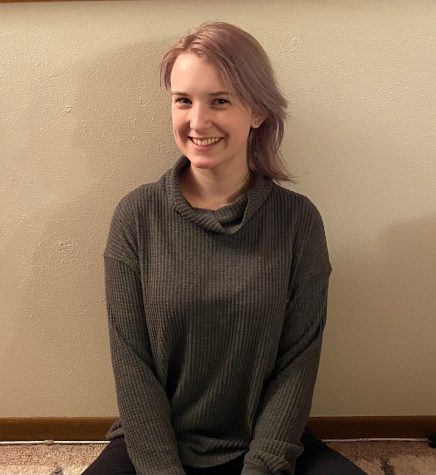 Sam White, Arts & Entertainment Reporter
Year at UWL:  Senior

PGPs:  She/Her/Hers

Hometown: Taylor, WI

Major: Communications with a Media Studies emphasis

Minor: Women's Gender...