UWL students comment on the decapitation of the blue baby statue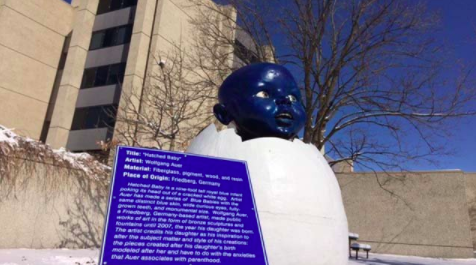 Sam White, Arts and Entertainment Reporter
September 27, 2021
In early 2018, the city of La Crosse installed a nine-foot-tall sculpture of a blue baby coming out of an egg.
The sculpture, titled, "Hatched Baby," was created by German artist Wolfgang Auer and was on loan to the city. It was displayed behind city hall and next to the police department. Auer has created multiple blue babies that are on display in other cities as well. Auer lives in Friedberg Germany, which is a sister city to La Crosse. The Hatched Baby sculpture series was dedicated to Auer's daughter and represents the anxieties that come with parenthood. Over the years the sculpture has attracted many comments, both positive and negative, but has been a permanent fixture of the La Crosse landscape since it was installed.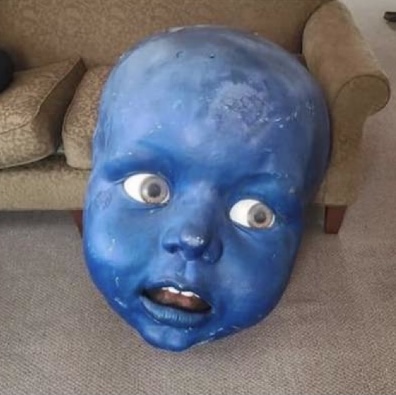 On the morning of Sunday, Sept. 12, the La Crosse police found the sculpture vandalized and the baby's head missing. Later that evening, comedy news page Barstool Sports-La Crosse posted two photos of the baby's head sitting in what appeared to be a living room. The photo was captioned, "most devious lick you've seen for La Crosse?", a reference to the "devious lick" trend on social media, in which users post content of themselves stealing untraditional items. Because most of Barstool's content is submitted by their followers, it is unclear how they got the photo or who submitted it. That post has since been deleted. 
By the morning of the 13, the head of the baby had been discovered lying in a yard on King Street. The owner stated that it had been left there by someone during the night. La Crosse Mayor Mitch Reynolds released a statement on the 22nd saying that the sculpture was deemed irreparable by Auers and would not be fixed. Police have not yet made any arrests or named any suspects. 
The vandalism of the Hatched Baby has created quite a stir on campus and in the community. Many people are upset by the destruction of the sculpture, while others say they hated the piece. Isaac Voss, a recent University of Wisconsin-La Crosse graduate, said, "The baby is a nightmare, I'm glad it's gone… calling that baby art is a slippery slope." 
 UWL student Colton Homan said, "I think it's the ugliest thing ever and it's scary to look at." 
UWL student Danne Holzer, said, "It's not my favorite piece of art but art isn't always supposed to be pretty. It's supposed to make you feel something and I think it's awful that someone destroyed it."
Local artist Scott Cheek explained on Facebook that, "The irony of the destruction of the Hatched Baby only becomes apparent if you understand what it is about. Most aptly it's addressing the fears associated with parenthood. 'What if they don't fit in', 'what if they're bullied', 'what if they die one night and there was nothing I could do to help.' Ironically this sculpture was argued about, called names, and ultimately shoved in a corner primarily out of the public eye. Then in fact beaten. And most recently literally decapitated. All of the artist's anxiety came to fruition…"
While the hatched baby will not be fixed, there is hope that the sculpture will be replaced by another work of art. Photographer Mike Calarco designed drink coasters from a photo he had taken of the Hatched Baby. He is currently selling them on his website and will donate profits toward another public art piece in the community. When asked about his thoughts on the vandalism, Calarco said, " Regardless of how people viewed the sculpture, it should not have been destroyed. It looks bad on us as a community to have a gift destroyed from our sister city and shows how closed-minded people in our community are." 
The La Crosse police are continuing to investigate the destruction of "Hatched Baby," but there have not been any arrests made. Anyone with information is urged to come forward.