UWL to open a space in the REC for eSports
If you have been to the Recreational Eagle Center (REC) this fall then you might have noticed the construction of a new space dedicated to eSports. "This space has been in the works for about 2 and a half years ago," said Associate Director of Programs at the REC Nathan Barnhart.
"We've seen a trend in other universities, and we wanted to provide a new opportunity for students who might not normally come here (the REC)," continues Barnhart. "We want to have something for everyone," adds Director of Recreational Sports Jeff Keenan. "We are excited to have not only outdoor sports in the REC but also indoor sports as well," continues Keenan. "We definitely have plans for intermural sports, but also our gaming clubs," said Barnhart talking about the goals for this space and who will be using this space. There will also be a space for casual gamers. Both Director Barnhart and Director Keenan want this to be a space for everyone, whether if you are a competitive gamer or just someone who wants to hang out with friends.
"We are hoping to open by the start of next semester," said Keenan about when it will open. "We will probably open in phases. We need time for testing things and there is a lot of issues in the supply issues,"  adds Keenan. If anyone has tried to get the newer consoles, like the PlayStation 5, you know how difficult it has been. "It has been an issue," Barnhart says talking about getting the consoles for the eSports space. "We don't want to spend two or three times what we would normally spend to get those consoles." Barnhart continues talking about people buying the new consoles and selling them to others for a much higher price.
"Over the next few months, we will be working on the operational aspect of this space," said Keenan. "What games we want to have and how it will operate," adds Keenan. They will be reaching out to the student body, student government, and the gaming clubs throughout campus. "We want to see what these groups of people want out of the space and how we can best operate to fit those needs," continues Keenan. An immensely popular type of game is first-person shooters. "We are working through all those things now," says Keenan discussing the debate regarding the use of violent video games.
This space will include plenty of accommodation for any type of gamer. There will be 24 PC stations, two virtual reality/console areas, and two areas dedicated to just console gaming. There will also be a live streaming room and a spectating area with a projector for people to watch events and competitions. For reference look at the floor plan provided. If people also want to check out the Nintendo Switch, that will be an option as well. There will also be no shortage of unique and high-power technology. "Our PC's will be Alienware brand and more of their higher-end products as well," said Barnhart talking about certain equipment they will be using. "We are hoping that the lighting associated with this project will be supported by a Green Fund," said Keenan, "We want to make sure this space is environmentally friendly and energy-efficient. The Green Fund only invests in environmentally responsible projects."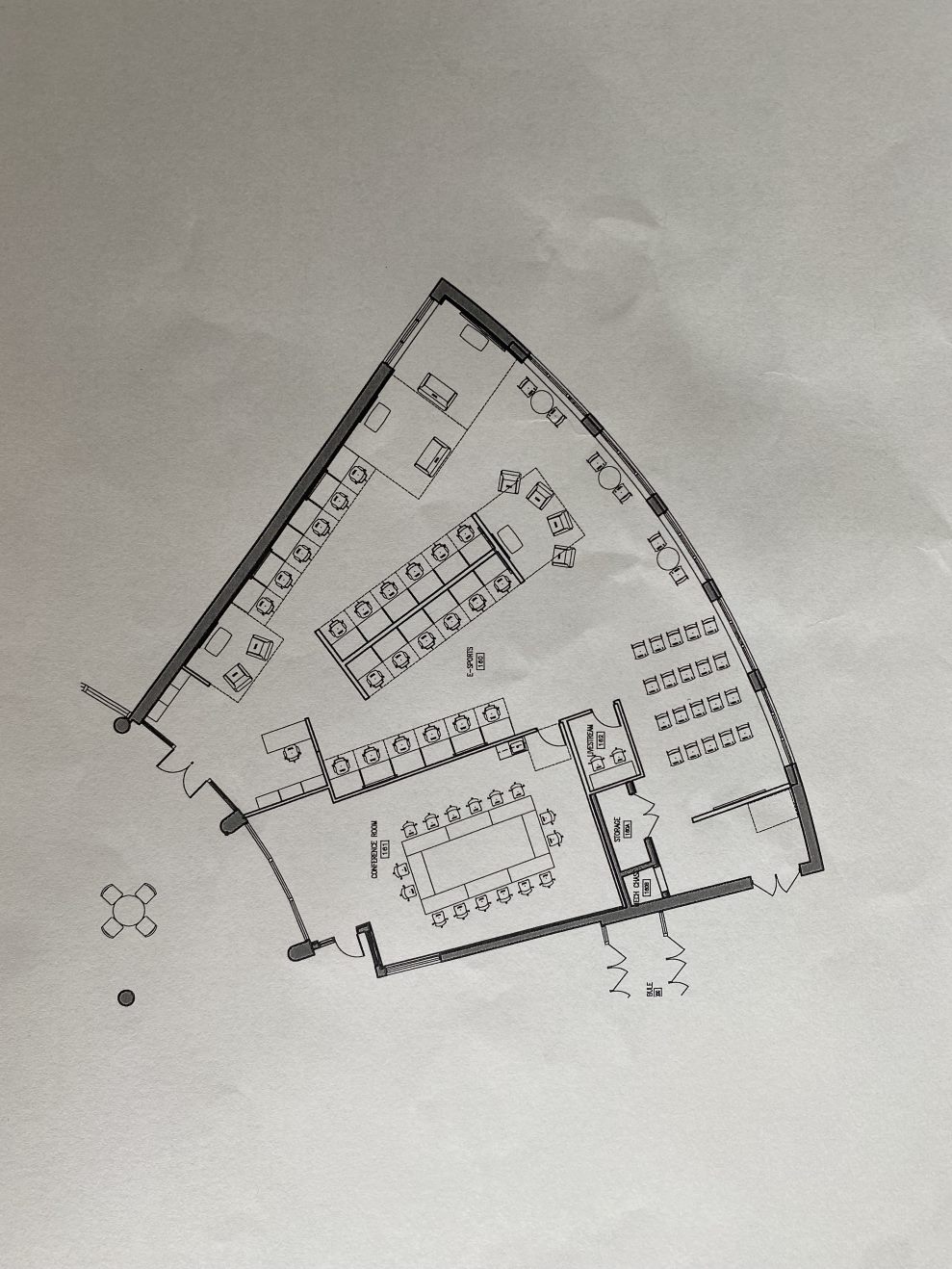 If you are interested in working for this space, Director Keenan is looking for people to hire soon. Make sure you are on the lookout for more information once the opening of the space itself gets closer.