UWL adds new course: "Spanish for Mental Health Professionals"
Spanish for Mental Health Professionals (SPA 322) is a course that is part of the new Certificate of Spanish for the Health Professions that was added this fall. It has been designed in part for psychology majors who expect to work with Spanish-speaking patients in the future. This course gained the Community Engaged Learning (CEL) branding, which extends the educational goals of this course beyond the classroom.   
Professor Antonio Martín Gómez has been teaching various Spanish courses at UWL for three years and has taken on teaching Spanish for Mental Health Professionals this semester and plans to continue in the spring. Gómez graduated from Purdue University with a Ph.D. in Spanish Linguistics.  
Spanish for Mental Health Professionals has an optional service-learning component in which students assist a community partner, Sarah Johnson (Mental Health Director at the YMCA in La Crosse), doing Spanish subtitles for her "Dinner Table Resilience" videos. These are a series of videos on various mental health topics such as resilience, positivity, mindfulness, etc. Students who decided to participate in this project met at the YMCA for 10 weeks, to work in pairs on the Spanish subtitles and their associated "skills sheets."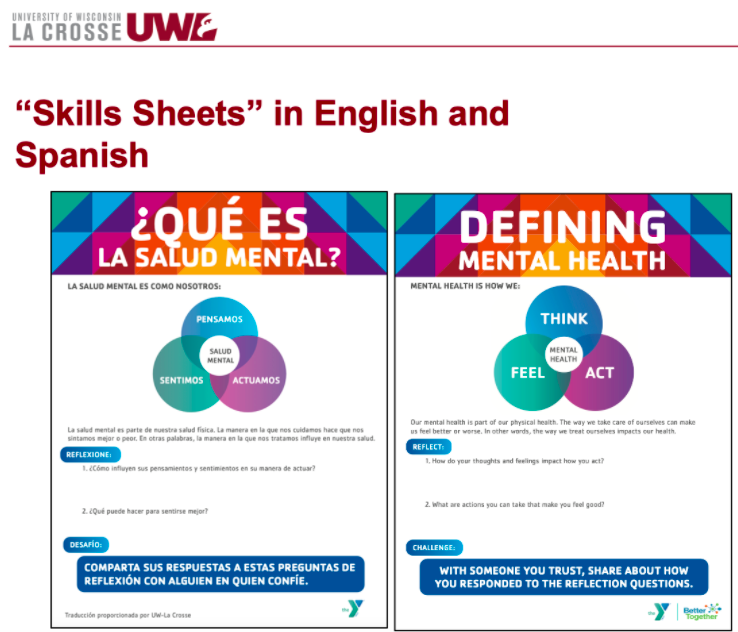 The Racquet Press sat down with two students who took part in this program, one as a volunteer and the other as a student in SPA 322. 
Michaela Richman is a senior at UWL who is majoring in Spanish, and she participated in this project as a volunteer. When asked about how this project has impacted her, Richman said the following: "Helping and broadening mental health awareness to other Spanish-speakers really appealed to me. It was a big, time commitment, but the benefits I got out of it made it all worth it. Doing something more, something for someone other than myself and doing it with others made the process so much fun." 
Ashley Adams is a senior at UWL who is double majoring in Spanish and biochemistry. Adams took Spanish for Mental Health Professionals for credit this semester. She plans on taking the MCAT, applying to medical school, and pursuing a career in nursing. "Taking this course has allowed me to gain a significant certificate that will be valuable for future applications. I hope to help others in the future without having to worry about a language barrier." 
Future students of this class will continue their work, revising, and editing so the final product will be, as Gómez says, "A series of accessible materials for a non-English audience interested in developing resilience and positive psychology in their lives, locally and even overseas."