Presidential and vice presidential candidate biographies for the 2022-2023 Student Association election
On Tuesday, April 14, the University of Wisconsin-La Crosse will hold general elections for the 2022-2023 Student Association (SA) president, vice-president, and senators. On April 7 at 8:00 p.m., there will be a Q&A with the candidates for president and vice-president in the Student Union in room 3310.  
This year, SA only received nomination forms from two individuals, Grant Mathu (president) and Siri Flores (vice-president).  
Mathu is a third-year at UWL, double-majoring in public administration and political science. Flores is a second-year student at UWL studying English and psychology.  
The Racquet Press reached out to the candidates to put together a biography and their statements will be provided below.  
Presidential Candidate Grant Mathu 
"My name is Grant Mathu, and I'm running to be your next Student Association president alongside Siri Flores.  I have a combined two years of experience in Student Court and as state affairs director in the 2020-2021 Executive Cabinet.  Outside of my on-campus involvement, I currently serve as an elected member of the La Crosse County Board of Supervisors. I am currently running for reelection on the La Crosse County Board as well. [The vote will occur on April 5 and there's more information on the county board election here.]   In this role, I've voted on budgets larger than $170 million, and I've worked hard to promote strong environmental protections and affordable housing in our community. 
Siri and I are running because we have practical plans to make progress in the areas that students care about. 2021 came and went, and it's clear that there is still a lot of work to be done in regard to campus safety, mental health, and sustainability.  We are confident that with student-focused policies and our deep knowledge of government, Student Association can have a productive relationship with the chancellor and UWL's top leadership.  If you agree that these sound like important priorities, please consider supporting us on April 14! 
We are also motivated to run because we want to engage with the student body in a more proactive way than past leadership has.  When there are important campus events – like the April 5 county board elections – Student Association should be at the forefront of educating and informing the UWL community about how to get registered to vote! Siri and I will improve Student Association's outreach strategies and ensure that this important organization is relevant in the 2022-2023 academic year." 
Vice-Presidential Candidate Siri Flores 
"I'm Siri Flores, and I'm running for Student Association Vice President in the upcoming April 14th election. Since last year, I've been a member of the Latin American Student Organization, a Student Court Justice, and a part of UWL's Student Misconduct Hearing Committee. This year, I am the career services intern, working specifically in the Office of Multicultural Student Services. Beyond this, I have extensive work experience between spending my summers lifeguarding since the age of sixteen as well as bartending/waitressing since the age of seventeen.  Next year, I'm hopeful that I'll have the opportunity to use my work ethic and skills to advocate for the needs of our entire student body.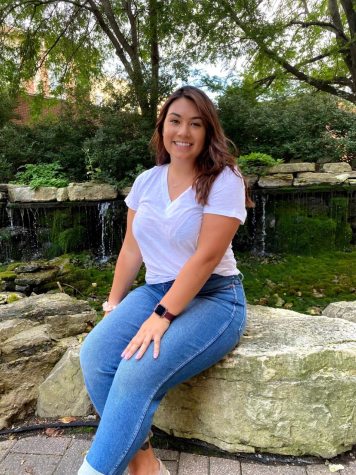 As vice president, I want to help refocus Student Association's priorities so that we can actually deliver on what matters to students.  Next year, I will work with Grant to help the Student Association ramp up its efforts to promote the construction of Prairie Springs Science Center-II and encourage the UWL administration to invest in hiring a full-time sustainability coordinator.  In many of our conversations with students, they have consistently voiced support for these initiatives, so it is time to step up and make sure these things get done!"