UWL Students for Sustainability hosts Climate March to cap off Earth Week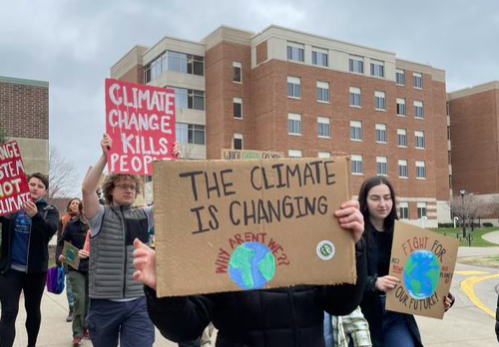 This past Friday, April 22, the Students for Sustainability (SFS) organization held an on-campus march calling for the University of Wisconsin-La Crosse to take more responsibility environmentally and create a greener campus.  
The climate march was one of the many events thrown in honor of Earth Week, which ends this Sunday, April 24. 
At around 4:30 p.m. inside Centennial Hall, students, faculty, and community members congregated with brightly painted signs ready to march. SFS executive board member and march organizer, Christina Mehrkens, gave an opening statement: 
"UWL continues to invest large sums into fossil fuel companies, which are the single largest source of global emissions. Universities should be leading local and global action to limit climate change as much as they can." 
The senior activist said she knows, "the university is just putting their money where they think it's best," acknowledging that it may not always be aligned with environmentalist agendas. She concluded her speech by saying that "UWL has failed to act, and we are sick of waiting around for faculty to listen to students' voices." 
In an interview, UWL senior and SFS social justice director, Megan McFarling, said, "It's really important that we encourage UWL and the entire UW system to divest from fossil fuel companies, and create an eco-friendlier environment for students." 
Three-year SFS member and co-chair, Ben Zess, was involved in the behind-the-scenes planning of Earth Week on campus. "I think the whole week was really powerful. Seeing all these people get excited about the environment and attending all the different events and activities was really powerful." 
The Climate March hosted several different speakers, before the actual march, including state representative Jill Billings.  
Billings, who is part of the Climate Caucus in Madison, says she, "has faith in the future." Especially with Governor Tony Evers's new plan.  
"Governor Evers wants to create a new energy plan which will establish an office of sustainability under the Department of Administration and create more than 40,000 green jobs by 2030." Billings said that former governor, Scott Walker, had, "no priority for on-campus renewables," during her time working underneath him. 
Mehrkens also spoke about UWL being the only UW school without a full-time sustainability coordinator. "UWL has a really hard time listening to what students want, especially when it comes to environmental issues. That's partly because we don't have a hired body to speak on behalf of SFS."  
According to the university, an SFS coordinator will be hired soon. "I am looking for someone respectable, someone who is open to collaborating with SFS students," said Mehrkens. "Someone honest who will make helping the environment their main goal, not just the financial aspects." 
Mehrkens thinks climate change is not talked about enough because people are afraid to take responsibility for their inactions. "It is pretty scary to be faced with something so big, but the climate crisis is real and it's not going away." 
Thank you to the Students for Sustainability for organizing all the Earth Week events! 
SFS needs executive board members for next year. Please contact Ben Zess or Veronica Sannes at [email protected] for more information. Students for Sustainability meets every Tuesday at 7:00 p.m. in Centennial Hall.