UWL PERIOD hosts menstrual product drive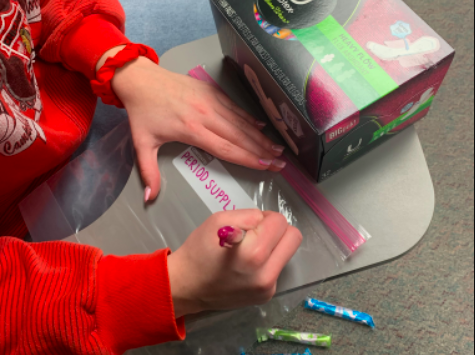 In the past few weeks, on the campus of the University of Wisconsin – La Crosse, the organization Period @ UWL has been hosting a menstrual product drive. Donations sites could be found all over campus, specifically in the Student Union and Whitney Center.  
Period @ UWL President Issy Beach discussed the organization and her hopes for it. She said, "We hope that the product drive, and PERIOD's work in general, will help decrease menstrual stigma on the UWL campus. Part of our goal is just to get people talking about menstruation, whether or not they actually menstruate, as a way to decrease the stigma that makes fighting period poverty so much harder," she said. "Seeing pads and tampons in VISIBLE areas around campus (in our donation boxes) is a great way to get people thinking." 
Beach further discussed Period @ UWL and said, "PERIOD is a national organization and we represent one of a few Wisconsin chapters. Service and advocacy are central to PERIOD's mission and hosting a product drive is our chapter's way of meeting these expectations." 
In discussing the impacts on the community Beach said, "Our drive impacts the La Crosse and Onalaska communities in a major way. This year, we'll donate a large portion of our collected products to the Onalaska High School."
Beach also discussed the state of high schools right now. "Recently, high schools across the country have been in the "menstruation news" because so many young advocates are fighting to end period poverty and help their peers who may be struggling." 
In regard to the effects on the community outside of the school districts, she said, "We have also packed around 50 "period emergency kits" that we'll be donating to WAFER Food Pantry, which are stocked with 32+ pads, tampons, and survival blankets for menstruators who may be unhoused."  
I'm discussing the success of the drive, Beach said, "Our drive was VERY successful this year. We collected products through direct donations and passive collection via donation boxes around campus." In two desperate donations, beach said, "We received almost 80 boxes of pads and tampons from a single direct donator and 18 menstrual cups from another." Beach also said, "Our donation boxes are a great way to collect products that might otherwise collect dust, or even get thrown away."  
In discussing ways to get involved, Beach said, "We are a student-run organization that is constantly looking for volunteers and individuals who just want a safe space to learn and talk more about menstruation; thus, we don't have dues or membership requirements." Beach also said, "We are also looking to recruit leadership for next school year." 
In Beach's final remarks she said, "If students on campus are looking for free menstrual products (other than those available in restrooms), I definitely recommend the UWL Food Pantry in the COVE. You can learn more about the pantry on the UWL website and/or the COVE's Instagram."  
For more information on Period @ UWL you can visit PERIOD's Instagram @period.uwl.