Diversity & Inclusion hosts campuswide open house event
"For me, the true meaning of diversity is that we are stronger together." This is a statement from ACCESS Center director, Andrew Ives, regarding the Diversity & Inclusion (D&I) Open House event which took place this past Thursday, Sept. 15.
According to Ives, a similar event was held last year and was very successful in helping to unify the mission of Diversity & Inclusion. "We invite people in to learn more about the services offered, and welcome students back to campus," Ives said.
Students were encouraged to visit six different locations across campus to learn more about the different D&I organizations and resources available. "Instead of us having individual open houses for each D&I organization," Ives continued, "having one altogether really shows that strength and connection we feel with each other."
Open House offices and locations included:
ACCESS Center (Wimberly Hall)
The Pride Center (second floor of the Student Union)
Diversity & Inclusion Office (Graff Main Hall)
Center for Transformative Justice, Office of Multicultural Student Services (OMSS), and Student Support Services (all in Centennial Hall)
By going to each location, students could explore various on-campus "signature services" that they may not have otherwise been aware of. For example, free clothing with Campus Thread in the Center for Transformative Justice, brand new specialized testing rooms in the ACCESS Center for those in need of academic accommodations, and more.
The ACCESS Center also featured a Braille writing machine that students could use to print out their names. Run by Ives, this proved to be a very popular attraction with both faculty and students who visited.
Each office featured its own snack station as well, highlighting various different cultural cuisines, such as churros with OMSS in Centennial Hall, and a dessert station in the Diversity & Inclusion Office in Graff Main Hall.
Tara Nelson, director of the Center for Transformative Justice, said, "Food is another mechanism for which we celebrate diversity. As we were thinking about how to showcase who we are and what we do, we spent a lot of time thinking about our backgrounds."
Nelson continued on this note, sharing her personal experience with food as a biracial woman. "As a white and Indigenous person, food is in every ceremony that we do…and so we wanted to showcase that there's real diversity in the foods that we eat, and it brings people together."
Another way students were able to interact with this campuswide event was through a Pokémon-themed "Signature Scavenger Hunt." The goal? Get signatures from each of the six D&I offices to be entered to win raffle prizes.
Each signature sheet featured an illustration of various Pokémon characters, the destination of a given D&I office, the snacks featured there, and a "Pokedéx Entry" that described the mission of that office. Students could then turn in their completed scavenger hunt sheets to any of the D&I offices listed.
"This is such an exciting time in the division of Diversity & Inclusion," Ives said. "We're really trying to find new ways to connect with students, welcome them back to campus, and welcome every part of them as whole people."
Leave a Comment
About the Contributor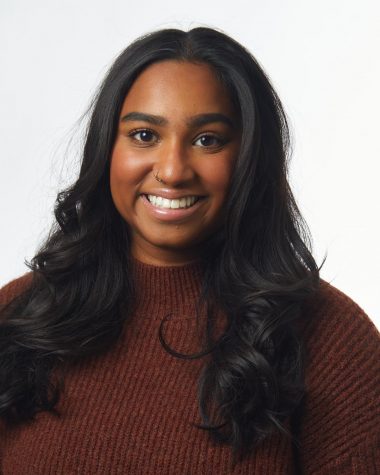 Anna Fischer, Social Justice Reporter
Year at UWL: Senior

PGPs: She/Her/Hers

Hometown: Marshfield, WI

Major: Communication Studies with an emphasis in public communication and...