Humans of UWL: Kim Blum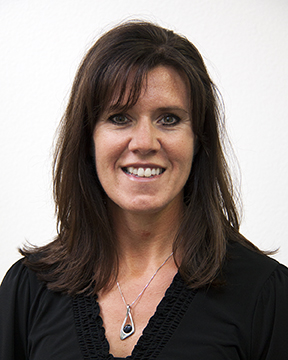 Kim Blum is the athletic director for the University of Wisconsin-La Crosse. She grew up in Tomahawk, Wisconsin, ran track in high school, and played summer softball and baseball growing up.
"At one point or another, tried pretty much everything," said Blum. She said she participated in every sport possible. Blum completed her undergraduate degree at UWL with a Bachelor of Science in recreation management. After receiving her undergraduate degree, she went to Marquette University in Milwaukee for two years. At Marquette, she worked in recreation and started coaching high school track. She returned to UWL to complete her master's degree in sports administration. She worked as an administrative graduate assistant in intercollegiate athletics for UWL for two years.
Previously, UWL had a college for Exercise Sports Science and Health and athletics used to report through that college, which is part of the graduate assistants' jobs. There were also graduate assistants who happened to be coaches. Blum was one of two people who was an athletic administrative graduate assistant. "Mostly we did event management. So putting on home swim meets or home football games," Blum said, "It was a good learning experience."
While Blum had thought she wanted to be a high school athletic director, at the time, high schools were looking for candidates with teaching certificates, which has since changed. She went on to be the associate athletic director for Winona State University (WSU), as well as their head women's track and field coach. She worked at WSU for seven years before applying for the associate athletic director position for UWL, which had opened up because the previous associate athletic director had been hired at UW-Whitewater.
Blum received the job at UWL and taught Sports Administration and Sports Law for graduate sport administration programs that were present at the time. When Blum was the associate athletic director, the head athletic director for UWL left. Blum became the interim athletic director, and she would then go on to hold the position permanently for UWL. Blum went to college at UWL and returned to live in the La Crosse area. She said that she loved UWL and worked with many great people and coaches who she admired. She said she wanted to continue to learn more. "Every morning I drive in and I look at the bluff and I think 'I'm so lucky to be here.'"
The athletic director has oversight of everything in athletics, "All 16 of our head coaches report directly to me. I work with our head coaches a lot, just trying to make sure they have what they need for their student-athletes," said Blum. Blum is a part of everything, including hiring and evaluating which she said is an important role that she has. "Hiring, and evaluating, I feel like are some of the most important things that I do. Meeting routinely with coaches so I understand what is going on."
Along with working directly with the coaching staff, Blum also works in conjunction with the National Collegiate Athletic Association (NCAA). Blum said, "We have to be up on the rules. Not only to make sure you guys are eligible but that our coaches are following recruiting requirements and we're making sure there's this big green book that's full of NCAA rules and it changes every year and so that's certainly an important part because we believe very strongly in doing things the right way and we don't want to cross any lines. It happens, people make mistakes, but we try to educate the staff and student-athletes about what you can and can't do." Blum said it's also about making sure the student-athletes are getting what they need. "It's really about making sure you guys are getting the most out of your experience across all areas."
In addition to her responsibilities as athletic director, Blum is also a part of the equity liaison at UWL. "Every unit is supposed to have a diversity and equity liaison. The campus in their efforts in diversity and inclusion want everybody to have someone in their department who is being aware of those things, looking out for those things." The campus brings people who are a part of the equity liaison together once a semester to discuss awareness. The athletic department recently added a diversity and inclusion liaison, Kenny Desrosiers, with whom Blum works with. The two of them meet with Eagle Advocates, provide diversity training for staff, and provide events for student-athletes during the year.
"Seeing you guys compete is the best part," said Blum. She said she likes home competitions, especially when UWL can host national events or the beginning rounds. "Wall of Fame and the ESSLYs are my two favorite things every year because it's our current student-athletes celebrating all of the amazing things you guys do and then people reflecting on their career. I really like both of those events. I just love it all," Blum said. Blum also said her favorite part about being the athletic director at UWL is not only the competition but also connecting with the student-athletes.
"It's watching you guys compete but even when I get to spend this little bit of time with our student-athletes," Blum said, "You really get a chance to sit down and spend a little one-on-one time, that's really what it's about."