Congressional candidate Brad Pfaff discusses the importance of the 2022 midterm election
On Monday, Oct. 3, Wisconsin State Senator Brad Pfaff and U.S. Representative Mark Pocan stopped at the University of Wisconsin-La Crosse to engage in classroom visits and discuss the upcoming election with students.
Tomorrow, Nov. 8, is election day for the midterm elections, where thousands of Americans will be heading to the polls to vote. All 435 U.S. House seats and 35 of the 100 Senate seats are on the ballot. Voters have already cast more than 42 million ballots in the midterm elections as of Monday evening.
Pfaff currently serves as a Democratic member of the Wisconsin State Senate for the 32nd district. District 32 includes La Crosse and Crawford counties, most of Vernon County, and the southern half of Monroe County. Pfaff is now running for Wisconsin's Third Congressional District at the national level in the 2022 midterm election against Republican opponent Derrick Van Orden.
Back in August of 2021, Wisconsin Representative Ron Kind (D) announced his decision to not seek reelection in 2022 after 26 years of service, opening a seat up for the Third Congressional District.
Mark Pocan, U.S. Representative for the Second District of Wisconsin, joined Pfaff at UWL and said, "I'm here because Brad is an amazing State Senator and has done a great job, not only with his expertise in higher education at the state level, but also as the Secretary of Agriculture, and he knows something as to how important the agricultural economy is in the third district."
"Bluntly and conversely, his [Pfaff's] opponent is an extremist. He attended the insurrection on his campaign account, he has lied about being on the capitol grounds, and there are physical photos and audio of him up there. He is someone who has extreme positions on everything from social security to a woman's ability to make her own decisions over her own life. It's absolutely out of step with Wisconsin and the Third Congressional District. I want to have a colleague, like Pfaff, who can help me fight for funds and for issues that are important for people in Western Wisconsin," said Pocan.
The Racquet Press sat down with Congressional candidate Brad Pfaff as he discusses the upcoming 2022 midterm election.
What made you run for re-election?
"I think it's extremely important that we have someone that is from this district, understands this district, and has lived a life of the people in this district to serve as our member of Congress. My family has been in this area since they came to this country in the 1800s and this is the area in which I met my wife, Betty, and we raised our two children here, this really is a special place," said Pfaff.
Pfaff also mentioned the six Wisconsin universities that reside in this district, as well as how it is a rural district with a number of retirees, all of which contribute to a broad mix of perspectives that need to be brought forward.
What have been your proudest accomplishments during your term?
Pfaff said, "I stood shoulder to shoulder with Governor Evers when the Republicans tried to put roadblocks in which people had the right to vote. There is a real orchestrated effort coming from high up to make it more difficult for people to vote."
Advocating for a $129 million investment for broadband internet expansions, partnering with federal partners to provide assistance to small businesses in order to keep them going during the COVID-19 pandemic, and fighting for an individual's freedom to make their own reproductive health decisions were additional accomplishments stated by Pfaff.
"By no means has it been easy, there is without a doubt more work that needs to be done," said Pfaff.
What do you think are the top three issues that voters will be focused on in this election?
"It's overall freedom. Reproductive choice and the freedom for someone to choose is a personal decision. To have unelected U.S. Supreme Court Justices come out with a ruling that set our nation back, and to have 50% of our population lose the right they have had for the last 50 years is an issue," said Pfaff.
Two other issues mentioned by Pfaff were the overall cost as the "supply chain is broken" and the cost of higher education. Pocan also mentioned the threat to democracy right now.
"The fact that we had the first attack in 200 years to the capitol on January 6 and his opponent was a part of it. There are only three people who attended the insurrection who have a chance at getting elected to Congress, and his opponent is one of them. I can't imagine having someone who wanted to tear down the institution being elected to that very institution, he doesn't respect it," said Pocan.
Pfaff and Pocan then joined a group of students outside the Student Union to hear from them as far as what issues are important to students in this election year. The issues discussed were the importance of voting, specifically voting in midterm elections, connecting political candidates to the student demographic, and the partisan atmosphere on campus.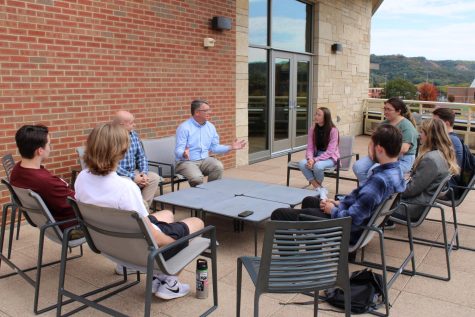 To learn more about Brad Pfaff and his campaign, check out his website here. To learn more about Mark Pocan and the work he is doing, click here. For more information on how to vote tomorrow, click here.