UWL women's soccer team advances to the third round in national championships
On Friday, Nov. 11, and Saturday, Nov. 12, the University of Wisconsin-La Crosse hosted the first and second rounds of The National College Athletic Association (NCAA) Women's Division III Soccer Championships. The championships were held at the Soccer Field at Veterans Memorial Field Sports Complex. UWL, Greensville University, Illinois Wesleyan University, and Concordia University Wisconsin were in attendance for the games.
UWL first played Greenville University in Illinois on Friday afternoon. While UWL had many shots on goal, UWL nor Greenville scored in the first half. UWL had 11 shots on goal and six corner kicks in the first half.
At 47:36 in the second half, sophomore and midfielder, Claire Cater, scored UWL's first goal. Maggie Hernandez, a sophomore and forward, assisted the goal. At 71:47 in the second half, junior and forward, Natalie Schisel, scored UWL's second goal, with an assist from senior and defender, Isabel Batley, and sophomore and midfielder, Ellie Behnke. At 85:01 in the second half, freshman and forward, Lexy Szymanski scored UWL's third goal, with an assist from sophomore and defender, Alexis McMahon. Sophomore and goalkeeper, McKenna Lloyd, had two saves during the game. With a 3-0 lead over Greensville University, UWL advanced to the second round of the championships, improving to 20-1-1.
From UWL's win against Greensville, UWL had the 13th shutout of its 2022 season.
Isabel Batley is a senior and plays outside back for UWL. She assisted the second goal in UWL's first game. Batley said that this season has been awesome for the Eagles. "Our mindset has been really awesome. I think our success last year really helped motivate us for this year. Our program has never repeated itself in success before, so I think that's all in the back of our head pushing us forward," Batley said. Last year, UWL made the Elite Eight.
Batley also said that team chemistry is great. "Our team chemistry is really awesome this year. We spend so much time together, we're all so close. It really doesn't matter who you are or what you're doing, everyone just comes together in an awesome way." Batley said that the bench has also been a big supporter to help encourage the teammates on the field.
On Saturday, UWL played Illinois Wesleyan University during the second round of the championships. At 1:38 in the first half, junior and forward Ainsley Allan scored, with an assist from sophomore and midfielder, Ellie Arndt. Allan made history during Saturday's game with her goal. It was her 15th goal of the season, making it the third-most in one season in UWL history.
During the second half of the game, Illinois Wesleyan University received a penalty kick due to a foul on UWL. The shot didn't make it into the goal. There was a rebound kick at the goal made by Illinois Wesleyan University, but McMahon cleared the ball. The goal made by Allan in the first half was the only goal any team made during the game. Lloyd recorded six saves during the game. Because of UWL's win on Saturday, and their 14th straight win, UWL now advances to the third round of the NCAA Division III championships. This improves UWL to 21-1-1. This win ties UWL for their record that was set back in 2017.
Head Coach Jason Murphy is in his ninth season of coaching women's soccer at UWL. His coaching has led UWL to five appearances in the national championships. When the former soccer coach for UWL, who Murphy shared a mentor with, transitioned to an administrative position, Murphy applied for the soccer coach job. At the time of the interview with Murphy, UWL was 19-1-1. "We're 19-1-1. We have the second most wins in the country. We've played really well at times and we're continuing to get better, so I'm excited about that," Murphy said. Murphy also said that being the soccer coach pushes him to be better and has been an amazing experience for him. "Being the soccer coach at UWL has been an amazing experience for me. I get to work with some of the coolest young women in the country and really driven, fun, hardworking, articulate people, that push me every day to be better. A better coach, a better father, a better husband. It has really helped me grow in my relationships and experiences with the people that get to play in this program, and that I'm lucky enough to have relationships with and be able to coach."
Murphy said that he was excited to host the Division III first and second rounds at UWL. "I think hosting is an awesome opportunity, for our campus, our community, and also, our athletic department and our soccer program," Murphy said. "I think our players have played well enough that we deserve the opportunity to host and play at home. There are a lot of teams in division III women's soccer, 400 plus, and there are 16 teams hosting, so I think it's a credit to the work that these players have done that we get the opportunity to play at home, and really get an opportunity to play in front of our own fans and our own student population."
Leave a Comment
About the Contributor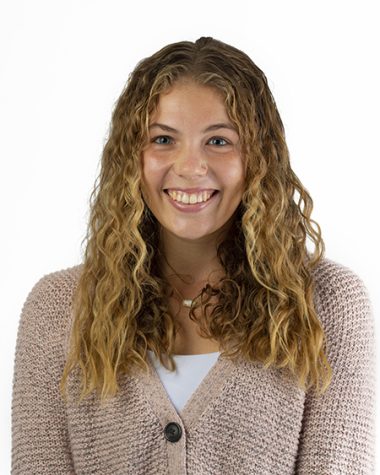 Gianna Fussell, Sports Reporter
Year at UWL: Junior

PGPs: She/Her/Hers

Hometown: Middleton, WI

Major: English Education

Minor: Spanish

Other Campus Involvement: UWL...