UWL Alumnus Luke Achterberg fills University Art Gallery: "Convolutions"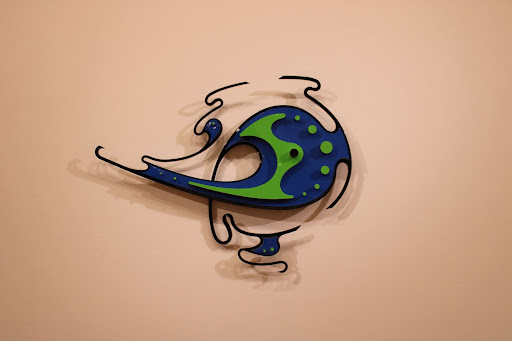 Local artist and the University of Wisconsin- La Crosse alumnus Luke Achterberg has returned to UWL to present "Convolutions", an exhibition of sculptures in the University Art Gallery inside of the Truman T. Lowe Center for the Arts. Achterberg graduated from UWL in 2004, and after graduating he attended Western Technical College where he studied welding. Achterberg uses his artistic studies from UWL and technical studies from Western Technical College to make sculptures using stainless steel that he paints using automotive paint.
When asked about his favorite part about taking his art back to his alma mater, Achterberg said, "Bringing it back to where it blossomed was appealing to me. I remember waiting for the list of who got into the juried exhibition. I anticipated and hoped that I'd get in as an undergraduate, and now I get to fill the whole gallery. There's a bit of accomplishment that I felt by being able to come back and fill up the entire gallery instead of having just a couple of pieces in it."
During his time as an undergraduate student at UWL, Achterberg studied ceramics, sculpture, and metalwork. Achterberg credits former UWL sculpting professor Cam Choy for "opening a lot of mental doors" for him. Along with a bond with the faculty, Achterberg loved the UWL art department's process-based approach to teaching art. He said, "it taught me the fundamentals before I started trying to find my own voice as an artist and find my own style and niche. Being able to explore every process from history up until contemporary artwork is what I liked most about the UWL art department."
Besides the art department, Achterberg said he liked attending UWL because of the position of the campus amongst the bluffs and the water. Also, because of the many opportunities for outdoor recreation. Achterberg enjoys snowboarding and mountain biking, and hints of these passions are found in his artwork. Achterberg said, "I describe my art style as contemporary Americana rooted in subcultural movements from my youth, that being comic book culture, snowboarding, skateboarding, and automotive customization."
As for why he chose metalwork over other mediums, Achterberg said, "I used to do a lot of different types of materials as far as ceramics and ephemeral materials that would decay and wither away until all you were left with was a photograph. I experimented with a lot of stuff like that, but there's something more gratifying to me to make something that endures, and therefore I've gravitated towards stainless steel and automotive paint because it offers the most longevity. I figure if I'm going to go through all this effort and invest all this time, I kinda want to see it live on."
Two of the pieces currently displayed in the University Art Gallery already have their next destination. The works have been leased by the city of Sioux Falls, South Dakota for an event titled "Sculpture Walk Sioux Falls". The event leases around 40 outdoor sculptures a year from artists all over the country. Achterberg said he likes creating big outdoor sculptures, and that he prefers to do so in a studio by himself where he can listen to music while he works. He said, "I've never been one to need a herd or a crowd. I don't need to be in a studio building with 100 other artists so that I can feel motivated."
Deborah-Eve Lombard is the gallery director at UWL. She said that she likes Achterberg's art because of its connection to metalwork outside of the art realm. She said, "People who work in welding shops aren't making what we call art, but they are very skilled, they're making beautiful things. Wisconsin has a big connection to things being made of metal. He might be making art for public spaces or commissions or to hang in galleries, but a common thread is that he's making that connection to people who work hard."
Lombard said that she likes bringing alumni artists back to UWL so that viewers can appreciate the growth of the artist. She said, "Some of the fun is that when someone who was a student here goes away and comes back, it's fun to talk about what they did in between, and what they learned and how they experience UWL and what it contributed to this."
Lombard said that even though bringing an artist to UWL whose passion and talent developed at UWL is an impressive feat, she hopes that people who come to see "Convolutions" can value the art for what it is, not just that it came from a UWL alumnus. She said, "I hope that viewers think about how fun it is. Every time I come in here I feel like the sculptures are dancing. Luke makes it look easy to bend metal. I hope that they take away that any artist, it doesn't matter who you are, if you have a vision or a perspective and really work at sharing that, you can say something. I think Luke is saying something that's very distinct. Because he's really developing a language with his work."
Along with pulling inspiration from subcultures from his youth, Achterberg finds interest in linguistics and calligraphy. Lombard said that she thinks that some of the sculptures look like letters that form words and sentences in a distinct "Luke Achterberg alphabet."
About the benefit of being based out of La Crosse, Achterberg said, "La Crosse's art scene is burgeoning. It's got promise. To be honest, with the age of the internet, you don't have to live in Chicago or New York anymore. You can be anywhere and make works. Personally, it's more about family. I have a 7-year-old and a 9-year-old. My wife's parents are here, and I wanted my kids to grow up around their grandparents. I knew that with the age of the internet I could be anywhere."
Achterberg advises aspiring UWL artists who are in a place that he was once in to have thick skin when it comes to pursuing art. He said, "You're going to hear a lot of 'no'. Persevere through it. I used to keep a stack of rejection letters, but then I started throwing them away because you've got to push through it. Be willing to persevere regardless of who says no because once you gather enough steam and you have something you feel strongly about, sooner or later somebody is going to be on board and they'll let you fill up a gallery for them."
Lombard said that she hopes people come to see "Convolutions" because even though Achterberg's art will live on once the exhibition closes, this is the last time that it will exist like this in this exact space. "Convolutions" will be displayed in the University Art Gallery through Nov. 23. Admission to the gallery is free. The University Art Gallery hours are 1 p.m. to 8 p.m. Mon-Thu and 1 p.m. to 5 p.m. Fri-Sun.