"It's a bittersweet month": UWL employees weigh in on Native American Heritage Month
In Oct. of 2016, then-president of the United States, Barack Obama, proclaimed November as National Native American Heritage Month, or American Indian and Alaska Native Heritage Month.
In his statement, Obama said, "Over our long shared history, there have been too many unfortunate chapters of pain and tragedy, discrimination and injustice. We must acknowledge that history while recognizing that the future is still ours to write."
The University of Wisconsin-La Crosse is working to 'write the future' in a much more representative and positive way than history's predecessors by celebrating Native American Heritage Month on campus.
On Thursday, Nov. 17, the Center for Transformative Justice (CTJ) held its monthly community hour in the CTJ conference room. "This is a space for students to come in and talk about various diversity issues on campus," said CTJ Program Coordinator Veronica Pettigrew. "We decided to implement having different topics each month, so we can have a foundational conversation."
This month's presentation, called 'The True Story of Thanksgiving,' included a brief but informative slideshow by Pettigrew, followed by a facilitated discussion with all who were in attendance. Tara Nelson, Director of the CTJ, was among the attendees.
Nelson is an enrolled member of the Muscogee Creek Nation, as well as a descendant of both the Cherokee and Comanche Nations.
Nelson reflected on her own tribal heritage and culture, saying there is a big focus on 'corn and harvesting' right now. "Slowing down the harvest, resting Mother Earth, and then kind of getting ready for reflection over the winter. It's a really ceremonial month for my tribe."
While this is true for Nelson, she also admitted that it is 'really challenging to get through Thanksgiving' as well.
"For me, it's a complicated month. It's one of celebration, representation, healing, and truth. It has been a lot of work on Indigenous people to ensure cultural revitalization, which is hard work when there's only a couple thousand in your tribal community."
The CTJ director said her community is at a point in history where tribes are losing their Elders, and with it, the native language. UWL Registrar, Leanne Vigue, echoed these sentiments and said, 'Our language is almost extinct.'
"One of the purposes of colonization was to assimilate; forget about your culture, you know, strip it from Indigenous folks and become more white." Vigue is Native American and identifies as Menominee. "It's weird that I have to educate my own family about their own history, and why we are the way we are."
Wisconsin Act 31 requires all public schools within the state to provide historically accurate and culturally relevant education about Wisconsin's tribal communities and Native American nations.
During peak COVID-19 times, Vigue recalled being home with her children and seeing how 'outdated' their curriculum about the history of Thanksgiving really is.
"I saw what they were being taught. Otherwise, I'd have no clue. So it was a really good thing that I was so involved and engaged with their education at the time, but it also opened my eyes 'to the fact that we really got a long way to go here.'"
Resources
If you are interested in adding Native American studies courses to your curriculum, please look into the following courses (as recommended by the university's registrar):
ANT 305/ARC 305: Indigenous Agricultural Studies: Past & Present
HIS 310: Native American History
RGS 319/PHL 319: Indigenous Thought
RGS 335: Indigenous & Post-Colonial Feminisms
RGS 363/SOC 363: Indigenous Peoples & the Environment
Diversity & Inclusion
Center for Transformative Justice
UWL Indigenous People's Land Recognition Plaque Ceremony
Current Wisconsin Tribal Lands Maps & Native Nations Facts
Native Land Maps
Resources Related to Indigenous Education
State Statutes for American Indian Studies in Wisconsin (Act 31)
Leave a Comment
About the Contributor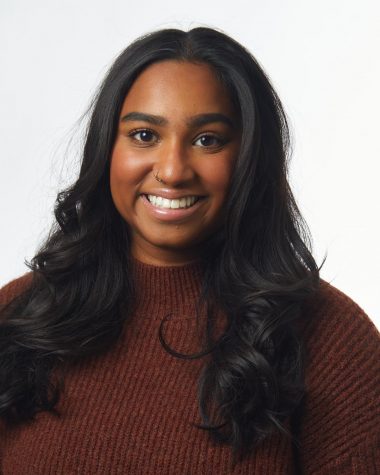 Anna Fischer, Social Justice Reporter
Year at UWL: Senior

PGPs: She/Her/Hers

Hometown: Marshfield, WI

Major: Communication Studies with an emphasis in public communication and...