Humans of UWL: Alec Vosburgh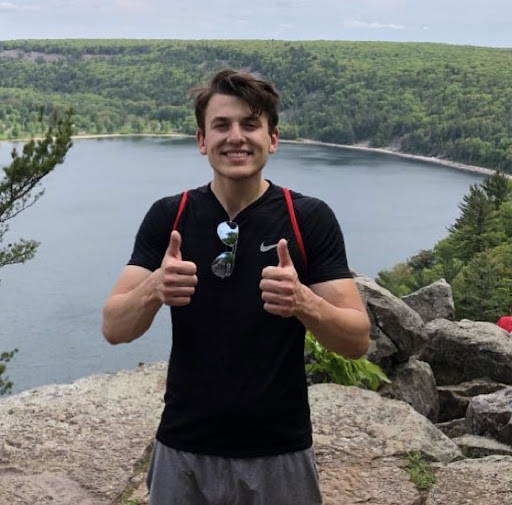 The University of Wisconsin-La Crosse senior Alec Vosburgh is a heavily involved member of the UWL choir community. Originally from Merrill, Wisconsin, Vosburgh said that he chose to come to UWL because of the beauty of the area and the proximity to his grandparents. He said, "My grandparents live in Onalaska, so I've been coming to La Crosse all my life. The area is just so pretty, and I'd be lying if I said I didn't want more of my grandma's cooking."
Outside of music, Vosburgh has many hobbies. He said, "This might come as a surprise to people that know me, but I'm a big fan of nature. I love traveling to new places to hike and see unbelievably gorgeous views. I'm also a big fan of movies, football, card games, and very occasionally sitting down to read a good book."
Ever since his arrival as a freshman at UWL, Vosburgh has been a member of the UWL concert choir which is an auditioned group that primarily consists of upperclassmen. When he was a junior, Vosburgh was elected vice president of the choir council by his fellow choir members. Now, he is a senior choir member and president of the choir council. Vosburgh said, "I've always strived to be a leader in any choir I'm in, so naturally I sort of drifted towards wanting this position. The fact that others nominated and voted for me to have this role made it actually mean something special though."
The UWL choir council consists of a president, a vice president, a secretary, and a social media manager. Vosburgh's duties as president include, but are not limited to, looking over the choir budget, communicating with choir members about performances and rehearsals, helping with auditions at the beginning of the school year, and planning large choir events like retreats and the end of the year formal. "I think taking the step to be a leader makes choir more fun. Getting to be in the decision-making process and being the first people to meet others at auditions is always a wonderful experience" said Vosburgh.
For the 2022-2023 school year, a majority of the students in choir council positions were selected by Dr. Hathaway, who is the director of the concert choir. Vosburgh is the only member of the council this year who was elected by his peers, which he said is meaningful to him.
Vosburgh's love for music doesn't stop when he leaves the choir room. He is majoring in choral and general music education, and he hopes to get a job teaching music in a middle school or a high school after he graduates in the spring. He is also thinking about possibly going back to school to get a master's degree.
Being on this path means that Vosburgh works frequently with Dr. Hathaway. Not only does Dr. Hathaway direct him in the choir, but he also teaches the higher level conducting classes at UWL. About working with Dr. Hathaway, Vosburgh said, "I'll be honest in saying that he originally scared me when I was a freshman. Now, I really look forward to any chance that I get to learn from him. There's a lot of little things that he's taught me that I know I'm going to take with me into any choir I teach."
With Vosburgh's love for choir, he recommends that any student with a musical love should audition for the UWL concert choir. He said, "While we are an auditioned ensemble, there's always room for more singers to join! We're a wide variety of characters and yet we all mush together. Even if anyone thinks they'll stick out, I can guarantee there's someone in the choir more similar to them than they think."
With the end of the fall 2022 semester approaching, Vosburgh is almost halfway through his fourth year as a UWL concert choir member. When asked about his favorite part of being in concert choir, Vosburgh said "Where do I begin? The people I've met, the music we've made, and the memories I have are all things I'll forever be grateful for. There's so much more that I like about this choir, but these three really stick out."
Even though the choir is a large part of Vosburgh's life, he said it hasn't always been that way. Before joining his high school choir, he was a passionate band student. He said, "In middle school, I played the trombone and fell in love instantly. Not to toot my own horn, but I was really good. I was always nominated for different band activities to represent my school and always took part. During this time, I absolutely despised singing. My school had a sort of rivalry between band and choir so obviously, I had to be team band."
Vosburgh said that his jump to a love for choir came very suddenly in high school. He said, "In high school, I made a random decision to join the choir, and I found my new musical love. I kept playing trombone, but no instrument comes close to my love for singing. I mean, having the ability to show so much emotion through text, dynamics, movement, and more just makes singing special."
After graduating from UWL, Vosburgh will be working to spread a love for choral music to younger students. He said, "I have this core belief that music has the power to change the world in so many great ways. I want to be able to take students around the world so they can be exposed to other cultures and share music to help spread love, not hate."
Leave a Comment
About the Contributor
Jessica Fitzgerald, Arts & Entertainment Reporter
Year at UWL: Senior

PGPs: She/Her/Hers

Hometown: Appleton, WI

Major: English: Writing and Rhetoric Studies

Minor: Communication Studies:...