Student Association meets with Counseling and Testing Center Director Chrys Champion and discusses potential chalking policy
On Wednesday, Nov. 30, the University of Wisconsin-La Crosse Student Association (SA) met with the Director of UWL Counseling and Testing Center Chrys Champion to discuss the services they provide and projects on the horizon. Additionally, SA passed a new resolution and swore in a new senator. A discussion also took place on a potential chalking policy.
The Counseling and Testing Center (CTC) is a service through UWL, there to help students. Their mission statement, as presented on their website states, "Our mission is to promote students' emotional, academic, social, and cultural growth through counseling, crisis intervention, and outreach within an atmosphere of confidentiality and inclusivity."
Chrys Champion has served in various roles throughout her nine years at the CTC and now serves as the interim director. The rest of the staff consists of a combination of nine licensed psychologists and licensed professional counselors, providing mental health services to UWL students. "That includes things like individual group counseling, workshops, consultations, we also do things like outreach and prevention work and promotion of health and wellness," said Champion.
"We typically serve about 10% of the UWL student body, so about 1000 unique students every year," said Champion. The most common concern the CTC sees among these students is anxiety.
The testing part of the CTC does not include COVID-19 testing or accommodation testing, as the ACCESS Center provides, but the administration of national standardized testing such as the ACT and SAT. The center also plays a role in education tests for School of Education students. Champion said, "We give a lot of the tests for certification of teachers. And we also are a big player in placement."
When addressing the strengths of the CTC Champion highlighted the priority of access. The center aims to reach as many students as possible, as fast as possible. This is done in a variety of ways. "One thing that we do is we provide urgent care or crisis services every weekday. So students who are in crisis, never wait for an appointment more than a few minutes," said Champion. Additionally, the CTC utilizes a triage model, which allows students to have an initial screening to determine which services will be best for them.
"We also have a workshop called Pathways, which is three hours' worth of coping resources and ideas about managing distress that happens all within a week's time," said Champion. This workshop provides students with strategies for coping with everyday stress, accelerating the change process.
A presentation slide by Champion stated that of students that identified at the start of treatment they were thinking about leaving UWL, 81% said that counseling helped them stay in school. "At the system level, that means about 20,000 students in the past academic year, were helped by counseling services to stay at school," said Champion.
There is no lack of ongoing developments in the CTC. The UW system with newly allocated funds is partnering with the telehealth company; Mantra. The virtual counseling and psychiatry appointments will look similar to what the CTC offers currently however, additions will be made. Champion said, "Mantra is going to give us some additional telepsychiatry access for other days and other times there's going to be a 24/7 crisis support component of this." The person reached through this line will be from within the UW system, making it different from the 988 hotline.
When Champion opened up the floor for questions Veterans Association Senator Casey Christ asked, "Are our counselors qualified to call for behavioral health screenings, like ADD and ADHD, or do anything with medication for students who might be having those issues?" In response, Champion said that before the pandemic the CTC did have a type of counselor that could do those types of assessments, and having ADHD testing is something on their radar. She also explained that for some medications to be prescribed an initial test has to be done and the CTC can perform that test. "One of the things about Mantra that we've learned is that their psychiatry will be able to do more of that diagnosis," said Champion
School of Education Senator Maria Laurent asked a question about counseling session limits. "We don't any longer publish a session limit," said Champion. She explained that now the CTC leaves the number of sessions up to recommendation from the counselors. Champion said, "In order to provide the best quality of services to the greatest number of students possible we try to find a sweet spot of the right kind of care within our scope of practice."
SA continued with a discussion on a resolution to approve the updated bylaws of the SA Marketing and Special Events Committee, this resolution was then passed. A vacant graduate position was then filled by Cooper Shea and Shea was sworn in as the newest Graduate Student Senator.
State Affairs Director Emma Latus introduced a resolution to formalize priorities within her position. These major advocacy priorities include three topics to include in the 2023-2025 state budget. First, the approval of phase II of the Prairie Springs Science Center. Second, Enhanced mental health funding and support for counseling services at UW System campuses. Finally, Financial support for the Wisconsin Tuition Promise initiative.
In light of recent chalking events on the UWL campus, the last topic of the night was a discussion around the idea of a chalking policy. "These types of issues are reoccurring; it is not just this thing that has happened this semester and will hopefully not happen again." Said College of Arts, Humanities, and Social Sciences Senator Kate Lochner.
Dean of Students Kara Ostlund shared that a draft policy has been in the works since Aug. of 2021. "The point of the policy is to bring accountability to what people are chalking, it is not to say 'no you cannot chalk this'," said Ostlund. She added that this draft policy has been vetted by the system legal and multiple times by different attorneys.
International Student Organization Senator, Spark Lim said, "The chalking isn't the issue, the issue is the message. No matter what type of policy there is it is not going to solve the fact that these people that wrote this hurtful message, we go to school with them." The emphasis on the culture present at UWL was further discussed. SA will look at the draft policy in question and revisit the topic in a future meeting.
Leave a Comment
About the Writer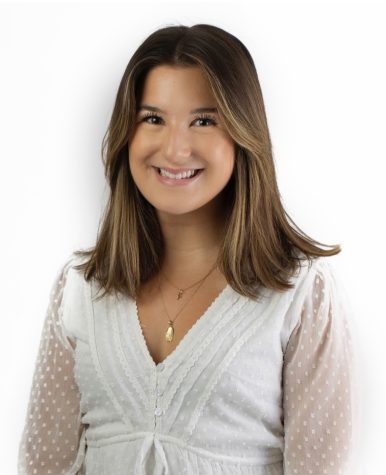 Isabel Piarulli, Executive Editor
Year at UWL: Junior

PGPs: She/Her/Hers

Hometown: Menasha, WI

Major: Psychology and Political Science

Minor: Communication Studies

Other...