Football players call on the NFL to change turf fields to grass fields
In November of 2022, Football players from numerous different teams in The National Football League (NFL) went to Twitter to voice their opinion on turf fields in the stadiums they play in.
Examples of these tweets include one from De'Vondre Campbell, a linebacker for the Green Bay Packers, who said: "This is two weeks in a row we've had players get injured on turf fields. I think it's time y'all take some of the money y'all make off us and invest in grass fields for every team around the league. The turf is literally like concrete it has no give when you plant @NFL."

The hashtag, #saferfields, was also included in the tweets. Nick Bosa, a defensive end for the San Francisco 49ers, said in a tweet on Nov. 12, 2022: "Nfl says they care about player safety yet they can't put us on a natural surface #saferfields." One of Bosa's tweets about the turf and grass fields was written back on Feb. 13th, 2022, in which he said: "Every player is one play away from altering their career forever when playing on turf. I experienced the bad side of this and it could have been avoided. Help me #FlipTheTurf to real grass with @penningtonlawn. Sign here: http://change.org/fliptheturf #penningtonpartner." Pennington Lawn is a grass seed company, that also started the Change.org Petition entitled: "#FlipTheTurf: It's Time To Swap NFL Stadium Turf for Real Grass." At 3:24 pm, on Wednesday, Dec. 7th, 2022, this petition has 28,851 signatures.

This petition started in February of 2022 when Odell Beckham Jr. suffered a torn ACL while playing in Superbowl LVI for the Los Angeles Rams. The game, held at SoFi Stadium which has a turf field, saw Beckham Jr. non-contact injury. Beckham Jr. went to Twitter to reply to a tweet from ACL Recovery Club which had tweeted a video of Sterling Shepherd, a wide receiver for the New York Giants, injuring his leg in a non-contact injury on Sept. 24, 2022. The injury turned out to be a tear in his left anterior cruciate ligament, otherwise known as an ACL tear. Beckham Jr. said in his Twitter replay: "Just get rid of it all the fkngether bro. Billions made off this game I can't understand why we can't play on grass. That shxt is rough. Prayers up for my brother. Shxt just hurt my heart🤕."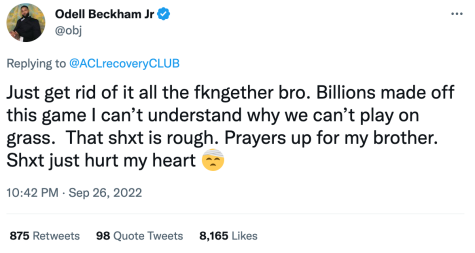 JC Tretter is the president of the National Football League Players Association (NFLPA). Tretter previously played for Cornell in the National Collegiate Athletic Association (NCAA) and went on to play for the Green Bay Packers and the Cleveland Browns in the NFL. In his essay posted on the NFLPA, Tretter said: "First, a bit of physics: Professional football players put extremely high levels of force and rotation onto the playing surface. Grass will eventually give, which often releases the cleat prior to reaching an injurious load. On synthetic surfaces, there is less give, meaning our feet, ankles and knees absorb the force, which makes injury more likely to follow." Turf fields are made up of synthetic fibers and have rubber pellets. The pellets can trap football players' cleats, making their cleats stuck in the turf. The Clegg Impact Tester is a test to measure the shock absorption of hard surfaces, which the NFL uses to ensure fields are safe to play on. However, Tretter said: "The Clegg test, however, is extremely limited in its ability to tell us about the performance or safety of a field and is not nearly as comprehensive for what the modern game requires."
Tretter also said that based on data collected from NFL injury data between 2012 and 2018, "Specifically, players have a 28% higher rate of non-contact lower extremity injuries when playing on artificial turf. Of those non-contact injuries, players have a 32% higher rate of non-contact knee injuries on turf and a staggering 69% higher rate of non-contact foot/ankle injuries on turf compared to grass."
Tretter said that climate is not a limit to providing grass fields because colder climates can hold grass fields, such as the Green Bay Packers. In addition, Tretter also said that indoor stadiums are also able to hold grass fields, citing how The Cardinals have an indoor grass field stadium. For reference, 16 NFL stadiums have grass fields, while the remaining 14 stadiums have turf fields. An NFL injury data summary said that out of the 16 most injured teams, only 3 of the teams played on real grass, while the other 13 teams on the list played on turf fields.
At the end of Tretter's essay, which can be found here, he said: "Our occupation is dangerous enough, and the increased rate of lower extremity injuries linked to the field surface we are forced to play on is unacceptable. The NFLPA is advocating for teams to convert artificial practice and game fields to natural grass fields. In the meantime, we're fighting on behalf of our players to develop better safety standards and testing methods for artificial turf. There is room for innovation by artificial turf manufacturers, but until the risk of injury on turf mirrors the risk on grass, playing on turf is not in the best interest of our players."
Dr. Allen Sills is the chief medical officer for the NFL. He said in an article written by "The Athletic," which can be found here, that the answer to whether grass or turf fields are better doesn't have a solid answer. He said: "It's going to be the performance characteristics and obviously, those can be changed. Grass can be changed in certain ways to make it safer, as can artificial surfaces. As we gather more data, I think we can better help people understand what's the right surface for the right condition, you know, for the right use case, and I don't think it'll be just as simple as this one's good, this one's bad." However, NFL players continue to voice their opinions about the matter on Twitter.
Despite what Dr. Allen Sills said in the article, a journal article from Nov. 2018 entitled "Higher Rates of Lower Extremity Injury on Synthetic Turf Compared With Natural Turf Among National Football League Athletes: Epidemiologic Confirmation of a Biomechanical Hypothesis" was published in the "American Orthopedic Society for Sports Medicine." In this article, the writers said: "Biomechanical studies have shown that synthetic turf surfaces do not release cleats as readily as natural turf, and it has been hypothesized that concomitant increased loading on the foot contributes to the incidence of lower body injuries." The writers said their conclusion after their research was: "These results support the biomechanical mechanism hypothesized and add confidence to the conclusion that synthetic turf surfaces have a causal impact on lower extremity injury."
In the Wisconsin Intercollegiate Athletic Conference, all eight universities have turf fields, which includes UW-La Crosse.
To see more tweets from NFL players about turf fields, click here.
To see the Change.org petition, click here.
Leave a Comment
About the Contributor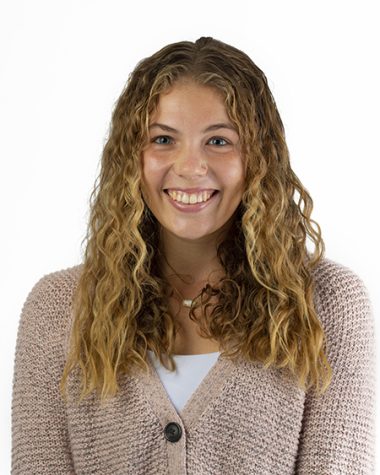 Gianna Fussell, Sports Reporter
Year at UWL: Junior

PGPs: She/Her/Hers

Hometown: Middleton, WI

Major: English Education

Minor: Spanish

Other Campus Involvement: UWL...