UWL music students speak on the value of music during the holidays
On Saturday, Dec. 10, the University of Wisconsin-La Crosse Music Department performed a collage of holiday tunes at the "Sounds of the Season" concert. Participating ensembles included the UWL Concert Choir conducted by Dr. Chris Hathaway, the UWL Treble Chorus conducted by Ms. Beth Lakmann, and the UWL Symphony Orchestra directed by Dr. Justin Davis.
Each ensemble was individually featured in some pieces, while other pieces were performed in combination. Selections for the concert included "Christmas Day" by Gustav Holst, "O Magnum Mysterium" by Morten Lauridsen, "Trepak" from "The Nutcracker" by Pyotr Tchaikovsky, and more. Along with the UWL ensembles, soloist Kat Moran, a small group vocal ensemble Third Charm, and a saxophone quartet performed as well.
After the performance, The Racquet Press talked to several ensemble participants to inquire about what UWL music students think is the value of music over the holiday season. Their responses are recorded below:
Members of the Concert Choir
Freshman Kaleigh Kunkel: "I think music provides an amazing opportunity for people to be able to come together to celebrate and have the same happy feeling. Also, for people to unite and hear music as a symbol of power, joy, love, peace and everything that Christmas essentially represents."
Freshman Jack Nienhuis: "I think music is the best way to get into the holiday spirit, and it makes the season a lot better. A lot of people don't like the snow and the cold, but the music makes it fun."
Freshman Fayth Norzin: "I think that music sets a certain mood whether that's joyful, cherishing, or lively. I think that music is something that can connect individuals together. As a music lover myself I can confirm that listening to music makes me feel happier."
Freshman Nick Mitchell: "The spirit of the holidays is the harmony and synergy of being together as one, and I think that music is a great way to do that."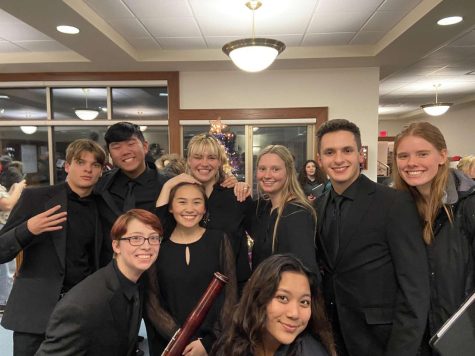 Sophomore Shelby Schultz: "Personally, in my family, we love holiday music and we always sing it together when we're making cookies. I think it's a great way to bring everyone a good spirit and closer together through songs that they know and enjoy."
Sophomore and Vice President of Concert Choir Steven Reigh: "I know a lot of people out there in the world sometimes aren't under the best circumstances, and I think that music can always be something that people can look forward to. Having these concerts brings a lot of joy to the public. Maybe if someone doesn't have a family to spend the holidays with or any place to go, I think music can do a good job of giving them the happiness that comes with the holiday season. It's something that they can look forward to, and whenever they hear a certain tune they can associate it with the holidays. I feel like music always brings people together."
Junior and Social Media Officer of Concert Choir Alex Perry: "I think that the value of having music over the holidays is enormous. That's what caroling is all about! Even if you're not in a music program, everyone is enjoying music over the holidays because it spreads cheer. Being in an ensemble at UWL, whether it's orchestra or choir, brings a lot of joy to you throughout the year, especially around the holidays. It gets us in the mood for Christmas early because we start practicing these songs months in advance. It helps bring my Christmas cheer up!"
Members of the Treble Chorus
Freshman Grace Filips: "It's the sense of community especially within the choir singing songs or caroling. It's about feeling connected to all of these other people and being together. I really enjoy that. Also, it's a tradition every single year so it brings back memories."
Freshman Emma Sampselle: "I think that music spreads a lot of joy and smiles. It can form connections between people who don't even know each other!"
Kirsten Amann, a senior in concert choir and symphony orchestra: "I think music is something that so many people get excited about and enjoy listening to during the holidays. It brings people together. No one's not going to enjoy listening to an orchestra and a choir perform "Sleigh Ride" together!"
Members of the Symphony Orchestra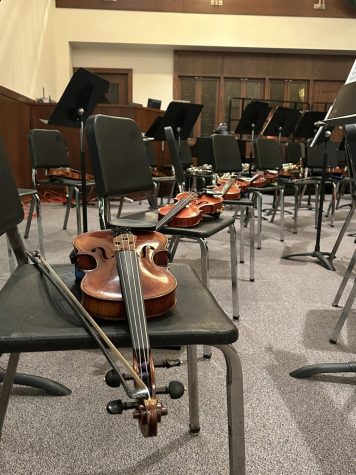 Freshman Ka Khang: "People love music! And that's how people get together and feel happy, especially during the holidays. Some people love Christmas music, and some people don't, but I think Christmas music is the hype!"
Freshman Abby Osiecki: "It wouldn't feel like Christmas if we didn't have music!"
Senior Ashley Nordby: "I think music unifies a lot of people, and it brings a lot of people joy around this time of year. It gives them something to look forward to. I always look forward to hearing the music! For me it's just fun to play, and I like to be able to give that to other people too."
Senior Cassie Davis: "Whenever we turn on our cars in the morning, the first thing that we hear is music. Whenever we think of holidays we may think of the lights or the time spent with family, but most of the time you hear the little jingle bells in the background, you know? I think that music has a way of bringing everyone together and connecting us with people that we don't even know to have a wonderful holiday season."
Senior Caroline Sargent: "Music just brings so much warmth into the holiday season. It brings back so many memories of years past, and it allows people to make new memories and associate happy days with the beautiful music that we listen to.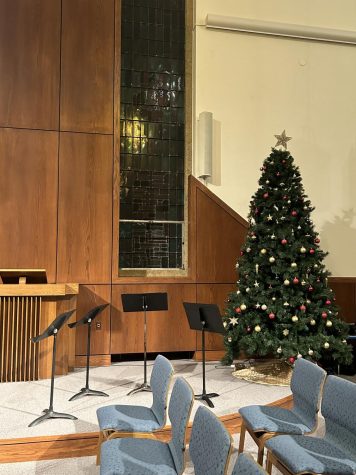 At the end of the performance, students and community members said that they felt like they were officially in the holiday spirit. The performance was concluded with a performance of "Sleigh Ride" that included participation from all three UWL ensembles along with the audience members. Concert attendants said that it was a night full of holiday music and spirit.
Information about next semester's UWL music performances will be posted on the UW-La Crosse Music Facebook page or on the UWL music events calendar page.