Humans of UWL: Students in the Army
Students here at UWL in the military receive numerous educational benefits. One of those students is Casey Christ. From Menomonee Falls, Wisconsin, Christ is a senior at UWL majoring in political science with a double minor in communications with an advocacy focus and public administration.
Before coming to UWL, Christ, upon the eve of her departure from high school, enlisted in the Army Guard. As a part of the Army Guard, Christ can be called upon to help respond to emergencies both foreign and domestic; natural disaster relief would be an example.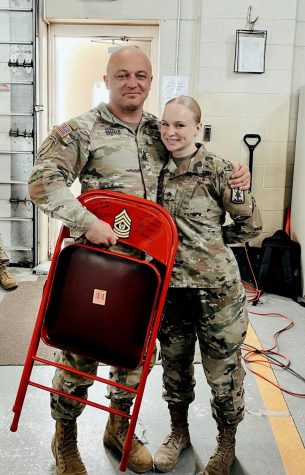 "I enlisted as a 13 Juliet, which is a fire control specialist," said Christ. Christ continued with the specificities of her job by saying, "It's in artillery. I have a military computer and there is software on it that allows me to communicate with cannons or rocket launchers."
Christ enlisted in the Army Guard on what is called a split option. "I joined when I was 17. So, the Army Guard has a unique path you can take where you can enlist when you are 17 and go to basic training the summer before your senior year." She continued by saying, "Then you can come back and do your senior year of high school, and then the summer before you go to university you go to do your job training, which is called split option."
However, because Christ decided to do the split option, as she said, "I didn't really get to pick my job and had to pick from what was left to choose from…But, it was ok because I absolutely love my job."
When asked why she joined the Army Guard, Christ said, "I always find this question funny because a lot of people I know have very specific reasons to join." Christ continued, "I didn't really have that. I heard about the military and all that it offers in high school and I had no idea of what it was really like."
Christ went on to say that the preconceived notions she held about the military, those being that it was an institution that just shipped you off to some other country without seeing your family again, were ill-reputed. "I didn't know that there were so many broader branches and different things that you could do," said Christ. Christ continued, "When I found out that I could be paid to stay in shape, get my college paid for, and do a lot of valuable networking…I thought to myself, 'why doesn't everyone know about this?'"
Christ said one of the benefits that being in the Army Guard allows is the ability to not have to worry about paying for college tuition. Another student in the Army Guard, Mallory Fulcher, discussed this benefit as well.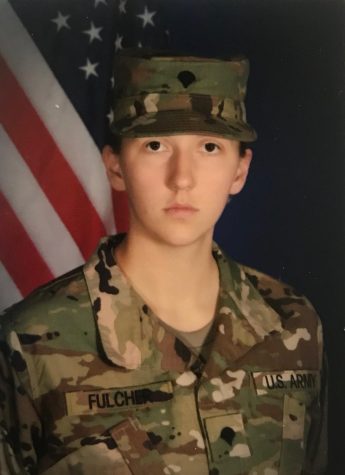 Fulcher, who is a senior at UWL studying English with an emphasis on writing and rhetoric, said her reason for joining the Army Guard ties in with the benefit of paid college. "I had wanted to join back in high school and my parents were like, 'no, you don't want to do that type of thing,'" said Fulcher. Fulcher goes on to discuss how, instead of joining the military, she ended up going to a tech school where she got a degree as an EMT and a paramedic.
As time moved on, Fulcher realized that working full-time for a while after finishing tech school wasn't enough. "I wanted to go back to school and I wanted to get a bachelor's degree," said Fulcher, "But I didn't really have the money to do so. So, the benefits that the national guard offers is that they pay for all of the tuition along with a lot of other things like health insurance and other things like that."
Upon joining the Army Guard in 2019, Fulcher kept in mind her EMT and paramedic background when deciding what her job was going to be. "I'm a 68 Whisky, which is a combat medic," said Fulcher. Fulcher continued, "I can do medical stuff. I can do your typical combat stuff. But I am also in charge of giving our unit flu vaccines every year."
In terms of the future, Fulcher said, "The reason that I came back to school to get a bachelor's degree is to teach EMT and paramedic courses, and in order to do that I need a bachelor's degree."
For Christ, when looking at what her future holds, she said, "Right now what I would like to do is work for a tech start-up, a large company, or even a government entity, and do policy analysis, government affairs, or budget analysis." Christ continued, "If I do things like government affairs, you need a security clearance, which I already have as a part of the Army Guard."
Being in the military, along with being a student, can be a lot of work. Not only do students have to maintain a regular course load in order to graduate, but there is also the need to keep up with the standards that whatever branch sets. For Christ and Fulcher, something they both mentioned as being members of the Army Guard was the necessity for being in good physical condition, with that requirement being met by the completion of fitness tests throughout the year.
While it isn't for all people, the military is an option for those who are looking for a pathway through life; if they are willing to meet both the physical and mental requirements necessary.
As Christ said, "There are downsides to [being in the military], like I always have to be more careful when it comes to things like having fun, as an example. But, it is the best decision I have ever made."
Christ and Fulcher shared some advice, as seniors, to new students here at UWL. From Christ, she said, "Personal time management is something that everyone should master. Though I myself procrastinate sometimes, there is just no way I could do everything that I have on my plate if I put everything off until the last minute." She continued saying, "If you learn how to value and manage your own time, in a good way, you can, very well, balance education, a social life, a job, and the military if that is the path that you so choose."
Fulcher said, to those thinking of joining the military, "The military is a good option to have your tuition paid for and you [don't] have to worry about it ever again." To students in general, Fulcher said, "Be friends with your advisers and make sure that they are helping you figure out what you need to take and when."