UWL gymnastics team sets new Mitchell Hall Facility Record
On Friday, Feb. 3, the University of Wisconsin-La Crosse hosted both gymnastics and wrestling meets in the Mitchell Hall Gymnasium. This meet is commonly known across the UWL campus as the "Beauty and the Beast Meet." The UWL gymnastics team hosted UW-Oshkosh, while the wrestling team hosted UW-Stevens Point.
The UWL gymnastics team won their meet against UW-Oshkosh, and set a Mitchell Hall Facility record, breaking the 2016 record of 191.800, with setting the new record of 192.000. This new score is sitting at seventh in school history. UWL won all four individual events and the all-around event.
Rachel Chesley, a sophomore and an English major with a Spanish and a political science minor, got involved with UWL gymnastics because she had always had an interest in college gymnastics. She previously competed for Flips Gymnastics in White Bear Lake, Minnesota. She won the vault, with a score of 9.775, and the uneven parallel bars, with a score of 9.700. She tied for third place on the floor, with a score of 9.625.
For UWL gymnastics, the official competition season starts in January, but practices start as early as September and go through March. There are open gyms prior to tryouts, which begin at the end of September and early October. Once the final roster has been made, the gymnasts begin to practice. "October and November, we describe it as building up to our routine. You'll break your routine up in halves before putting it all together, so you'll work on individual skills," said Chelsey. The practices are Mon. – Fri. and run from 3:15 p.m. to around 5:45 p.m. On Mondays and Wednesdays, the team has a lifting session.
The gymnastics team also has an Intra-Squad meet in Cartwright in December.  Jordyn Faust is a senior on the gymnastics team with majors in clinical laboratory science and Spanish. "I started in mommy and me classes when I was two and did gymnastics at Oshkosh Gymnastics Center, it's now Precision Athletics," said Faust.  The team used to compete against Winona at the Intra-Squad, but with COVID-19, the UWL gymnastics team just competes against themselves. "It's a little bit of a fun meet," Faust said about the Intra-Squad meet.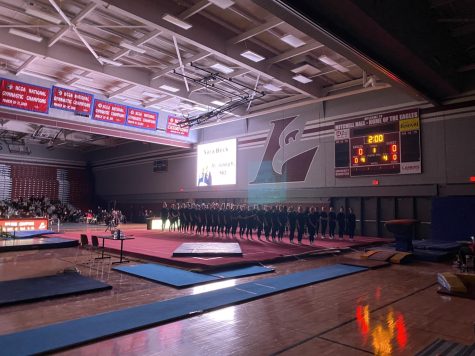 This year, the UWL gymnastics team took a trip to San Jose, California to compete at the San Jose State University Triangular. UWL competed against San Jose State University and Sacramento State University. The 2023 National Collegiate Gymnastics Association (NCGA) Championships are in Winona, Minnesota whereas last year's championships were in Ithaca, New York. The championships being close to UWL this year allowed for the gymnastics team to travel to California.
"It's a really fun experience because it's a lot different. It's bigger, there's more excitement, more fans, things like that. It honestly felt like a vacation, it was really fun," said Faust. In addition to competing, the gymnastics team went to San Francisco, Pier 39, saw Alcatraz, saw the Red Wood Trees, and went to the beach in Santa Cruz. The team flew out on a Friday and returned the following Tuesday.
In order for UWL to qualify for the NCGA championships, UWL must place in the top three teams at the Wisconsin Intercollegiate Athletic Conference (WIAC) Championships. "At conference, you have to place in the top three to make it to nationals. There is also an individual national's thing where if your team doesn't make it, then you can make it based on your season average scores," Faust said.  The top three teams go on to compete at the NCGA Championships.
For college gymnastics, routines start with a 9.4 difficulty. Gymnasts must add in certain connections and skills in order for their routine to start with a 10, which is the highest. Whatever number of connections and skills is added to the 9.4 is the gymnasts' start value. There are also deductions from the routine, which impact the final score.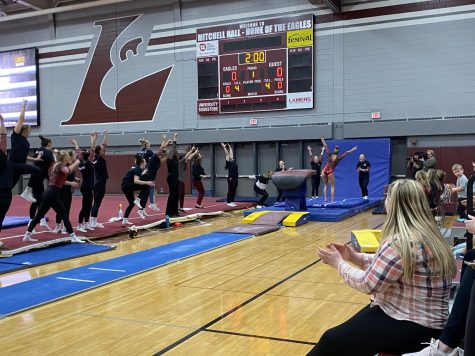 "I think it's going really well," Chesley said about how the 2023 season is going this year. "I feel like we have a lot of depth on all of our events this year. I feel like everyone is super motivated to keep getting better, and we've already been doing really well," Chesley said. "This past weekend we had our fourth-highest team score in program history, so that was really exciting."
UWL gymnastics compete next on Friday, Feb. 10, at UW-Eau Claire.