Planting seeds for our futures: LASO's 2023 Fiesta
The University of Wisconsin-La Crosse Latin American Student Organization (LASO) threw their annual 'Fiesta' on Saturday, Feb. 11. The sold-out event featured a Latin-inspired dinner, a live band, and lots of dancing.
"Our biggest thing is the live music," said LASO President Jazmin Gil, "I think that's really what we want to give people."
The Fiesta featured a nearly three-hour performance from 'Grupo Candela', a salsa-merengue-bachata band out of Madison. "We've been working with them for years, and they've always just been so amazing," said Gil.
This year's theme, Somo Semillas translates to, "We are seeds." 
"The subtitle is 'Planting seeds of our future,'" said Gil, "We kind of chose it to really celebrate where we've been, where we're going to be, and what we're growing to be." She added that members and the executive team alike loved how the theme sounded and felt.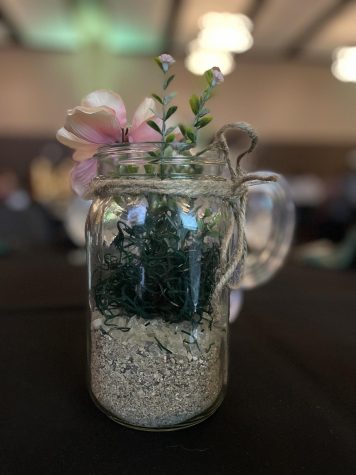 According to Gil, incorporating the theme into the evening is part of what makes Fiesta so special. A backdrop with three prompts stood next to a table of paper cut-out seeds to write on.
The prompts were: 'What keeps you growing?', 'How will you bloom?', and 'How will you branch out?'. "We wanted to encourage people to write their goals and maybe how they want to grow this next year, or even just right now, and then stick them under each prompt," said Gil. 
At their weekly Thursday night meeting, members created the Fiesta centerpieces out of mason jars, sand, and flowers. Gil said the goal of this centerpiece was to help guests and members better visualize the theme.
The food was catered by Chartwells who worked in partnership with LASO to create the perfect Latin-American feast: rice, beans, taco fixings, chicken chimichangas, horchata, and for dessert, back by popular demand, tres leches cake.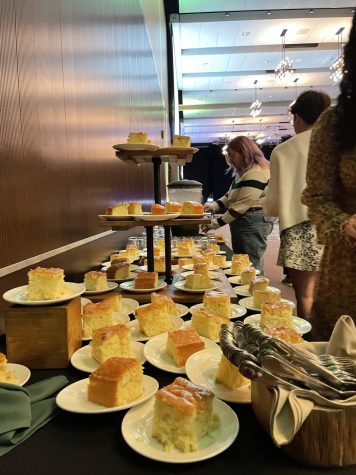 "The direct translation is 'a three milk cake,' so it's a moist cake and it's so good. People loved it last year, so we stuck with it this year," said Gil.
LASO Treasurer, Sofia Mendoza, was in charge of a fair amount of planning for the Fiesta. 
"I made sure that everything we wanted to do fit into the budget, and then we all split roles," said Mendoza."Someone was in charge of contacting the band, others were in charge of the food, decorations, and all those other little things." 
Mendoza said the Fiesta is important to have on campus because it helps bring awareness to the organization. "This is our biggest event; it's not a general meeting whatsoever and I think it's interesting because everyone comes, even people who aren't involved with LASO."
Two community members who attended the event were Marta and Bill. They've been coming to LASO's Fiesta every year for the past 17 years. 
"We have friends working at UWL, so we like to come support them, and it's always a good time," the two said. 
After dropping out of college, Bill met Marta during his time with the Peace Corps in Uruguay. Marta is a retired schoolteacher who is originally from Uruguay, and they have been married for almost 20 years.
"I think the students from Latin America have to have the same opportunities that American students have," said Marta, "and this is one way that they can show what they can do, where they are from, and all the goals in everything that they have."
UWL senior Keann Matias joined LASO this past fall semester and has been drawn in by the "positive atmosphere" of the meetings. 
"When I first joined, I didn't know anyone who was currently a member. But from the first day, they were very welcoming and very accepting," said Matias. 
Matias tells anyone who may be unfamiliar with LASO, or any other multicultural student organization, to "give it a shot" and learn something new. "Even if you don't really know what it's about, just coming out to support a multicultural organization and experience another culture is super important." 
LASO meets every Thursday at 6:00 p.m. in 1403 Centennial Hall. To see other Multicultural Student Organization (MSO) Events and weekly meetings click here.