UWL swim and dive teams compete at WIAC Championships
The Wisconsin Intercollegiate Athletic Conference (WIAC) Swimming and Diving Championships took place at Walter Schroeder Aquatic Center in Brown Deer, Wisconsin, on Wednesday, Feb. 15 through Saturday, Feb. 18. The teams participating included the University of Wisconsin-La Crosse, UW-Oshkosh, UW-Whitewater, UW-Eau Claire, and UW-Stevens Point. This was the first time in 10 years that the UWL women's swim and dive team lost the meet. The UWL swim and dive team also received the 2022 College Swimming Coaches Association of America (CSCAA) Scholar All-America Award for their efforts during the 2022 fall semester.
Wednesday night was the first session of the championships. The UWL 200-yard medley relay team of Jordy Hahlen, Lauren Steien, Maddy Albert-Nelson, and Kylee Sommer earned the women's 200 medley relay championship title with a time of 1:45.14, out touching the UW-Eau Claire medley relay team by 0.32 seconds.
 On the men's side, the 200-yard medley relay of Jesse Hammes, Mitchell Johnson, Jonah Elfers, and Jackson Plautz placed third. UWL took third in the women's 800-yard freestyle relay and second in the men's 800-yard freestyle relay.
Handing out the awards this year was WIAC Commissioner, Danielle Harris. "I think the main importance is coming together, supporting one another as student-athletes, breaking records, setting new achievements, personal records as well," said Harris, "The comradery in this conference is unique and it's special. It warms my heart to see our student-athletes cheer each other on from different schools." Harris continued, "The togetherness, the comradery, the sportsmanship, that's what makes the championships special."
Thursday night finals included Claire Vandenhouten placing sixth in the women's 500-yard freestyle. Andrew Perrin placed second in the men's 500-yard freestyle.
Lauren Steien defended her 2022 championship title in the women's 200-yard individual medley with a winning time of 2:09.36, beating the second-place swimmer by 1.1 seconds.
Kylee Sommer placed fourth in the 50-yard freestyle with a time of 24.55. The A final for the men's 50-yard freestyle included Blake Nelson taking third with a time of 21.15, Will Quackenbush taking fourth with a time of 21.36 and Nick Litterer taking fifth with a time of 21.39.
The Men's 1-meter diving included Tony McNiff placing fourth, Evan Zimdars placing seventh, Vance Winter placing eighth, Tyler Herder placing ninth, and Jo Marchiando placing eleventh.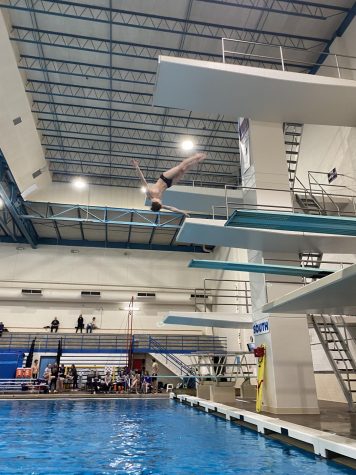 The men's 400-yard medley relay of Nick Litterer, Mitchell Johnson, Jonah Elfers, and Will Quackenbush broke the UWL school record by .03 seconds, with a new time of 3:22.66.
"Obviously we are super pumped about our relay achievements this weekend. We knew we had a chance at first since mid-season, but we still had to drop some crazy swims to get that top spot. I will remember those races forever," Quackenbush said.
Friday night finals included sophomore Abi Schauske winning the women's 400-yard individual medley, with a time of 4:37.60. In prelims Friday morning, Schauske went 4:40.5, with her seed time at 4:45.46.
"In prelims, I just swam the race to swim the race. I ended up going a lifetime best in prelims, which I was shocked about. Going into finals, being seeded first is kind of scary, but I just took my nervous energy to make the best of it," said Schauske, "When I won I was super excited, but I was even more excited about Lily out-touching the other girl and taking second. I was really excited, overall."
Freshman Lily Rosenau followed Schauske, placing second. "I knew it was going to be a race between me and this other girl for second place. She out-touched me in prelims and I wasn't going to let that happen again, so I fought through that last 50 and then seeing Abi got first and me getting second was just a really special moment," said Rosenau.
Maddie Richter placed fifth, and Claire Vandenhouten placed sixth. In the men's 400-yard individual medley, Caleb Jondle placed seventh. Sebiyam Werdin-Kennicot placed eleventh and Jake Jensen placed fifteenth.
Reilly Eiynck placed fifth with a time of 1:55.91 in the women's 200-yard freestyle. Amelia Olson placed ninth. Will Quackenbush placed third in the men's 200-yard freestyle with a time of 1:41.97. 0.72 seconds separated first and third place. Nick Litterer placed seventh, Connor Cleveland placed eleventh, and Andrew Perrin placed twelfth.
Autumn Seebach, Jordy Hahlen, and Kylee Sommer placed third, fourth, and fifth in the women's 100-yard backstroke. Zach Vinson placed fifth in the men's 100-yard backstroke.
The women's 1-meter diving included Joanne Banaszak placing second, Laci Gottschalk placing third, Erika Hysalliu placing fourth, Maddie Weber placing seventh, Hannah Martini placing ninth, and Lauren Feder placing eleventh.
"Competing at WIAC was one of my favorite parts of the season. You can show off all of the hard work you have been putting in all season," said Hysalliu, "Not only was it great being on the boards diving during finals and hearing all my teammates cheering for me, but so was supporting the rest of my team and all of their accomplishments."
The women took third in the 200-yard freestyle relay, and the men's team of Blake Nelson, Jackson Plautz, Nick Litterer, and Will Quackenbush won the men's 200-yard freestyle relay title.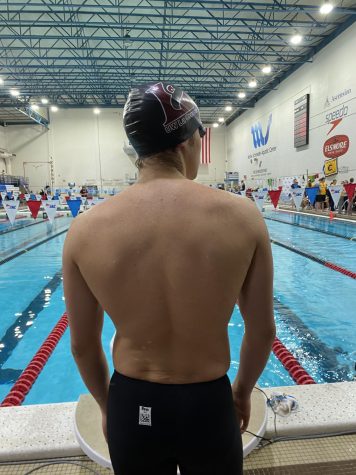 On Friday night, Andrew Lum, who was the assistant coach for the UWL swim team from 2019-2022 flew in from Washington to cheer for UWL. Lum took the head coaching position at Pacific Lutheran University during the summer of 2022.
"In the true grand scheme of things, people, whether it's me or other people in sport, extracurriculars or a graduate, people that have pride in what they have personally been able to accomplish but also witness with the people they surround themselves with is personally why I come back. I have so much pride in this team, and am so privileged, a big reason why I come back," Lum said.
Saturday was the final race day. To start off the meet, Claire Vandenhouten placed fourth in the women's 1650-yard freestyle. Amelia Olson placed eighth and Maddie Richter placed ninth. Andrew Perrin placed third in the men's 1650-yard freestyle, Sebiyam Werdin-Kennicot placed eighth and Jonathan Pella placed ninth.
The women's 200-yard backstroke included Kylee Sommer placing second by 0.54 seconds. Autumn Seebach placed third, Jordy Hahlen placed fourth, and Paige Rundahl placed sixth.
The women's 200-yard butterfly included Maddy Albert-Nelson placing second, Abi Schauske placing third, and Brooke Presny placing fifth. The men's 200-yard butterfly included Zach Vinson placing fourth and Caleb Jondle placing sixth.
Both the women's and men's 400-yard freestyle relay took the championship title in the final event of the WIAC Conference Championships. The women's relay included Kylee Sommer, Reilly Eiynck, Paige Rundahl, and Lauren Steien. The men's relay included Blake Nelson, Connor Cleveland, Nick Litterer, and Will Quackenbush. The women won by 0.93 seconds and the men won by 0.38.
"Being able to end my career with two conference wins with some of my closest friends was a fantastic way to go out. The energy from the guys on my relay, and the entire team on the pool's edge was something I've never felt before," said Litterer, "The bond this team has is incredible. All of the friendships and personal growth I've made because of swimming I will hold onto forever."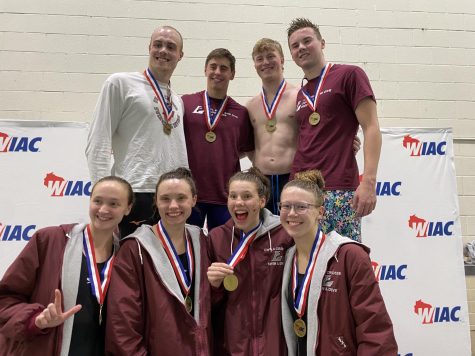 Freshman Jonah Elfers and Junior Kinzie Reischl won the WIAC Sportsmanship Award for UWL. Seniors Nick Litterer and Kathleen Casella were Scholar-Athlete Nominees.
​​Head Coach Steve Mohs is in his fourth year of coaching for UWL. "​​I don't see this differently than any other meet. I really think that there's always a lot of pressure on kids whether it's performance, grades, whatever, so my view is this is supposed to be a celebration event, typically the end of a season for most, and the end of the season for our team," said Mohs.
In total, UWL had 91 swims placed in the top 16, 22 dives placed in the top 12, and six swimming conference championship titles. Tony McNiff, Vance Winter, Laci Gottschalk, Erika Hysalliu, Maddie Weber, Hannah Martini, and Joanne Banasak all made Nationals cuts for diving.
The full results from the 2023 WIAC championships can be found here.