Reflections of Ebony 2023: Black Women Empowerment
On Saturday, Feb. 25, the University of Wisconsin-La Crosse's Black Student Unity (BSU) held its annual 'Reflections of Ebony' celebration.
This year's theme was 'Black Women Empowerment', and to further emphasize this theme BSU hosted keynote guest speaker Carolyn Colleen. Colleen is the founder of FIERCE Academy, a program where she provides life coaching skills for women. She is also the founder of Action Academy Midwest, a private STEM school based locally in Onalaska.
"She's amazing, she treats me like her daughter," said BSU President Callie-Ann Gyle. "She's worked with so many Black women and Black youth. A lot of people in the community love and adore her, and she's just a phenomenal woman."
Gyle has been a member of BSU for the past two years and made her debut as BSU President this past fall. She says the Multicultural Student Organization (MSO) had hoped for a bigger turnout but was looking forward to what the night would bring.
"Reflections of Ebony is about recognizing all the hard work that the exec. team and the members have put into this organization, but it's also a space to welcome people from the community," said Gyle, "It's kind of nerve-wracking when you're on the exec. board but it's also very fun." BSU is composed of seven executive team members and roughly 20 other members.
The event featured speeches, a photo booth, dancing, as well as food and drinks. "Our menu is your traditional soul food, so we have some greens, candied yams, mashed potatoes, fried chicken, mac and cheese … all that good stuff," said Gyle.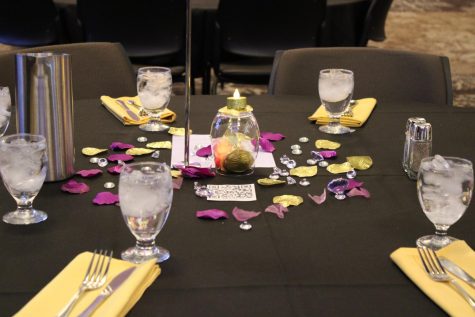 The color theme of this year's Reflections of Ebony event was purple, gold, and black, which were decided on during one of BSU's weekly meetings. In their most recent meeting, the table settings were organized by members.
Devanshi Patel, a BSU member, said she joined the organization two years ago in hopes of finding more minority students to connect with. According to Patel, she feels there is a "lack of awareness" from the La Crosse community when it comes to the struggles of minority people.
"There's still a lot of people who look down on minorities. I am not Black, but I am Indian, so I also feel looked down upon sometimes," said Patel. "Like in school, sometimes people will not come to you to make groups, you have to go to them."
Manigbe Kennah, an executive board member of BSU, said the organization is important for people "like her."
"UWL is a predominantly white school, and there are barely any people of color. So, there's a lot of people that come from MSOs' and we try to find a place where we feel connected with people like us," said Kennah. "BSU makes me feel like I belong somewhere."
According to Kennah, non-minority students are more than welcome to come to BSU meetings, and other MSO meetings as long as they are willing to listen and learn.
"BSU is a safe place, and it's not just for Black students. We have a lot of friends who are white, and they always come to our meetings and support us. We all just get along and get together as one. So, if you want to join us at our meetings you can learn a lot about Black culture, especially during February, and you can learn something new every time you come."
Ticket sales go towards next year's Reflections of Ebony necessities, and future BSU merch. BSU meets every Thursday at 7:30 p.m. in 2313 Centennial Hall.
For more information about UWL's Black Student Unity, click here.