"A Measure of All Things" sculpture removed from campus
The University of Wisconsin-La Crosse has numerous works of art displayed around campus. There's "Ribbon V," a steel structure that sits outside of the Cartwright Center, "Confluence," an assemblage of wall-mounted sculptures located throughout the interior of Centennial Hall, and "Way of Stone," a sculpture made up of pieces of granite located on both sides of the exterior of Reuter Hall.
UWL also displayed a sculpture called "A Measure of All Things." In the summer of 1997, "A Measure of All Things," was completed. Situated at a crossway between Wimberly Hall, the Recreational Eagle Center (REC), and Murphy Library, the sculpture is an amalgamation of steel.
There were three steel spires situated at the eastern, western, and southern points of the piece, as well as the landscape design, present in the mounds that led up to the backside of the seats, which were located at the center of the piece.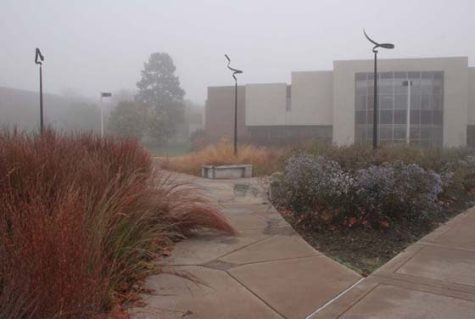 Commissioned by the Percent for Art Program with the Wisconsin Arts Board, "A Measure of All Things" was created by Kasper-Noonan to create a sculpture that represented both the surrounding area of La Crosse and the student body at UWL.
As of the beginning of the fall 2022 semester here at UWL, "A Measure of All Things" has been removed from campus. The three steel spires have been removed and the mounds have been removed and replaced with sod. The only thing that remains is the benches.
"In its most basic definition, public art is art that is placed in public places and spaces," said Sierra Rooney, an art professor at UWL. Rooney specializes in the study of public art, including pieces like "A Measure of All Things." 
"What makes public art distinct from art that we may see in a museum or gallery is its accessibility to its audiences," said Rooney. 
Rooney continued, "But public art becomes most fully public when it has emotional as well as intellectual accessibility. An artist who works in the public realm needs to have a much deeper connection to audiences and communities because the work should reflect and respond to the place in which it's in."
Rooney said public art creates its meaning and becomes important in the livelihoods of others. "Public art is important because it fulfills so many civic needs and has the potential to reach so many different people," said Rooney.
"[Public art] can make a public place more beautiful; it can provide a place to sit or rest; it can serve as a landmark to meet by; it can be a symbol of shared values, similar to the Statue of Liberty; it can commemorate a historical event or person; it can also challenge the way we look at the world or open us up to new perspectives."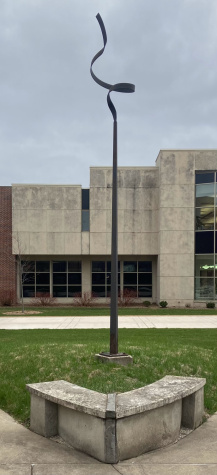 Rooney said that despite all the benefits offered by public art, pieces like "A Measure of All Things" are being removed. Rooney said, "What first comes to mind is when a public artwork does not reflect contemporary values." Rooney continued, "We've seen this in the news a lot over the last few years, as Confederate monuments and other monuments that symbolize oppression, racism, colonialism, and injustice, have been removed, sometimes by public officials, sometimes extralegally by activists.
"Other times public art is removed quietly without notice, either due to physical deterioration, or simply because people no longer seem to care about it," said Rooney.
"Public art doesn't have to exist in public forever," said Rooney. Rooney continued, "But the decision to remove a public artwork should always be a process that involves stakeholders, by that I mean the people have a vested interest in the artwork." Additionally, Rooney said, "For any art on campus, students should have a voice in the decision of what is put up and what is taken down."
The reasoning behind the removal of "A Measure of All Things" remains in question. Along with the UW system's set of guidelines for pieces of public art being taken down, "A Measure of All Things" was a part of Percent for Art, which should also be consulted on the terms of the sculpture's removal.
If anyone has any additional information or updates on the sculpture's removal, please contact the Racquet Press at [email protected].