Humans of UWL: University Police
"UWL is a city within a city," said Nicholas Ames, an officer for the University Police Department. "We are surrounded by the city of La Crosse and we have 13 sworn officers in the full department, counting our chief, having UWL to patrol," said Ames.
Ames, who has over four years of experience as an officer, is responsible for the completion of tasks all around campus. "I work second shift, which is generally [5:00 p.m. to 3:00 a.m.]," said Ames.
"I am a patrol officer, so I am off in the squad car working the road and taking calls for service, which range from maintenance issues all the way up to any call you could see in a municipality," said Ames. Ames continued, "We do it all, basically."
Along with the power to write citations, the University Police have the ability–like any other officer of the law–to arrest and send people to jail, among other powers. Along with this, each officer is outfitted like a city police officer, including tools for the job like a taser, handgun, and bodycam.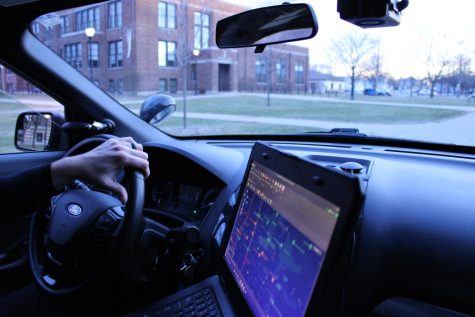 Each patrol officer is assigned an AR-15 and given a riot bag to be used in any potentially dangerous event on campus. In addition to this, each squad car is equipped with extra supplies, med kits, and automated external defibrillators (AED), along with other items.
"The amount of calls that we get can dictate the amount of time we spend on those calls because we are not call to call," said Ames. Ames continued, "I can basically see a call from the start to the finish. I can receive the call for service, and I see it all the way up to the end; whether that be follow-ups a few days later or something else."
"I love this style of policing," said Nicole Miller, one of the sergeants for the University Police Department. "We see everything that bigger police departments see, just not with the same frequency," said Miller. "It is really neat watching young people from day one to when they graduate to see how much they have grown; and if there has been contact with them as a police officer, it's neat to see the mutual respect and the relationships that can be formed."
With 25 years of law enforcement experience, seven of those being here at UWL, Miller's job as the one of the sergeants varies from that of an officer. "My responsibilities range from scheduling, to payroll, to ordering equipment for new officers, to training, to purchasing new vehicles, to make sure we are in compliance with the Wisconsin Department of Justice Law Enforcement Standards Board and even assisting in making sure we are staying within our budget," said Miller. Miller continued, "We wear many different hats [as sergeants]."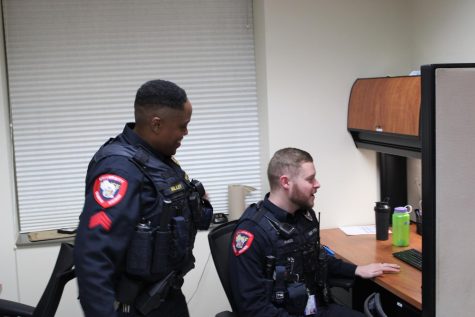 Even though she has more responsibilities related to keeping the department up and running, Miller still patrols, usually during the second and third shifts. She said she enjoys the type of work she is doing.
Ames said he, too, enjoys the job. "Being able to build relationships that I am able to is beneficial." As a part of a liaison program that all officers take part in, Ames is assigned certain residence halls. "We are basically the bridge between the gap of that residential hall and our department," said Ames.
"Every time we walk in the front door, everyone goes, 'Oh, why are the cops here?'," said Ames. "I think that our presence diminishes and deters a lot of problematic behavior," said Miller. Ames continued and said, "When we back up city police officers from time to time, people don't look at our patches. They see the police."
Miller continued, "I think that this deterrence is important…When you have a department that is dedicated 24 hours a day, even in the summertime, our sole responsibility is to take care of business on campus. We want our students to feel safe and we want our students to feel like they can come to us with anything."
"I know sometimes people feel like our presence saturates during certain times and events, but that is just in place to make sure that things are functioning correctly and it's safe here on campus," said Miller.
Miller said there are many situations where the intervention of the campus police has proven important. Miller discussed dealing with intoxicated students and trying to avoid incidents that are often preventable. Miller said, "At that time, they are probably upset that we are intervening, but I don't know how many saves we have made because of that."
"If there were times where I didn't have to do this in this uniform, I would. But, I need these tools if something happens," said Ames, "I didn't get into law enforcement to write UALs [Underage Alcohol] and write that type of stuff. As cheesy as it sounds, I did want to make a difference somehow."
"Doing the best that I can do and trying to impact people in a positive way is my goal in everything," said Ames. Ames continued, "Being a police officer is more than just law enforcement, especially here at UWL."
"People fear what they don't know and you can't blame anybody for that. But, it is being able to make the unknown known through different events that relationships can be created," said Ames.
"It's nice to do events that aren't for a reason," said Ames, who is also hosting drunk-driving Mario Kart nights in Drake Hall to help educate students about the dangers of driving under the influence. The night features refreshments along with the ability to play Mario Kart with different types of goggles that prohibit vision, imitating the influences of alcohol. Ride-alongs are also offered by the University Police.
"There is always an officer here. And for a last piece of advice: be safe and enjoy your four years here," said Miller.
For more information, refer to the University Police Department webpage.