Humans of UWL: Campus Votes Project Fellows Abi Reiter and Matthew Gast
The University of Wisconsin-La Crosse recorded a voter turnout of 1,294 out of around 3,000 students living on campus for the 2023 WI Supreme Court election. This turnout was significantly higher than in the April 2022 election where only 182 on-campus students voted.
Campus Votes Project (CVP) is a national organization that works with colleges across the country to "empower students with the information they need to register and vote." They currently work with over 280 colleges and universities across 41 states with a combined enrollment of over 3.4 million students.
The goal of CVP is "to help campuses institutionalize reforms that empower students with the information they need to register and vote." UWL seniors and CVP Democracy Fellows Abi Reiter and Matthew Gast have spent the last two years working towards that same goal here at UWL.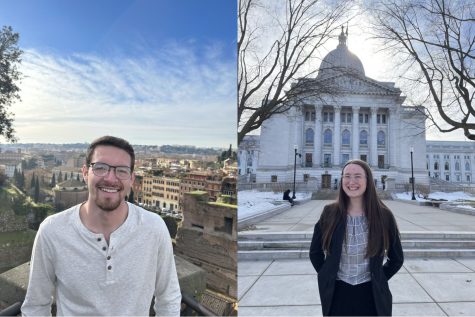 Abi Reiter, originally from Hutchinson, MN, is a political science major with minors in anthropology, international studies, and public administration. She applied to be a Democracy Fellow for Campus Votes Project in the fall of 2020.
Originally from Waukesha, Matthew Gast, a public administration major with minors in economics and legal studies, started out in the summer of 2020 as a Redistricting Fellow for the Campus Votes Project. In the fall of 2020, he then transferred over as a Democracy Fellow.
Together, they have collaborated to lead events such as voter registration in the dorms, tabling at UWL events, and walking districting with Jill Billings, a member of the Wisconsin State Assembly. Over the past couple of years, they have collaborated with the League of Women Voters of La Crosse area, and UWL's Leaders Igniting Transformation and Eta Sigma Gamma.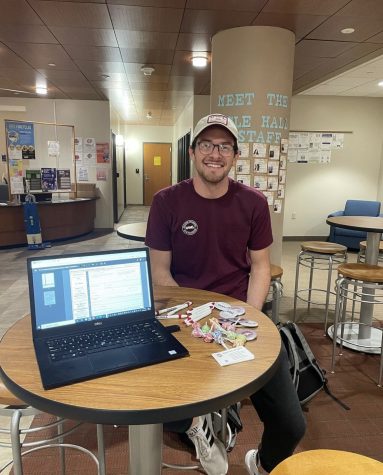 In their positions, they create social media voter information alongside the UWL Election Engagement team to spread nonpartisan election details, promote events on campus, and overall voter education. The Instagram is @uwl_votes.
"I think the biggest thing, from my perspective, is how we are able to be a resource for students. During the midterm election, we sat and tabled all day on campus and talked to hundreds of students on how to vote, what identification to use, and where to vote," said Reiter, "Those random details like that, that once you know them it's really easy, but getting to know them is hard."
Gast said, "On campus, a lot of students vote for the first time here, so they might not feel comfortable going up to a poll worker, but being there as a student and a peer for them felt really successful."
When asked about their thoughts on working on engagement for the 2020 Presidential election, Gast said, "With the data we have access to, NSLVE, I think overall college student voter turnout has increased significantly over the years and it just keeps going up. That is a trend we want to contribute to."
"A big thing for us, since we are above the national average for voter turnout and the turnout is really good, voter education in general and getting the word out is the goal. We don't want election day to be a surprise. We want to get you prepared for when it comes to the day of the election," said Gast.
Future goals they hope the UWL Campus Votes Project continues to work on is getting election day off for students.
Reiter and Gast spent the last couple of months focused on tabling, hosting a voter registration drive to get students registered prior to the day of the election, and promoting educational resources on social media ahead of the Wisconsin Supreme Court election that took place on April 4.
"There is this general idea that college students don't care, don't vote, and don't know what's going on, but that is not something I personally agree with or have seen. This past midterm election was a huge win for us because of how many people we saw had already voted or would come up to us with questions regarding voting." said Reiter, "It's all about getting rid of barriers for students and making it easier to vote, specifically for out-of-state students and that's why it's helpful for students to be able to use their student ID as identification."
When asked about the students that think their vote doesn't matter, Reiter said, "UWL has around 10,000 students. In broader terms, in Wisconsin's congressional district, UWL students overall make up 2% of that. 2% can decide an election, it's a matter of perspective."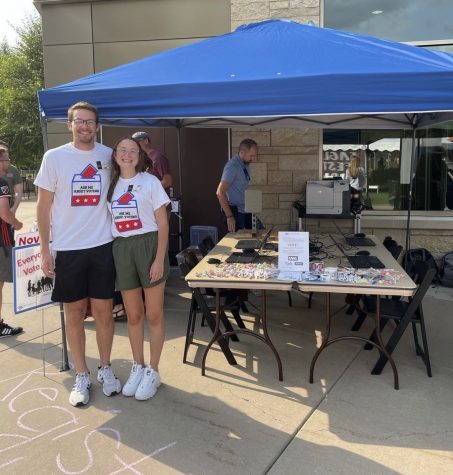 "While your one vote overall may seem like nothing, we're seeing more and more races get competitive and be really close in numbers. It's about belonging to something bigger than yourself. You vote for your community and for your own personal interests in your community, students are a community," said Reiter.
Gast said, "When you look at it at a more micro level, looking at UWL, Viterbo, and Western Tech, that's around 15,000 students and La Crosse's population is around 50,000. That proportion is already such a big magnitude. If you have all of us voting in the La Crosse elections then that is a big determining factor."
Both Reiter and Gast will be graduating this May. Reiter plans on attending graduate school but said, "Right now, I'd like to do something with international development, but I don't know exactly what I want to do yet, so I'm not going to go right away."
Gast said he was in a similar boat but would like to go to graduate school for environmental affairs or city management.
When asked what their most memorable opportunity was through their positions, Reiter said, "Personally, the midterm elections were so awesome. To talk to people and be around people who cared about voting, we don't know who they're voting for or why they're voting, but they're coming up to us and they want to vote and they do care about what's going on. Seeing that and having faith in what we're doing and the future of our country was my favorite part."
"It's so nice to see such a large volume of people receive the information and allow us to give them information and answer their questions. It's cool to see how that many people were ready and excited to vote," said Gast.
If interested in applying to work for the Campus Votes Project, visit Handshake for hiring opportunities through UWL and Campus Votes Project partnership.