UWL ALANA hosts annual Phenomenal Women's Dinner
On Thursday, April 13, Asian, Latinx/e, African, and Native American Women (ALANA) hosted the annual Phenomenal Women's Dinner. The event included keynote speaker Prenicia Clifton, Filipino-inspired food, and several (WOC) women of color-owned businesses from the La Crosse area.
"The only thing that separates women of color from everyone else is opportunity," is what University of Wisconsin-La Crosse sophomore and ALANA President Anika Oplanic said to open the event. Oplanic said that ALANA is one of the oldest multicultural student organizations on campus, and its goal is to develop sisterhood amongst women of color through events like the Phenomenal Women's Dinner.
"[ALANA] was founded because there wasn't really a space for us," said Oplanic. "The original name was 'Sisters of Color,' and it was a place to meet other women of color on campus which is hard because we go to a predominantly white institution (PWI)."
Oplanic said that the Phenomenal Women's Dinner has been happening since before the turn of the century and that the event has included some impressive speakers including Angela Davis in 2005. This year's keynote speaker was UW-System Youth Protection Director Prenicia Clifton.
About the value of speaking at an event like the Phenomenal Women's Dinner, Clifton said, "I think it's your duty as you rise up to reach back. I have had quite the journey in life that I would like to use to inspire others."
Oplanic said that the Phenomenal Women's Dinner is about celebrating the women who make a difference in the community, so they honor a couple of different women every year who are usually related to UWL or making a difference in other spaces in education. "We try to stay within Wisconsin to find cool women who have made a difference in their specialty," she said.
Along with the speaker, five WOC-owned businesses from the community attended the dinner to sell products and spread the word about their purpose. Oplanic said, "We wanted to pick a couple of businesses from the area that we felt personally connected with. They love self-care and we love self-care! They are run by women of color because that is what we stand for."
Mia Davis is the 16-year-old creator of Healing Roots by Mia Simone, a business that sells natural products for skin health and hair growth. Davis said that she was interested in discovering how she could use items from her fridge to benefit her body. Along with selling products, Davis said she posts tutorials and tips on her social media.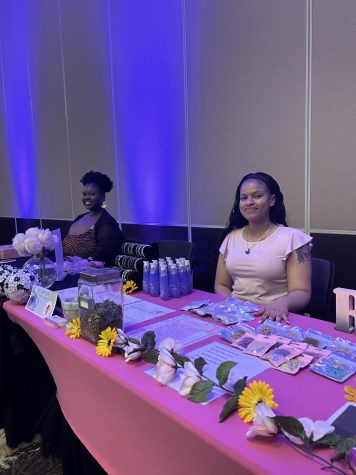 "I feel like [The Phenomenal Women's Dinner] is amazing to empower women in our community," said Davis. "Women coming together and doing anything is very empowering, so I am grateful for this opportunity."
Another business at the Phenomenal Women's Dinner was The Unspoken V. Creator Kathleen Lawrence said that The Unspoken V focuses on vaginal trauma and seeks to educate others about the power and importance of the vagina. Lawrence sells oils, soaps, and other products that promote vaginal health.
"There aren't many things that are healthy for us down below," said Lawrence. "I felt as a young girl that I didn't have enough sexual education and I grew up thinking that the vagina was only meant for penetration, not knowing how many things a vagina can do. Vaginas rule the world!"
Lawrence said that events like the Phenomenal Women's Dinner are important because they allow people to talk about the traumas that they all face. She said that having the connections and being able to not only sell products but talk about vaginal education is important to her.
Other businesses at the Phenomenal Women's Dinner included Melanin Beauty Bar, Village Girl Boutique, and Thy Sacred Life.
"I feel like there is so much stuff going around about women right now and how important it is to support and advocate for women," said Oplanic. "I want people to know that we are not damsels in distress. We are here, we are alive, we celebrate women in the past and the present and that's what the [Phenomenol Women's Dinner] is all about."
As president, Oplanic said that she wants to promote ALANA as a safe space for more women because of the impact that it had on her during her freshman year. She said that events like the Phenomenal Women's Dinner are important because they help spread the word about the organization.
Oplanic said, "I feel like we need to be seen more. Making this a big event and making sure that other people hear about it could create a safe space for more people. It tells campus that we are not invisible. We might be only 10 percent of campus as POC but we make an impact and have events and try our best to be seen."
Follow @uwl_alana on Instagram to be updated on future events.