Student Association presents Dr. Tim Dale the Higher Education Advocate of the Year award
On Wednesday, April 26, the University of Wisconsin-La Crosse Student Association (SA) celebrated Dr. Tim Dale, who received the SA Higher Education Advocate of the Year award. Later topics of the meeting included the passing of six resolutions.
Dr. Tim Dale is the general education coordinator at UWL, as well as a political science and public administration professor.
When Dale received his award, he said, "Thank you very much. I actually prepared some remarks because I think that this award is a really big honor and I want to be on the record acknowledging how big of an honor it is."
Dale, after accepting the award, gave a speech. In his speech, he parallels Harry Potter and Hogwarts to the college experience. Dale explained, "There the students are free to independently explore because that is how real learning takes place."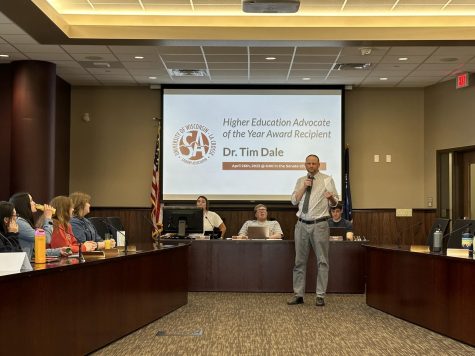 Dale continued, "For Harry Potter and his classmates the experience turns out to be a lot like college. We will not be able to accomplish much unless we learn how to challenge ourselves, struggle, fail, and test our limits."
"Like the students at Hogwarts, you actually learned just as much about yourself in college as you did about your classes. The world of ideas is powerful, liberating, and sometimes dangerous. Like our friend Harry, it is hard to imagine doing it without the friends that we meet along the way," said Dale.
"This award recognized advocating for higher education, and I think it offers a good opportunity to reflect on why we all advocate for higher education. Maybe Hogwarts had it right. A university is a place of freedom, exploration, growth, and a place to test our limits. Your professors are guiding your learning through your academic areas and try to warn you where the three-headed dog is – that's a Harry Potter reference. But you are the ones who have the power to save your world. Helping you realize that is what higher education is all about. I am honored to receive this award and deeply appreciate what it represents. Thank you for the work that you all do [SA] to help us advance higher education together," finished Dale.
The first resolution that was passed at this meeting was a resolution that confirmed the results of the election held on Thursday, April 13. This resolution was passed unanimously. The results are as follows:
President of Student Association:
Emma Latus (329 votes)
Vice President of Student Association:
Siri Flores (385 votes)
Senators for the College of Arts, Social Sciences, and Humanities (CASSH):
Natalee Chiroff (79 votes)
Isabel Piarulli (78 votes)
Easton C. Moberg (59 votes)
Amelia Fortner (53 votes)
Senators for the College of Business Administration (CBA):
Paige Jahner (72 votes)
Helena Alisch (54 votes)
Marlee Simpson (52 votes)
Senators for the College of Science and Health (CSH):
Paige Vang (95 votes)
Fabiola Martinez-Garcia (94 votes)
Alexa Fleegal (88 votes)
Alexis Tate (85 votes)
Anastasia Grochowski (83 votes)
Morgan Hahn (77 votes)
Avery Winders (76 votes)
Senators for the School of Education (SOE):
Anna Giese (10 votes)
Grace Worden (2 votes)
These students will be sworn in at the next SA meeting on Wednesday, May 3.
The second resolution that was passed in the meeting approved Green Fund bylaw changes.
The third resolution passed in this meeting approved the Student Wellness Week Task Force. The individuals appointed were SA Vice-President Siri Flores, SA State Affairs Director Emma Latus, CBA Senator Paige Jahner, CASSH Senator Natalee Chiroff, and CASSH Senator Amelia Fortner. This resolution was passed unanimously.
The fourth resolution passed by SA approved the updated Academic Initiative Differential Allocation Committee (AIDAC) FY24 budget. This update approves a budget increase to AIDAC for the 2023-2024 academic year, which results in additional funds to support student employment. This resolution was passed unanimously.
The fifth resolution passed was a request for an alternative device requirement for SOE students. This resolution states "The cost of the device requirement has proven to be a financial burden on students who generally have devices that meet or exceed – independently or in tandem with other devices – the technological capabilities required to succeed in SOE disciplines."
The resolution also states that "the UWL SOE be called on to discontinue its current device requirement in favor of a more accessible, holistic alternative with all possible haste." This resolution was passed unanimously.
The sixth resolution approved the Segregated University Fee Allocation Committee (SUFAC) by-law revisions. The revisions include added revisions to update the per diem rates to match other schools, and changing the carryover policy to promote budgetary units to spend more of their budgets. This resolution was passed unanimously.