"Running is everything that I am": Ethan Gregg discusses his running career at UWL
Ethan Gregg grew up in La Crosse and attended Aquinas High School. He stayed in the La Crosse area and is now a senior at the University of Wisconsin-La Crosse with a sociology major and a nutrition minor.
Gregg said he chose UWL because of the running program but also because at the time, he wasn't ready to leave his hometown. "Knowing their history of greatness and their dominance within the nation," Gregg said as to what was a contributing factor to why he chose UWL for running. "Just knowing La Crosse had the best culture and best coaching staff, I really wanted to go to a place with a lot of history."
At the 2023 National Collegiate Athletics Association (NCAA) Division III Indoor Track and Field Championships, Gregg won the men's 3k. He split a 4:19.58 on his first mile and 3:42 on his second mile to win the championship title running an 8:01.22.
In addition, he was on UWL's national indoor track and field team, set a school record, set the championship record, and ran the third-fastest 3k in Div. III history.
In addition to the records set this year at nationals, last year Gregg broke the 10k record, the 3k record, the indoor 5k, and the distance medley relay (DMR). On Thursday, April 27, Gregg set the school record in the 5000-meter run. He also runs on the UWL cross country team as well as the indoor and outdoor track teams.
Gregg said his love of running started when he was in seventh grade. "Where it all stemmed from was seeing my dad going out for a run every day," Gregg said. "Just growing up in an environment where I saw my parents get out every day for a run."
When Gregg entered high school, his coaches saw that he would be a longer-distance aerobic runner. He participated in cross country where he ran the 5k, but for track, he ran the mile and the 2 mile, which was what high school offers for distance events.
Gregg's current training schedule includes running every day of the week. "Monday I will do 10-12 miles easy, what we call recovery miles, so just at an easy conversational pace." On Tuesday, Gregg trains on the track doing threshold and speed work reps, running up to 12 miles. Wednesdays include another 10-12 mile easy running day. Thursday's Gregg runs up to 15 miles. "Thursday, up to 15 miles at what we call an 'aerobic pace' which is just a run where it's feeling like a solid effort," said Gregg. Friday includes running up to 12 miles of hard effort.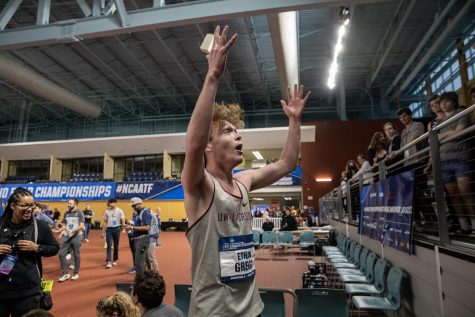 "That includes a warm-up and a cool-down, and a double," Gregg said. So, I'll run twice three to four times a day, to get up to 20 miles on the day."
Gregg also runs on the weekends with a 12-mile run on Saturdays and an 18-mile-long run on Sundays. "The NCAA rule is that we are not allowed to have practice on the weekends. But we've woven it into our culture of having a 9:00 a.m. run. It's an unwritten rule that the team runs at 9:00."
In addition to the team's culture, "We're just kind of a bunch of goofballs who love running and enjoy their time together," Gregg said. "Just the overall emphasis on brotherhood and being there for each other."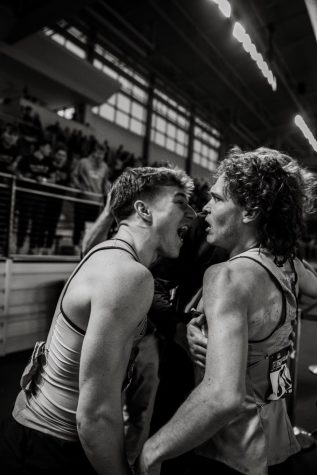 Gregg said the coaches have an impact on his running and have also taught him life lessons and how to approach situations not connected to running. "They're the main catalyst why I am the runner I am today, they're the only reason I'm succeeding."
In addition to his coaches, Gregg said his parents have always been supportive. "My parents always question 'You don't feel too much pressure?' And I'm like 'No.' They let me make all the calls with my running career and I don't feel any pressure to keep going if I don't want to."
The 2023 Div. III Indoor Championships took place on March 10-11 in Birmingham, Alabama.
"Going to nationals is an opportunity that I don't take for granted, that I know is an experience that not everyone goes to, so I've taught myself to really soak in all those experiences and all those moments."
Gregg said the team knew going in that they might have an opportunity to win nationals as a team and wanted to bring energy to the meet, and he took advantage of that energy the team had in his races. "I'm really grateful that I am able to take home the individual title, but what is the pinnacle of the sport to me and to UWL track and field is taking home that team trophy," Gregg said. "The team accolades are always going to come before the individual accolades for me."
Before his races, Gregg said that he switches up his warmups, compared to other runners who do the same warmup every time. "I tend to think that doesn't bode well for me, because what if the time schedule gets messed up and you can't do your exact routine?"
He runs a three-mile warm-up, some stretches, and strides before his race. "It really just keeps your mind at ease, and not having an exact routine for a warmup helps me not think about the race."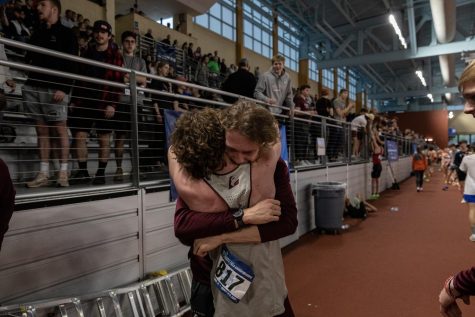 Gregg said that he is able to "Flip the switch off" when the gun goes off and he can just run. "When I'm in it, I'm in the zone, and there's nothing else in the world except what I'm doing each step," Gregg said.
"Without putting it super heavily, I think running is everything that I am. It's helped me grow in my discipline, in my ability to connect with teammates and people. It's definitely the catalyst that turned me into the man that I am today," Gregg said. "The experiences and the relationships it's granted me I wouldn't be the person I am without it. Running is everything to me."
Gregg said that this year, "Hopefully we can replace exactly what we did at indoors and take home a team title, and if that comes along with an individual title, that's cool too. The more points I can get for the team, the better."
"I think if someone is reading this and they're thinking about taking the next step to become the runner or athlete they want to be, they have to ask themselves how badly they want it. What are they willing to sacrifice?"