Humans of UWL: Dior Diemon
Originally from Turkey, Dior Diemon moved to the United States when he was nine years old. He moved from Miami to Milwaukee to be close to family and it was there in Milwaukee where Diemon started his music promotion business.
"I started off by promoting underground artists, anyone that wanted to get their music out," said Diemon. When the COVID-19 pandemic hit, it became hard to travel and talk to artists, so he sold that business.
With the money he made from that sale, he reinvested the funds to make the Diemon Family event planning business. "I took what I was good at and made it into a business which is the event planning business," said Diemon.
"The Diemon Family is not only an entertainment service, but it is a family. We want to provide college students who lack connections and are not in fraternities or sororities with ease in finding events that will enhance their social lives," said Diemon. "Our company seeks to remedy this situation by allowing college students to find the events they want at either no cost or a cost they can afford."
Diemon is currently a fourth-year student studying business management at the University of Wisconsin-La Crosse.
"As an entrepreneur, I realized there was a demand for events in La Crosse," said Diemon. He was originally recruited to come to UWL by Assistant Coach Matt Gordy when he came to Milwaukee to recruit sprinters for the men's track and field team. When Diemon came to UWL he realized there was a strong demand for social gatherings among students following the quarantine of the COVID-19 pandemic.
Diemon's goal behind hosting events was to see what he could do as an event planner. "My goal in life is to own a nightclub and to do that it involves event planning and managing a business," said Diemon.
Diemon currently has an Instagram with over 14,000 followers and a business Instagram with over 32,000 followers. "We are a registered business in the state of Wisconsin," said Diemon.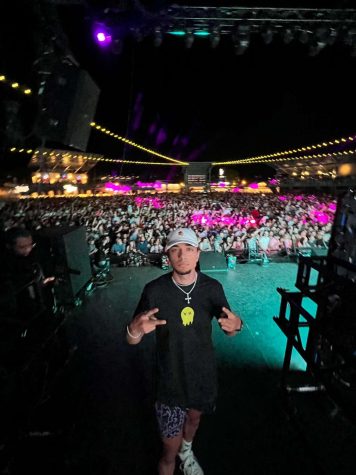 When asked how he came up with the name Dior Diemon, he said he got the name from a singer named Russ Diemon. "He pronounces it as 'Diamond', but I liked the pronunciation of Diemon. As for Dior, I have a dog named Tom Ford, so I wanted something related to him and so I stuck with a brand name," said Diemon.
Diemon doesn't charge UWL students to attend his events, but if other students or young adults from the area want to attend he charges them a small cost. "We offer a safe place for people to enjoy themselves. The venue is a 30-second walk from campus and we offer everything downtown has to offer and more," said Diemon.
The events consist of themed nights, game consoles, karaoke, and live DJs where anyone can request to DJ for the night. He also hosts birthday parties or has attendees sing happy birthday to people whose birthday it is that night. "We provide a personal feeling and a personal space for people to express themselves and create memories they'll never forget," said Diemon.
This year on March 3, Dior Diemon and Latino Bar and Grill did a collaboration at the Latino venue downtown to encourage people to gather at a larger venue. "I believe in quality over quantity and I don't think I should be throwing events every week, I don't want to rush anything," said Diemon.
His last big event was with Moroccan-American rapper French Montana at the Walker's Lounge in Milwaukee. "If you were a university student, it was free. That's what I want to keep on doing, giving back to not just the community, but mainly the university students that stress out every day or have exams or are going through a tough time. They work harder than people think, people don't just go to college to party, there's so much else that goes into it, so I just want to give people a way to forget about all that and have a good time," said Diemon.
Dior is expected to graduate next year and upon graduation, he has a job lined up in Miami at a nightclub as an intern learning the basics with his business management degree and prior experience.
"I have people willing to invest in me and people that believe in me. With my degree, I want to do something with that by creating my own club," said Diemon.
"I am a normal college student. Dior isn't even my real name. I like keeping my personal life personal. I think the public should only see what they can see and not what I can see. I'm already so exposed, I don't want my personal life to be exposed as well. Your personal life and your business life should be separate," said Diemon.
"This is just something I do in La Crosse to enhance people's lives and to help out the community. The main thing I do with these events as an event planner is to make these events free so the community can enjoy them."