On Wednesday, Aug 30 during his opening remarks to the fall semester, Chancellor Joe Gow, UW Systems current longest-serving chancellor, announced his retirement. 
"It's just amazing that we are sitting here now and I'm at the, they say the twilight of your career. I don't feel that way, but I have had a great, long journey," said Gow in an exclusive interview with The Racquet Press. 
Gow will transition from his role as Chancellor to a full-time tenured professor at UWL. Professorship is not a new role for Gow. After completing his Bachelor of Arts (B.A) in journalism from Penn State University (PA), he earned his Master of Arts (M.A) in speech communication from the University of Alabama (UA). He began teaching during his time at UA in the fall of 1983.
"I taught then for 18 years," said Gow. When Gow became a full-time administrator later in his career, he recognized that simultaneously holding these two positions presented challenges. 
"It is hard to teach effectively when you are doing this work. Because what happens is I'll say, 'Oh yeah we will have class these days', and then some unexpected, big thing happens and I have to go do that," said Gow. 
Gow added, "I can help students more efficiently as a teacher rather than as an administrator. Where there are times where I have to be sort of the heavy."
Following his M.A. in speech communication, Gow received his Doctor of Philosophy (Ph.D.) from PA in speech communication. Gow explained that after looking through the curriculum in communication studies (CST) at UWL there were many courses within that department he could teach. 
"There are a lot of things that aren't there that we could develop," said Gow regarding UWL's CST curriculum.
His professional background as Chancellor at UWL and other administration roles in higher education gives him the expertise to teach Student Affairs Administration (SAA) courses, graduate students earning their Master of Science in Education (M.S.Ed) and courses in College of Business Administration (CBA). 
Gow said, "If the College of Business wanted me I could do business leadership. Because this [UWL] is a 250 million dollar a year enterprise and it's got 1,400 people that work here and I have been doing it for 16 plus years." 
Having served UWL as chancellor since 2007, Gow will continue to carry this distinguished title while he transitions into a full professor position. "I hope students would say, 'Oh, he has a very special background and I could learn a lot'," he said when asked about students' potential reactions to having him as their professor when he was previously their chancellor. 
"I'd imagine there would be some students who don't really know who the Chancellor is, or maybe they don't really care. And then there are other people who are like, 'Wow'. So I guess I will have to adjust to that continuum of interest, and hopefully, my teaching will be interesting enough that they are getting things out of it," Gow said.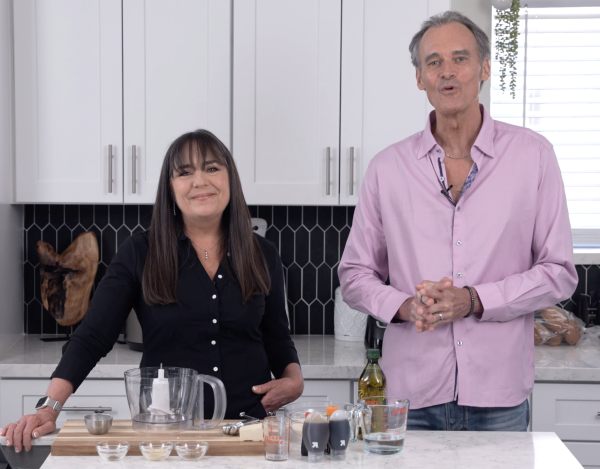 There are a couple of things Gow is looking forward to making more time and space for in his life after stepping down from being Chancellor. Playing the guitar and adopting more casual work attire are just a few. Along with, supporting his wife, Carmen Wilson in her career as a vegan, plant-based cook and as she creates a cookbook and instructional videos titled 'Cooking with Carmen'.
When visiting his granddaughter in San Antonio Texas, Gow ran by a high school dedicated to a woman named Karen J. Wagner. It struck his curiosity and was the inspiration for one of his more recent memorable career accomplishments; dedicating the previously named Center for the Arts building to Truman T. Lowe.
"I talked to a lot of people. Somehow we realized that Truman Lowe is maybe the most distinguished graduate in arts at UWL and he was from very modest beginnings, Ho-Chunk Nation," Gow said. To see what the building naming and exhibit of Truman T. Lowe's work meant to Lowe's wife and daughter, Gow identified as most rewarding. 
Filling the role of UWL's Chancellor at the end of the 2024 spring semester will be the job of the UW System Board of Regents. "Whoever follows me in this job, they are lucky," said Gow. "Our team is second to none at a university like this."
Gow explains there is nothing pressing his successor will need to come and fix at UWL. "This university is so strong it will draw great applicants [to the chancellor position]…we are just in a really solid place." 
Wisconsin's reduced state funding to the UW System Gow identifies as the biggest obstacle his successor will face. He said, "The state support, that's where really it's troubling." 
"Thankfully we have Tony Evers as our governor," said Gow. Elected Governor in 2018, Tony Evers served as the Wisconsin State Superintendent of Public Instruction from 2009 to 2019, and with his background, Gow feels Wisconsin is in good hands in terms of higher education. "You couldn't have someone with a better sense of what we are trying to do, and how important it [funding within the UW System] is and how much it [the UW System] needs to be funded." 
Gow added, "It hasn't really happened, but there are some people in the legislature that want to tell us what we can and can't talk about." 
In November it will be five years since Gow invited adult film actress Nina Hartley to speak at UWL. Despite receiving reprimand for his decision, Gow has a sense of pride. "That is something I am really proud of, we took a stand for free speech," said Gow.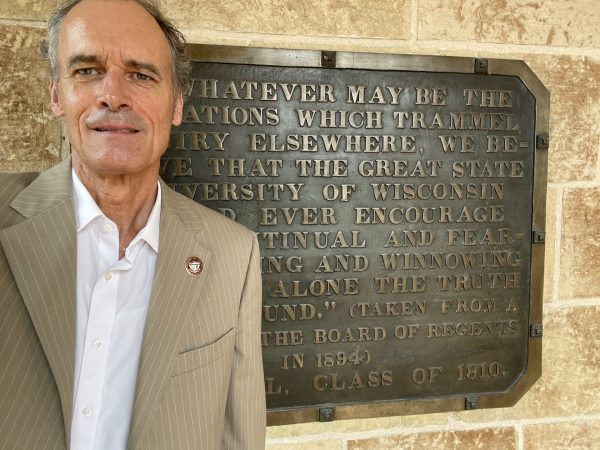 There is a plaque at the University of Wisconsin-Madison that states, "Whatever may be the limitations which trammel inquiry elsewhere, we believe that the great state University of Wisconsin should ever encourage that continual and fearless sifting and winnowing by which alone the truth can be found." These words taken from a UW Board of Regents report in 1894, Gow identifies as the bedrock of what we do at UWL.
Trying things is how Gow explains intellectual growth happens. "At the University we do experiments, not only in science, but social science, humanities and sometimes it doesn't work out the way you thought it would. That's how you advance knowledge."
As Gow transitions from Chancellor to full-time faculty member his legacy will persist, but also evolve in this new capacity as he relinquishes his administrative duties. "I hope they [Gow's future students] would know that I am really an advocate for lifelong learning and this is just a beginning for you all. I hope," Gow said. "Because our lives should not be dull."