Oktoberfest, a festival celebrated in La Crosse since 1961, runs from Sept. 28 to Sept. 30 on the Oktoberfest Grounds near Riverside Park. The weekend celebrates German traditions through parades, games and dances however, not all festivities fall just on the designated weekend.   
On Saturday, Sept. 16, Regina Siegel was introduced to the public as Mrs. Oktoberfest during an evening reception at the University of Wisconsin-La Crosse Student Union. The Oktoberfest royal family has many members, but Mrs. Oktoberfest holds a special place in people's hearts. 
"Mrs. Oktoberfest, she's the queen of Oktoberfest!" attendee Lauren Tigglaar said. 
Indeed she is. Even before her recent recognition of Mrs. Oktoberfest, Siegel had a significant presence in the La Crosse community. Siegel now works for Trust Point as the vice president of organizational development, but prior to this role she spent 22 years in the field of education. She served as both an elementary and middle school principal in La Crosse, as well as director of pupil services for the La Crosse school district.
Siegel talked about her belief in servant leadership and hopes to carry that into her role as Mrs. Oktoberfest. "When you see the women who forged the path before me, these are leaders in our community, truly the mothers of La Crosse, and it's just an honor to be among them," she said.  
Siegel has joined a community of over 50 women who previously held the role of Mrs. Oktoberfest. Kenna Christians, who held the title of Mrs. Oktoberfest in 2017, spoke about the role. "It becomes a family," she said. "We're involved in community activities all the time." These women unite and support each other, mentoring the new Mrs. Oktoberfest annually. The dinner crowd was dotted with women proudly wearing the sashes of past Mrs. Oktoberfest titles, who came together to congratulate Siegel and celebrate this year's festivities. 
The role of Mrs. Oktoberfest includes educating people about La Crosse and the celebration of Oktoberfest. Siegel is most excited for the week after the festivities when she will go visit schools and nursing homes to share messages and the history of the fest. She said most importantly, she will be bringing the fun to those who may not be able to attend the Oktoberfest festivities in-person. 
Each year Mrs. Oktoberfest chooses a theme, and this year Siegel took inspiration from her childhood, deciding on "Be Kind… Always!" She hopes to share that message throughout the Oktoberfest celebration. "The world can be healed one conversation at a time. If we treat others with kindness and compassion, that's a great way to get started," said Siegel.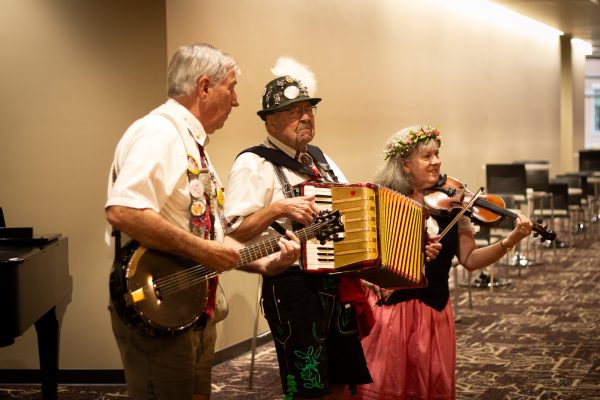 At the Mrs. Oktoberfest Reception, music was played by Crazy George and his fellow musicians.  Siegel mentioned Crazy George and his accordion while talking about her first year in La Crosse. She had just started as principal at Emerson Elementary, and during the week of Oktoberfest, her staff dressed in traditional dirndls and lederhosen as Crazy George played music. "It was really a culture shock in the best of ways," she said.  
Traditions like listening to Crazy George's accordion are just one part of the Oktoberfest celebrations. Brianna Vanderheyden, the granddaughter of Crazy George, mentioned that "It's been a family tradition ever since I was little to come to La Crosse for Oktoberfest. It's fun to see everyone come together at this event." 
Siegel said that her favorite part of Oktoberfest are all of the people. Her other favorite Oktoberfest traditions include music, merriment, and polka. Mrs. Oktoberfest loves to dance, but she said her husband, La Crosse County Sheriff John Siegel, needs a little encouragement. Oktoberfest could not be complete without some good food. "Give me a brat! Kraut and mustard only, please," said Mrs. Oktoberfest as she said her go-to order. 
Oktoberfest may still be a couple of weeks away, but the fun and excitement has already begun here in La Crosse. As people gather together to celebrate, keep this year's theme in mind. Mrs. Oktoberfest said it best, "We want to have a great Oktoberfest, and when people bring their best selves… it's going to be a great time!" 
To learn more about the festivities click here.