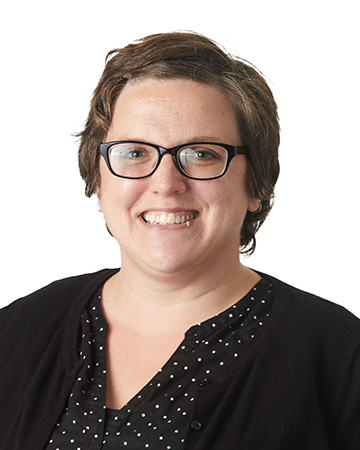 Blythe McConaughey is the Violence Prevention Specialist at the University of Wisconsin-La Crosse. McConaughey has served in this role at UWL since 2021, but she has nearly 15 years of experience in the field of intimate partner violence and sexual assault prevention and intervention. 
"I'm working with students and faculty and staff who have experienced any form of violence," said McConaughey. 
"I'm not a therapist. I don't diagnose illness, I don't treat illness, and I don't prescribe medication." She continued, "I'm also not a social worker." 
As the Violence Prevention Specialist, McConaughey is available to assist you with advocacy, information and support so that you can make informed choices about the options available to you. Services are free, confidential and available to all UWL students, faculty and/or staff members.
"You don't even have to be a survivor [of violence] to come and get services from me," said McConaughey. 
In addition to advocacy, McConaughey is available to provide education and training on campus. You can schedule a time to meet with her to co-create what you want, whether it's a classroom presentation or a training session. 
One area of education that the Violence Prevention Office shares is about the Red Zone. Research has shown that the "Red Zone" is the period of time from the beginning of the Fall semester to Thanksgiving break when sexual assaults on U.S. college campuses spike. 
In McConaughey's advocacy and education about bystander intervention and the Red Zone, she teaches the 'Three D's'. 
The Three D's are:
Direct- When you intervene in a situation by directly addressing those involved.
Distract- You can directly intervene in a potential red dot situation by intentionally distracting those involved.
Delegate- If you do not feel comfortable intervening yourself, you can ask someone else to help who may be more equipped. 
According to one article from the Rape, Abuse & Incest National Network (RAINN), "We can all be bystanders at any point. Every day events and potentially unsafe situations unfold around us at an alarming rate. In these situations, you can play an important role in addressing interpersonal violence on and off campus." 
"Doing something is always better than doing nothing," said McConaughey. 
The City of La Crosse has its annual Oktoberfest celebration during the Red Zone. La Crosse will be celebrating Oktoberfest on Sept. 28-30. The festival creates an influx of people and dollars for the city of La Crosse. While the festival has many things to offer, it is important that folks know the "Three D's" of bystander intervention.  
McConaughey said, "The bulk of sexual assaults that we see on college campuses happen in the Fall semester." She continued, "And in La Crosse, with Oktoberfest coming up and an increased drinking and partying and drug use; it just makes my numbers go up." 
"It is certainly never, never, never a survivor's fault. No matter how much they were drinking or if they were partying," said McConaughey. 
"But it makes it harder to stay safe when we're in this Red Zone," she continued.  
The City of La Crosse Police have Oktoberfest Safety Tips shared to inform festers how to have a safe and fun weekend. 
If students are looking for an alternative to Oktoberfest, UWL will be hosting 'OkSOBERfest'  in which there are a variety of events and activities for students and community members to participate in. The Recreational Eagle Center will be hosting its third annual 'Rectoberfest' on Friday, Sept. 29. 
October is Domestic Violence Awareness Month which means purple will be seen around campus in support throughout the month. UWL Violence Prevention will be tabling and hosting events throughout the month of October and the year. You can find all of their events on their Instagram. 
If you or someone you know has been a survivor of violence, there are resources and support on and off campus available for you. 
"It is never, never, never the survivor's fault," McConaughey said several times. 
"I'm here and I'm willing to help; so if anybody has any questions, even if they're not a survivor but they just need someone to talk to, my door is always open," said McConaughey.