This past summer, the city of La Crosse saw a new addition to the fire department. For the first time in over fifty years, a new fire station was built here in La Crosse. Fire Station No. 2 opened in June and stands next to the University of Wisconsin – La Crosse campus. It will serve as the new headquarters for the fire department and hosts numerous amenities that the older fire stations lack. 
"This is as central as you can get in the city of La Crosse," Community Risk Educator Molly McCormick said. "This station was designed to be more of our headquarters because we're centralized… and it allows us to have a great relationship with UWL." 
Firefighter Troy Glasel also spoke about the new station. "It's very nice, state of the art, all nice facilities," he said. "Our old stations were built in the 40s through the 60s, and that was about it. This is the first time we've had something new. It's great!" 
McCormick explained that since the last time a fire station was built in La Crosse, a lot has been learned to develop a design better suited for their needs. "We're keeping our firefighters safer, not only physically with making sure that their gear is kept isolated and away from their living quarters, but also emotionally with the light that's coming in, and Individualized bedrooms that are going to make sure that they're getting the optimal amount of rest when they're able to rest, and then we have that nice new gym facility downstairs to stay active and to stay healthy."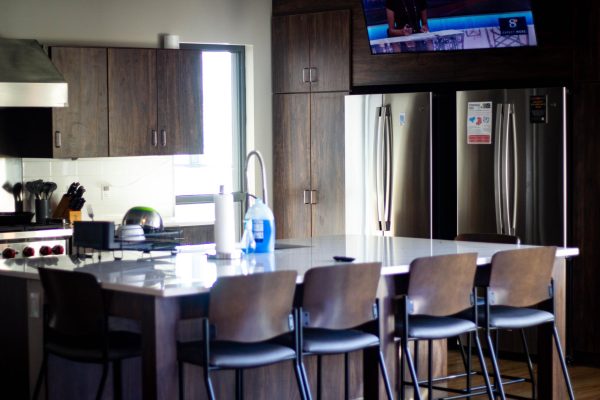 Along with individual bedrooms and a new gym, a spacious kitchen can be found in Fire Station No. 2. "It's a nice big kitchen dining area," Glasel said. "A kitchen is a very important part of a firefighter's career. A lot of discussions happen over the kitchen table. It's where people can relax and let down their guard and talk about difficult things, but also plan for important things in the future." 
 The bay area of the new station is where all the vehicles are kept. "The bay is really nice. There's a lot of space down there for each apparatus. In a lot of our older stations, we park the apparatus next to each other, and you can't open both truck doors otherwise they'll be banging into each other, so there's plenty of room in between each truck down there."  
Among the many vehicles stored in the bay is a quint, which McCormick describes as a fancier term for a firetruck. Quints carry over 700 gallons of water and are different from a regular firetruck because they have an attached ladder.  
Fire Station No. 2's bay area is also home to an ultra-terrain vehicle (UTV), which is used for rescues in the bluffs along with events like Oktoberfest when driving around a large truck might be difficult. 
The La Crosse Oktoberfest celebration brings an influx of people to the area. "Our population more than doubles during this weekend," McCormick said. "We will have on overtime staff. We'll have on extra paramedics to help staff the first aid station, especially during the parade. They might be staffing the UTV, and then we also have our EMT staff on bikes."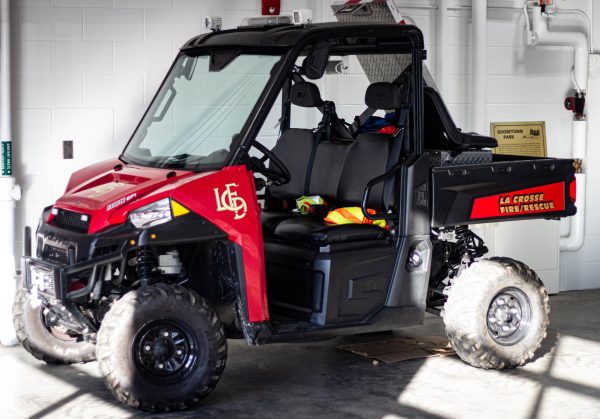 During Oktoberfest weekend, firefighters respond to an increased number of EMT calls and car accidents, which is not surprising according to Glasel. "If they have an incident, we try to mitigate it. Obviously, there's a lot more potential for incidents. During Oktoberfest people get excited, have fun and celebrate," he said. 
The La Crosse Fire Department functions as the city's emergency management, meaning ample planning and conversations prelude large events like Oktoberfest. Planning for next year's Oktoberfest event will begin this week, following the most recent Oktoberfest weekend. 
"It [planning] will start this week that we reflect on what happened, and we will look at our IEP [Incident Emergency Plan], and we say what worked, what we should adjust for next year… it's ever-evolving," said McCormick. "We have these conversations now, we make the notes, and next year, late summer, we start having bigger conversations." 
Risk management and responding to emergencies is one aspect of the fire department's role during Oktoberfest, but they join in on the celebration too. A rig leads the Torchlight Parade on Thursday night, and the fire department is also involved in the Maple Leaf Parade on Saturday morning. 
McCormick said, "For us, it's just been a tradition for the fire department to be in it. We partner up with the drums and the bagpipes… we have a couple of our crew members that are part of that. They generally will march in front of us, that's how it was this year, and then we have our banner." 
This year, McCormick pulled the wagon filled with items such as light reflectors and stickers and handed them out during the Maple Leaf parade. "We hand out fun goodies to help keep people safe," she said. "It's just a good way to be out in the community because of the people we serve. We want them to know us." 
The La Crosse Fire Department is here to serve the community during the Oktoberfest weekend and beyond. McCormick said, "We're here for you. We're here as a part of this community because we care, and we just want everybody to stay safe and know that we're a resource if they need us."