Senate democrats call for action on student debt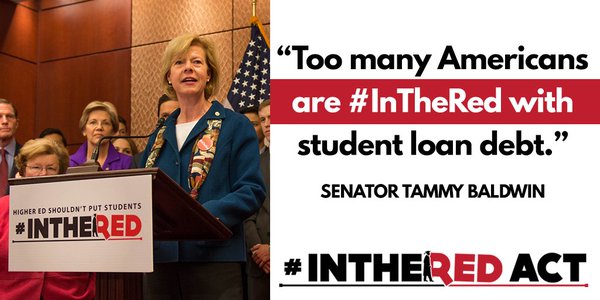 Senator Tammy Baldwin (D-WI), Senator Elizabeth Warren (D-MA) and Senator Brian Schatz (D-HI) held a conference call Wed., Sept. 14 with The Racquet and other college newspapers in order to spread the word on the #InTheRed Act. The proposed legislation was created in January and would work to address the student debt crisis. The Senate Democrats who created the bill say the bill has some bipartisan support, but not nearly enough from the Republican majority.
"Republicans have simply ignored it," said Senator Warren. The package intends to create a way for students toward debt-free college by forging a path toward free two years at community and technical colleges, would force pell grants to keep pace with inflation, and allow borrowers to refinance their loans at lower rates. "Small businesses can, so we believe students should be able to refinance," says Warren.
According to the senators, there are 42 million people with student loans across the country with a total of $1.3 trillion dollars in debt. They believe the debt crisis is forcing graduates to put off buying homes, saving for retirement, and starting businesses. Senator Warren stated the federal government made $66 billion in profit from interest rates from the federal loan program from 2007-2012, and hopes things will begin to change with this legislation.
Senator Baldwin held roundtables across the state of Wisconsin in order to talk with those affected by the student debt crisis. She met students who had been working and saving money since they were 15 and students who worry about their basic needs costs due to the cost of their education. "Higher education should be a path to prosperity," believes Baldwin, "we need to create a new reality." However, the legislation has been up for nine months, and no meaningful action has been taken by the Senate majority.
The bill would be paid for by those "at the top" paying their fair share and by closing tax loop holes. "This is a key middle class issue that affects all generations," stated Senator Schatz. Since many students rely on parents, relatives, and guardians to co-sign their loans, the debt crisis affects more than just those sitting in the classroom. "One third of borrowers are 90 days late on their goals," Schatz said of loan payments, "It's not payable."
If passed, most of the legislation would be enabled fairly quickly, like automatically indexing the Federal Pell Grant and allowing borrowers to refinance their loans. Some parts, such as the free two years of community and technical college, would require states to opt-in and cooperate. "I worry so much about young people giving up on higher education," says Baldwin, "Because they've seen their sibling struggle," Congress is schedules to recess in a couple weeks and has yet to schedule a vote on the #InTheRed Act.