Police Chief Scott McCullough, State Senate Candidate Dan Kapanke visit Student Association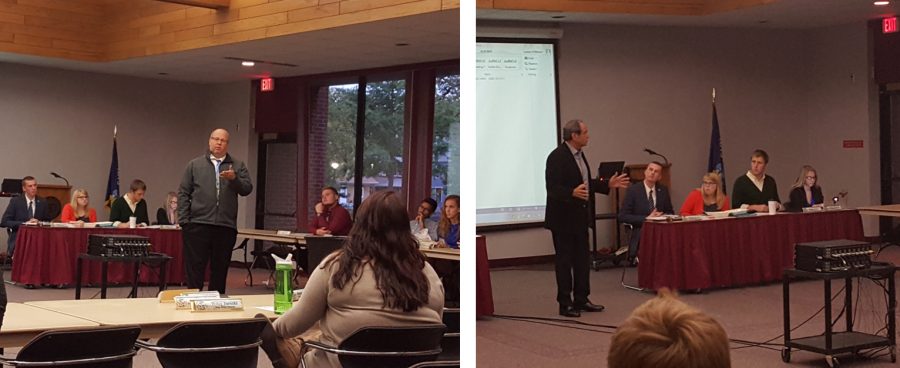 Noah Finco, University Government Reporter
October 15, 2016
On Wednesday, October 13, 2016 at their weekly Student Senate meeting, the University of Wisconsin La Crosse Student Association featured UWL Police Chief Scott McCullough and State Senate hopeful Dan Kapanke as guest speakers. Chief McCullough reported on officer staffing and police force equipment upgrades while Kapanke addressed the upcoming election for State Senator representing the 32nd district for which he is running against the Democratic incumbent Jennifer Shilling.
McCullough began by updating Student Association on recent developments within the University Police (UP) force. UP has hired a twelfth officer and is now fully staffed for the school year. The new hire will allow the department to attain its goal of increasing officer visibility during the school day. "Our call volume throughout the day is increasing so our staffing reflects that." Explained McCullough. To assist with increasing officer visibility, the department plans on further developing its residence hall officer liaison program. "We have specific officers assigned to each hall. These officers will be going on rounds with student staff and sitting at the front desk to become more well known to the students living there," stated McCullough.
Along with increasing officer visibility, the department is looking into outfitting officers with body cameras. UP has had body cameras for the last twelve years but their features and functionality were not applicable for everyday use. Police Department which features cameras with high quality video, sound and durability. The pricing per unit is currently being negotiated with a ball park estimate of a $20,000 expense to outfit all twelve officers.
Following Chief Scott McCullough, the Student Senate welcomed State Senatorial Candidate Dan Kapanke. Kapanke, a UWL Alumni of the class of 1987, previously represented the 32nd district from 2005 – 2011 before being defeated by incumbent Senator Jennifer Shilling. Kapanke structured his time with the Student Association as a Q&A session with their opening question was regarding his plans for tuition and the upcoming Wisconsin state budget. "It boils down to what is best for the students here." stated Kapanke. "The University System has asked for $42 million dollars this year, I would take a careful look at that asking price and make sure the expenditure is something that can be justified and if it is, I'd approve it."
When asked about his main priority if elected, Kapanke indicated he would focus on healthcare reform in Wisconsin. "I would like to have healthcare back at the state level. I also would love to see the federal government look at states like Wisconsin who previously required healthcare for those with preexisting conditions," proclaimed Kapanke. "I also would like to address transportation and infrastructure issues within Wisconsin and attempt to promote Wisconsin business." The seat for the Wisconsin State Senate District 32 is up for reelection November 8t, 2016 between Democratic Incumbent Jennifer Shilling, Republican Challenger Dan Kapanke and Integrity Party Challenger Chip DeNure.