UWL Reactions to Election Drama and Surprise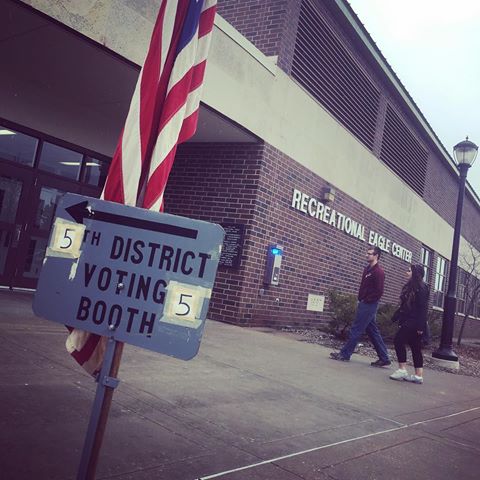 Noah Finco, University Government Reporter
November 11, 2016
A campaign weary America has finally decided who will be its next president.
After setting records in campaign fundraising, early voting and voting day turnout, there was only one number that mattered; 270. At approximately 2:30am Wednesday morning, Donald Trump attained the necessary number of delegates to seal the presidency.
Trump's victory comes as a shock to voters of all ideologies. This feeling of disbelief was shared by campus leaders at the University of Wisconsin La Crosse.
"I was very surprised," proclaimed UWL Chancellor Joe Gow "The polls told one story and yet we are here with a very different story."
Early in the night, Clinton maintained a strong lead which aligned with pre-election polling. However, key battleground states began shifting red to the astonishment of everyone.
"We kept our confidence throughout the night but, it became clear that we would need to continue our fight another day," said UWL College Democrats President Sarah Semrad.
Libertarian candidate Gary Johnson polled higher than average among college throughout the summer but suffered a disappointing performance Tuesday night, netting only 4% of the popular vote. Third party voters such as UWL Junior Zach Delgado shared the surprise of the Trump victory with his peers.
"I thought for sure Hillary was going to win," admitted Delgado "The results don't change how I feel about my vote. I do wish he [Johnson] did better than he did."
Wisconsin emerged as a pivotal battle ground state for Democrats and Republicans as the night progressed.
"I did not see Senator Ron Johnson holding onto his seat and I didn't think Trump had a chance in Wisconsin." stated UWL College Republicans President Ben Stelter.
Incumbent Republican Senator Ron Johnson won his seat with 50% of the vote, defeating Former Democratic Senator Russ Feingold who held 47% of the vote. Trump won Wisconsin by only 27,000 votes causing Wisconsin to vote Republican in a presidential election for the first time since 1984. Both victories came despite early election polls placing Feingold at plus two points and Clinton at plus eight points.
Republicans like Stelter attribute the surprise victories to both Ron Johnson and Trump's ability to tap into voter frustration with the government. Similar in how Senator Bernie Sanders was able to win Wisconsin during the democratic primary.
The struggles for the Democratic Party continued state wide. State Republicans gained seats in both the State Senate and Assembly. The drama of the presidential race was reflected in the 32nd district State Senate race between Democrat Jen Shilling and Republican Dan Kapanke. Currently, Shilling holds onto her seat winning by a margin of merely 56 votes.
Students and staff are now looking for answers of what comes with a Trump presidency.
"I am cautiously optimistic," assured Stelter "Trump's rhetoric during the campaign worries me but I believe some of his policies will be beneficial to Americans."
Other students were not so hopeful. "I believe that this is going to divide us further. Protests have already begun and there's no telling what comes next," asserted Semrad.
The need for cooperation and unity between the parties was heavily emphasized following the results.
"Though the UWL Student Association is nonpartisan, our top priority is to promote civil discourse," stressed UWL Student Association President Jacob Schimmel. "We need to make sure all ideas can be expressed respectfully."
One positive both sides can agree on is the voter turnout of UWL students. Students set a record for both early voting and day-of voting with 2,750 votes cast at the REC alone.
"I saw a lot of passion on both sides We had some very high profile people come to the campus and I would ask that students please stay engaged in politics and I hope we can keep setting voting records," praised Gow.