Greek Life at UWL
Hang on for a minute...we're trying to find some more stories you might like.
Glitter-covered name tags catch the light. Huge, brightly-colored, Greek letters are perched on the stage. Long tables, covered with appetizers, stretch along the side of the wall. Recruitment is in full-swing for UWL's social sororities.
UWL Junior Taylor White, Recruitment Counselor for Alpha Xi Delta, spoke about her sorority's philanthropy. "Alpha Xi Delta's focus is on Autism Speaks."
White shared about a future event Alpha Xi Delta is hosting, "October eighth is going to be 'Xi Marks the Spot'. It's like a big scavenger hunt.
"We go around and it's kinda like the amazing race. We're gonna go around campus and do a whole bunch of activities that educate about autism. And all the proceeds go to Autism Speaks."
White explained a little about the recruitment process. "We have women from Alpha Xi Delta and Alpha Phi…and each [Recruitment Counselor] gets a group of girls and we answer questions, teach them about Greek life, get them into the round that they need to go to."
White explained that each 'round' is 30 minutes long and each night of Recruitment has a theme; this year they were Philanthropy, Sisterhood, and Leadership.
"[Recruitment Counselors] will each give a small presentation and potential new members, the girls who want to get into a sorority will go to the sisters of that sorority and ask them questions. Basically, it's kind of a get-to-know each other, see who's compatible for what organization," said White.
All Alpha Xi Delta sisters are involved in at least two organizations on campus outside of Greek life, but the sorority wants to increase their involvement.
White explains, "We're trying to get more involved in the Pride Center and other, bigger groups on campus because we don't want to just be Greek life. We want to expand and try to support all these other, different organizations on campus."
UWL Senior Jade Nolden holds multiple positions within Greek life. "Right now, for the Panhellenic Community, which is the governing board for all sororities, I'm the Vice President of Recruitment. Within Alpha Phi, I am the Director of Community Service and the Director of Ceremonies. And for Order of Omega, which is the Honor Society for all Greek members, I am the Treasurer."
Nolden shared that Alpha Phi raises money for women's heart health. "Heart disease is the number one killer of women in the United States. It's a really big thing that affects a lot of us."
"Within Alpha Phi, we really emphasize being healthy," Nolden says, "Right now, we're having a competition called the Fittest Phi. So it's for whoever exercises the most and takes the most [fitness] classes. We have a whole bunch of little prizes and stuff. It's really encouraged, within our sisters, that we're all accountable and making sure that everyone's healthy and happy."
Nolden emphasized the importance Alpha Phi puts on keeping its member's grades high. "We get together and study. We get together and do donuts and coffee and make sure that we uphold our grades."
Nolden wanted the UWL community to know, "We're not the stereotype. I was at Involvement Fest and a girl came up to me and said, 'You know, I've looked into being in a sorority, and I've looked into doing Greek life and stuff, but I feel like I have to be pretty'. I was like, you're beautiful just the way you are, but that is not what we are. We accept everybody. We love diversity and variety."
White had a final thought to share with the UWL community. "Go Greek!"

About the Photographer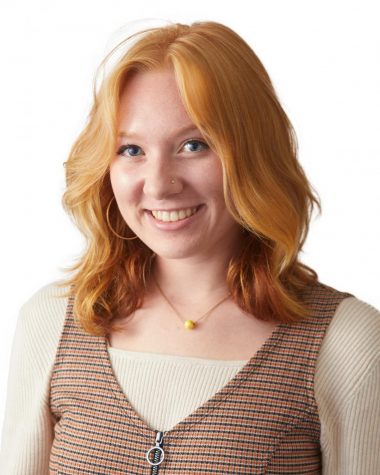 Karley Betzler, Executive Editor

Year at UWL: Senior
Hometown: Anoka, Minnesota
Major: Communication Studies with an emphasis in Media Studies
Minor: Professional and Technical...