Sport Club Spotlight: Women's Lacrosse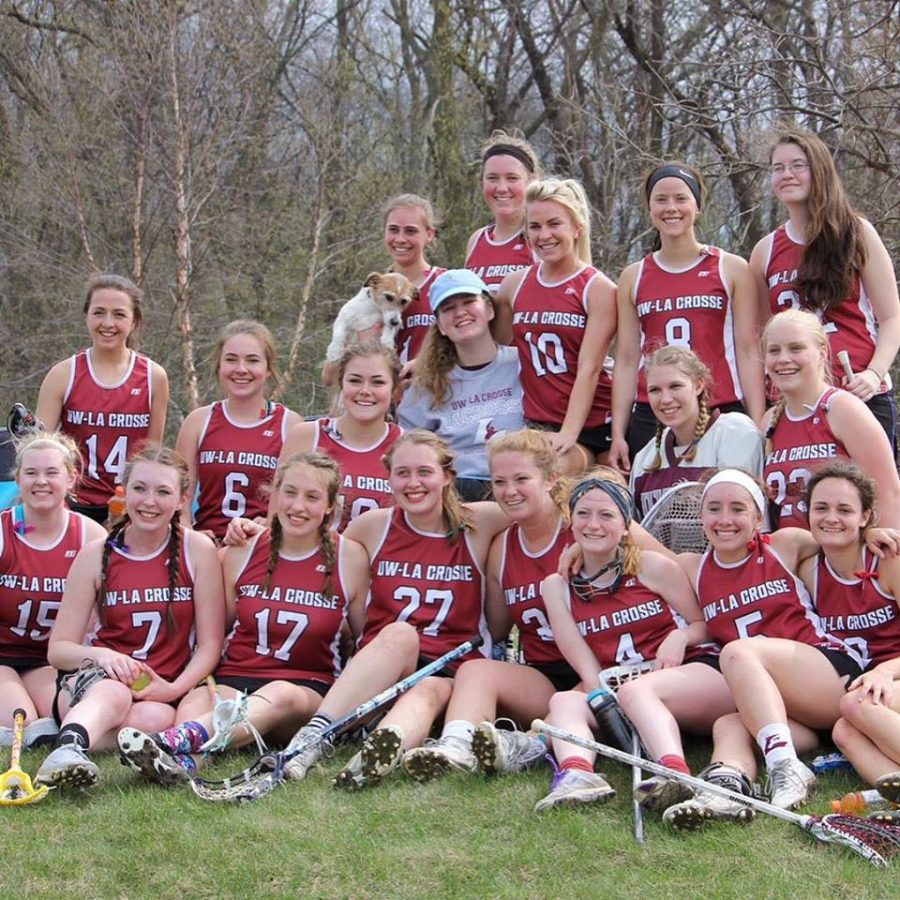 Noah Finco, Managing Editor
October 15, 2017
On Monday and Wednesday nights, female University of La Crosse students can partake in America's fastest growing sport according to Business Insider—Lacrosse.
Lacrosse, known as the "fastest sport on two feet" traces its roots to a tribal game played by Eastern Woodlands Native Americans according to "The History of Lacrosse" by Thomas Vennum Jr. Women's Lacrosse is played between two teams of 12 players including a goalkeeper. Players use sticks and strategy to try to score by shooting the ball into the opponents' net over two 30-minute halves.
"I think Lacrosse is such a great sport to try because it's easy to get good in a short amount of time," stated UWL Women's Lacrosse President and UWL Senior Maya Schulte. Schulte has been with the club since her Freshman year and has played Lacrosse since 4th grade. She is largely responsible for teaching new players the sport.
The UWL Women's Lacrosse team's main competition season is in spring but they have a few tournaments in fall for preparation.
"Our fall tournaments don't apply for our qualification for nationals," explained team Treasurer and UWL Senior Hannah Wise. "These tournaments mostly serve as a time for newcomers to get used to the sport.
Schulte explained that most of the team has zero Lacrosse experience and that a majority of the women have played sports such as soccer and hockey or none at all.
To foster education of the new sport, the team has extra sticks, goggles and a full set of goalie equipment for newcomers to use.
In spring, the team is required to play at least three teams in their conference plus an additional five teams. They carpool to various tournaments and the furthest they've traveled recently is to Iowa State University in Ames, Iowa.
"The games and tournaments are arranged between team presidents," said Schulte. "We have an all-conference meeting in fall where we start discussing when to play each other."
The women's game of Lacrosse is vastly different than the men's game.
According to a quote by Rosabelle Sinclair who established the first women's team in the United States "It's true that the object in both the men's and women's lacrosse is to send a ball through a goal by means of the racket, but whereas men resort to brute strength the women depend solely on skill."
"The women's game is far more tactical since it has no contact and relies more on positioning and stick skills," explained Wise, "I think this makes it more approachable to beginners.
In addition to practices and games, the team partakes in various volunteering and fundraising efforts. In past seasons, they've volunteered at the annual Turkey Trot, Jingle Bell Walk, and many activities put on by the YMCA.
Students are welcome to join the team at any point and are encouraged to reach out to Schulte. Practices are held Monday and Wednesday nights on the football field with tournaments and games occurring on weekends.