Cultural Coffee Hour Talks Politics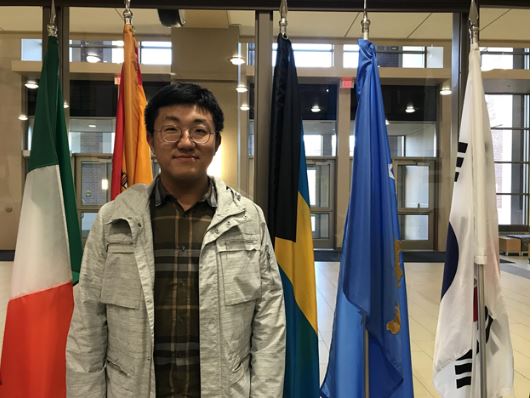 Paige Navis, Graduate Assistant for the International Education and Engagement Office, welcomed attendees as they filed into the flag-lined Hall of Nations yesterday evening. People gathered around circular tables to hear about a topic that has been an increasingly dominant aspect of the U.S. media: politics. However, these students were not there, enjoying free coffee and cookies, to learn about the U.S.; they had come to learn about global politics.  
Navis began by stating that the two speakers, "…do not reflect the views of their entire country." This set the stage for the two presenters. The first speaker of the night, UWL student Yuanhao Liu, informed students of Chinese politics.  
Liu began by discussing the changes China's president, Xi Jinping, has been implementing. According to Liu, President Xi has been actively pursuing a new type of relationship between major countries. The President has expressed that each country needs to be respected and, in turn, respect one another, despite ideological conflict. This new type of relationship encompasses the idea of, as Liu put it, "…equal footing between countries and genuinely helping one another."  
The other political project the Chinese government has been working on is The Belt and Road. According to Liu, The Belt and Road is a strategy to help peace, development, and cooperation across Asia and Europe. As pointed out by Liu, The Belt and Road transportation path closely mimics the Silk Road. The connectivity between countries that China is trying to create, Liu says, "…deepens political trust."  
The Belt and Road is focused on improving infrastructure. When an audience member asked Liu whether the initiative is working, Liu answered with a nod, "Yes, it is." Liu went on to say that there are 65 countries involved in the Belt and Road and most of them are developing countries. Liu explained this "provides balance between developed and developing countries."  
The second speaker of the night was UWL student Yousef Almazrua, who presented on politics in Saudi Arabia. Almazrua began by saying that, "Saudi Arabia is an absolute monarchy." This means, as Almazrua stated, the King is the head of the state and the government. Almazrua explained that, in Saudi Arabia, "decisions are made by the Constitution, which is from the Quran."  
Almazrua went on to speak about recent events in Saudi Arabia, like women being able to earn their driver's licenses. According to Almazrua, women previously had not been able to legally drive in Saudi Arabia, but on September 26 a reform was put in place by the King. Almazrua stated that his sister would be getting her license.   
Almazrua also spoke about the war against Yemen, explaining that Saudi Arabia is fighting against a group called the Houthis. Almazrua also noted that, recently, Saudi Arabia has been cutting diplomatic relations with Qatar. This is due to them being found helping the Houthis and being involved in terrorist planning. Despite all this, when an audience member asked Almazrua, "Do you have hope?" Almazrua smiled and answered, "Yes, I do have hope."  
The next Cultural Coffee Hour will be discussing Business on November 7 in the Hall of Nations in Centennial Hall.