UWL Turkey Trot Preview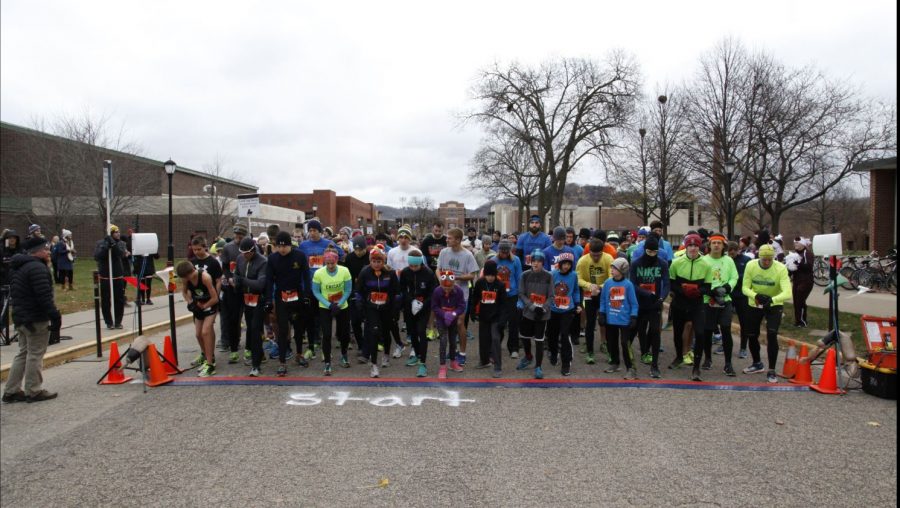 Callie Heinrich, Sports Reporter
October 19, 2017
On Nov. 18 the University of Wisconsin – La Crosse Recreational Sports Department is hosting its 23rd annual 5k Turkey Trot race. Students, as well as community members will have the opportunity to come together and race in one of the largest Turkey Trots in the area.
Prizes will be based on predicted finish times and winners will include the top three male and female racers of each age division. Unlike the three-mile run in past years, the 2017 race will be a standard 5k which will start the race at the Rodger Harring Stadium and finish at the REC.
REC sports have already started its efforts in raising sponsorships by reaching out to businesses within the community. Due to these sponsorships, the UWL Turkey Trot is able to give away prizes, coupons, gift cards, and more to its participants.
In addition, the infamous Flash, the Turkey Trot mascot, will now be seen at various events throughout La Crosse in hopes to encourage those to sign up. As said by Sport Clubs and Events Coordinator, Whitney Burress, "Flash will be out at local high school games, Viterbo and Western [Technical College] games, and at other campus events. The is new this year, so we are hoping it raises awareness and spreads the word that this is an event you should sign up for."
Last year's Turkey Trot had 908 participants, which is on the lower end compared to years past. This time around, Burress hopes to get more students involved. "There are about 10,000 students that attend UWL, roughly 3,000 of which live on campus" she continued, "We have to figure out how to get those students involved."
Besides serving as an opportunity for some fun, the Turkey Trot's proceeds also go towards funding scholarships for multicultural students.
In addition to the monetary support for students, Burress believes the events aids in student development. "We want students to know that signing up to run in the Turkey Trot benefits so much of what students are involved in and what they are a part of," noted Burress. "People like to be a part of events, but people don't join organizations. People join people." The Turkey Trot truly resembles that very message by allowing students and community members a chance to run with friends, family, and neighbors in a joyous and engaging event.
To sign up for the UWL Turkey Trot, visit the UWL REC Sports homepage. Signups for volunteering will also be done on the REC Sports page.