Viewpoint: Packers Fans Need to "Relax"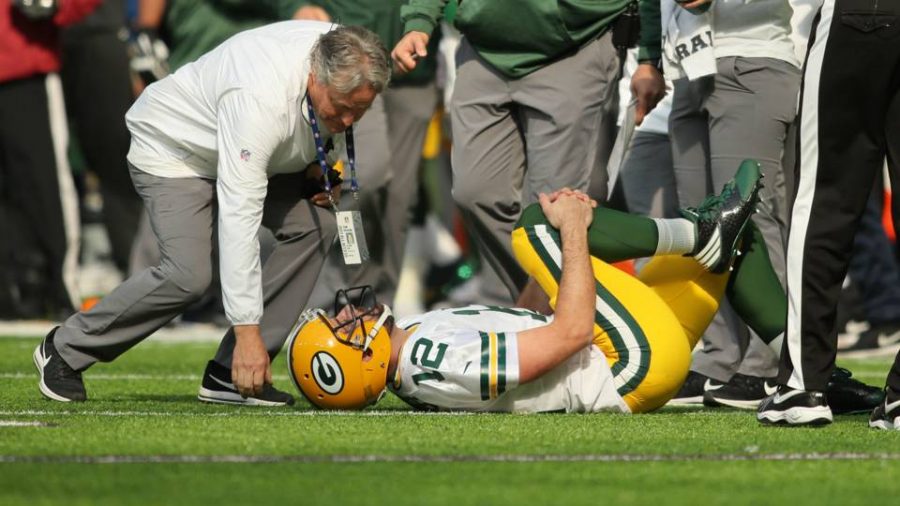 Skyller Smith-Davis, Sports Reporter
October 19, 2017
In case you have been living under a rock and have not heard, the Green Bay Packers star quarterback Aaron Rodgers broke his collarbone in the first quarter of the Green Bay Packers vs. Minnesota Vikings game on Sunday, Oct. 15.
Rodgers is set to have surgery "in the near future," according to Packers Head Coach Mike McCarthy in a press conference on Monday.
All implications of his status are that he will be out for the rest of the season. So, the question is where do the Packers stand now and what should they do now?
Packers backup quarterback is a third-year man and fifth-round draft pick in 2015 out of UCLA named Brett Hundley. The Packers also promoted practice squad quarterback Joe Callahan to the 53-man roster to serve as Hundley's backup.
In usual fashion after an injury to a star player happens social media went into a frenzy. Many NFL players came to his support, Texans' star defensive end JJ Watt, who grew up in Wisconsin, said on his Twitter account, "Gutted for @AaronRodgers12. Hate to see it." Former NFL quarterback Robert Griffin III also tweeted, "Prayers up for Aaron Rodgers."
Even the Minnesota Vikings gave grace to Rodgers on their twitter account saying, "You never want to see one of the game's best get hurt. We wish you a quick recovery @AaronRodgers12 & hope you're back in this rivalry soon." (See Packer fans, the Vikings can be nice sometimes.)
Of course, to come along with good things on social media there were also plenty of negative things going around. Many "Cheeseheads" believed the hit that injured Rodgers was questionable.
UWL Junior Sarth Patel agrees, "The hit was illegal, it was late and unnecessary."
Rodgers' injury came when he rolled out of the pocket and was hit shortly after releasing the ball by Vikings linebacker Anthony Barr. Rodgers fell onto his elbow breaking his collarbone while hitting the turf.
Now, Rodgers was out of the pocket and Barr did nothing out of the ordinary, he tackled a quarterback scrambling. Just because it is number 12 everyone thinks it was illegal. Anyone ever watch any Carolina Panthers' game? Cam Newton takes hits like a running back.
Also in a press conference on Monday, McCarthy said, "To sit here and lose any of your players on something like that, it doesn't feel very good. Yea, I didn't like the hit. It was unnecessary."
The hit on Rodgers can be looked at over and over again like it has on ESPN, but at the end of the day, no yellow penalty flag was thrown so it was deemed a legal hit.
With Rodgers out, the idea of signing Colin Kaepernick, Tony Romo or some other veteran quarterback has been thrown around, but McCarthy has shot down all those ideas.
The Green Bay Packers have been a "draft and develop" team since most of us can remember. Some might get angry that Packers General Manager Ted Thompson never goes out and picks up a marquee free agent or makes big trades, but that is just not who he is or who the organization is as a whole.
The Packers should not make any moves to their roster. Hundley might not have looked the sharpest in the game against the Vikings, but it was his real first career experience besides a few snaps here and there. Give him a break.
Patel said, "I think if you believe in Hundley then stick with him because there is a chance we can trade him if he does well."
Let the Packers have a week to build their game plan around him and let him get more first-team reps and then go from there.
Even if Hundley does not perform well, go to Callahan. Do not, bearing no catastrophic injuries to the quarterback position, go out and sign another quarterback out of our system. Plus, it does not matter what quarterback the Packers have it will not matter if the offensive line cannot get healthy.
"He should get more than one game to prove himself because our offensive line is not healthy right now," says Patel.
Yes, our season as Packer fans looks grimmer without Rodgers, but give the young gun a chance. Who knows, maybe Hundley will outperform everybody's expectations and be able to keep the Packers afloat until Rodgers comes back. Hopefully not too well and we end up in the same situation as the Cowboys with Dak Prescott and Tony Romo.